Posts that have been tagged with: "
Historical Fantasy

"
Fionn: Defence of Ráth Bládhma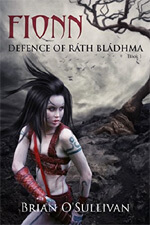 Bodhmhall's little settlement is in trouble. Established three years ago after being expelled from her clan, the settlement of Ráth Bládhma is home to a handful of misfits, simply trying to live a quiet, fulfilling life in the wilds of Ireland. But one fateful day, Bodhmall's pregnant sister-in-law Muirne stumbles into their settlement with news of the old clan's demise–and she carries what could be its heir. Will the competing clan come looking for her?
When Bodhmhall's partner Liath Luachra comes across tracks in the forest, she discovers a war band in search of something…or someone. As she tracks them down to learn their number and purpose, she finds that they're aided by a Tainted One–what happens when a druid turns to darker forces–and suddenly their plight becomes much more fraught.
***WARNING: HERE BE SPOILERS*** Usually I don't give away the story, but I feel the need to explain myself.Read the rest of this review »
Dead Man's Reach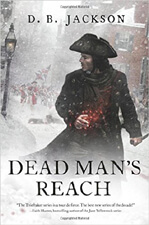 EBR: Everyone welcome our newest reviewer, mtbikemom, a long-time reader and friend who's agreed to help us work through the pile of books stacking up at EBR headquarters. We're sure you'll love her as much as we do.
_________________________
If a reader is looking for better-than-average female characters in a magically enhanced historical fiction novel with some ripping action scenes, D.B. Jackson's DEAD MAN'S REACH will satisfy.
I need a bit more in a story than that, however.Read the rest of this review »