Review: Trial By Treason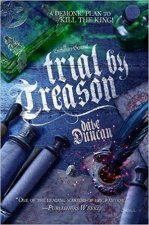 Amazon
So I'd never heard of Dave Duncan before this book showed up at my house. As the managing editor here at EBR I'm the one who gets the books and divvies them out. There used to be a time–when I first started here eight years ago–that Steve would send me stuff and I would read it because he told me to; sometimes I'd get to choose. Not anymore. I'll admit that now it's typical for me to read the first couple pages of everything that comes in and keep what I think looks interesting. I'll also admit that the front cover of this book didn't particularly grab me.
But then I read the first couple of pages. And then I read the first couple of chapters. Then I looked up Dave Duncan on the wiki and that dude has something like 40 books to his name! What dungeon have I been holed up in all these years? First I remedied it by reading TRIAL BY TREASON then I'll continue to see what else he's got.
This book is fun, moves fast, and is generally entertaining. Think of it as a medieval Dresden Files meets Terry Pratchet lite. Which means it won't float everyone's boat, and it isn't particularly literary, but I hope readers who aren't familiar with Duncan will find a new author for their "To Read" pile. It's clever, a little quirky, and so easy to read.
TRIAL BY TREASON is about Durwin, newly sworn enchanter, and subject of His Majesty King Henry II, King of England (and most of France). In IRONFOOT, the first book of the series (TBT is the second), Durwin catches the attention of the king, who pays for his magical education, and when he's finished, he'll join the king's cadre of useful underlings. But it seems Durwin must prove himself first because he's sent with young Sir Neil to sort out a potential treasonous insurgence in Lincoln. Durwin takes with him enchanter-in-training Eadig, and soon finds out that he's in over his head, because he's up against black magic and the Satanists who lack the scruples to wield it.
As mentioned earlier, the story takes off from page one and moves forward at an engaging pace. I really enjoy books with definitive plot where all sorts of things happen. Everything builds nicely, and by the end everything wraps up well (including a chapter that felt tacked on at the end to resolve an important plot hole). There was a frustrating buffer between the two big scenes, as well as a climax that fell a little short of expectations, but that probably explains my personal sensibilities more than Duncan's storytelling necessities.
Entertaining and clever, TRIAL BY TREASON is about Durwin, a new breed of magician in 12th Century England that's all in for some mystery and mayhem.
Easily as great as the lively storytelling is the characterization. From page one Durwin's foibles and strengths are laid out, and he doesn't hold back. This story is mostly told from his point-of-view (some of it from Eadig) in past tense, so you can tell it's an older man looking back with satisfaction and some regret on the misadventures of his youth. We see the other characters through Durwin's eyes, and enjoy his delight at the cleverness and strengths of those around him. Eadig's PoV chapters didn't feel a whole lot different than Durwin's, but they did their job.
The magic of 12th Century England, as imagined by Duncan, is a scattered learning from scrolls and books. The enchanters attempt to increase knowledge by creating small schools, one of which is where Durwin learns his craft. But Durwin has proved more clever than his schoolmaster sages, because he's discovered that many of the old texts don't work for a reason: enchanters don't much like sharing and hide trip-wires in their texts. Remove the trip-wires and voila, spells that actually work. Said discovery gave Durwin something of a reputation, but now he must take his cleverness into the real world and apply it in a difficult situation. Strangely enough, Durwin didn't really learn how to fight Satanists in school. We get to watch Durwin in action as he uses the spells he finds along the way and–gasp!–is even able to create one of his own. The magic is all well integrated into the story. Duncan also does us the favor of enough landscape and town description so we have a good idea of the kind of setting where Durwin and friends live: English countryside, castles, various homes, and even dungeons.
It'd be a fun book for older teenagers, as well as any parents who like to enjoy a little mystery and mayhem with their magic.
Recommended Age:

12+

Language:

None

Violence:

Some deaths, but without gruesome detail

Sex:

Kissing