Welcome to Elitist Book Reviews!
We're a small group of people that just happen to have better taste in books than you. :) Aside from being completely awesome, we also read lots of books and love to give out our opinions like candy. What's your favorite flavor? Science fiction? Check. Fantasy? Double-check. Horror? Can't do without a little of that. So find yourself an awesome chair or comfy nook quick, because you're about to find a whole lot of recs for a whole lotta great books.
Recent Posts
Review
The Spellbook of Katrina Van Tassel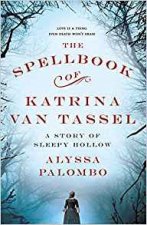 If you've never read the original Washington Irving short "The Legend of Sleepy Hollow," you should (it's easy to find a free version online…but be sure to have a dictionary on hand, it's not necessarily an easy read). You've probably seen the silly Disney cartoon, but the original story has an ambiance and mystery about it that is enhanced by its brevity and style. Alyssa Palombo attempts to re-tell this American classic in her recent THE SPELLBOOK OF KATRINA VAN TASSEL, while retaining the setting details and characters, but giving it a modern twist.Read the rest of this review »
Review
Record of a Spaceborn Few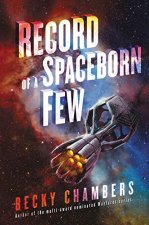 Science fiction is not known for being gentle. Technical? Yes. Explosive? Often. Operatic? You betcha.
RECORD OF A SPACEBORN FEW eschews explosions in favor of internal drama. Like the rest of Becky Chambers' Wayfarers Series, this quiet story explores what it means to be a part of a family, a crew, a community, a species–this time through the fate of the Exodan fleet. Read the rest of this review »
Review
Vallista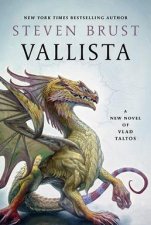 VALLISTA is a weird story, and Vlad Taltos, Steven Brust's long running, on-the-run ex-gangster fantasy series, embodies the series' increasing strangeness. The novel focuses predominantly on everyone's favorite time and worlds-travelling stealth hi-byer, Devera. While Devara drags her Uncle Vlad into a search to help her escape her predicament (it makes sense as you read), Vlad soon finds himself in a strange manor where rooms lead nowhere, the patrons and denizens are a lot of miserable secrets and wretched histories, and a monster stalks the halls. The House itself, which is alive and delightfully a character with its own soul and history, takes the center stage.Read the rest of this review »
Review
The Consuming Fire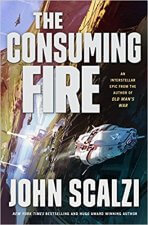 Tell you what, the more I read of this guy's stuff, the more I like him. Still haven't gotten to the Old Man's War books, but the LOCK IN series (EBR Archive) has been really good, and this one is also shaping up to be some serious goodness. When I got this one in the mail, I failed to realize though that we had already reviewed the first book, THE COLLAPSING EMPIRE (EBR Review, thanks be to Shawn), so I tackled that one first. Was awesome. In fact, I think I liked that one considerably more than he did. Likely would have read it anyways, as I have issues with reading middle-series books without first reading those that have come before. This can sometimes cause headaches for my EBR TBR pile, but as Popeye would say, "I yam what I yam." I was also extremely happy to find that this book absolutely doesn't fall into anything like second-book syndrome and was oodles of good fun.
Read the rest of this review »
Giveaway: Book Bundle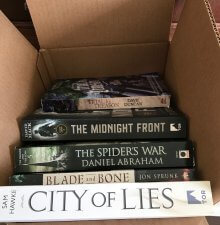 ***Updated 11/27/18. This giveaway is closed! Thanks to the many people who entered! The winner of our giveaway is Jennifer from Magnolia, Texas. Your box will be on its way soon!***
Vanessa has been cleaning out her EBR shelves and discovered too many duplicates she doesn't know what to do with. So one of our lucky EBR readers will win an entire box full of books (similar to the kind of box our talented reviewers usually get from her). This box contains:
THE MIDNIGHT FRONT by David Mack
THE SPIDER'S WAR by Daniel Abraham
TRIAL BY TREASON by Dave Duncan
CITY OF LIES by Sam Hawke
BLADE AND BONE by Jon Sprunk
Yes, one winner will receive all of these books to do with as they wish, whether to give as Christmas gifts or keep for themselves!
To enter this giveaway:
1. Email us at elitistbookreviews@gmail.com
2. Include the following on the subject line: BOOK BUNDLE GIVEAWAY
3. In the body of the email include your name and mailing address. This giveaway is only available […]Read the rest of this post »
Review
The Empty Grave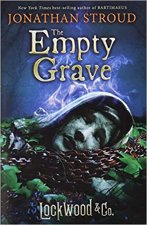 Arriving at the final book of the Lockwood & Co series, THE EMPTY GRAVE, leaves me with mixed emotions: so happy to see our gang of heroes find the answers they're looking for, but also sad to see this fantastic series come to an end. Over this series we've watched as Lockwood, Lucy, and George have navigated the dangerous and mystifying world of ghosts and ghost hunting. They may only be kids, but this small and independent company has uncovered secrets small and large, fought dangerous ghosts, and dealt with the frustrating politics of being the little guy in a big industry.
Now we get to see the fruition of all their hard work. THE EMPTY GRAVE ends the series in a way that won't let you down.Read the rest of this review »
Review
Artemis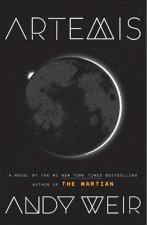 I never took the opportunity to read The Martian. Saw the movie, tried to pick up the audio book once but it was a bad CD copy, and I just never got back to trying again. Recently, one of our illustrious fans requested that we read and review Weir's next book, Artemis. Oddly enough, I also had to wrangle with a bad CD copy of an audiobook for this one (I love my library, but yeesh this seems to happen a lot) but I set my rocket scientist mind to the problem and figured out how to get it to work. And here we are. Interested in what we thought of it? I figured you might be.
Read the rest of this review »
Review
Legion: The Many Lives of Stephen Leeds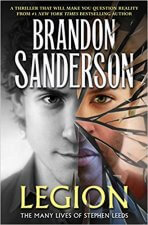 Stephen Leeds is not your average hero. He'd consider himself an normal enough guy, nothing really special to look at or know. At least until he starts talking to people no one else can see.
Read the rest of this review »
Review
The Girl in the Green Silk Gown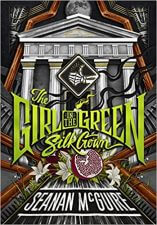 So I REALLY wanted to get this one put away before Halloween, what with this being an actual ghost story and all. For some reason, those don't come along all that often. But, it didn't happen. Them's the breaks. Hopefully though you're recognizing this as the culmination of the promise I made to several months back to buy and read these books after the author, Seanan McGuuire, tweeted about the freak that uploaded an electronic copy of this very book to a free download site. She was less than ecstatic about it, to say the least. Still gets me riled up just thinking about it myself. I'd like to think that book-reviewing peoples as a whole are a pretty solid bunch of honest individuals. Unfortunately they're not all individually solid, honest people. What can you do? It's always going to be that one guy that ruins things for everyone. Way the world is. Still, regardless of the events that prefaced me being introduced to and reading these stories, I'm really glad of the outcome. Because finding these books and fitting them into my reading schedule was SO worth it.
Read the rest of this review »
Giveaway: The Witchlands Books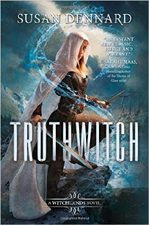 ***Update 11/6/18 this giveaway is closed. The winner is Gregory from PA. Tor will be sending you your winnings shortly. Congrats!***
In honor of WINDWITCH just coming out in paperback and BLOODWITCH being released in February, Tor Teen has partnered with EBR to provide a copy of TRUTHWITCH, WINDWITCH and the prequel novel SIGHTWITCH all by Susan Dennard to give away to a lucky reader. If you're curious about this series and want to start at the beginning (or even want a little something to give your teen daughter at Christmas) this is your chance!
To enter this giveaway:Read the rest of this post »
Like Us On Facebook
Review Tags