Welcome to Elitist Book Reviews!
We're a small group of people that just happen to have better taste in books than you. :) Aside from being completely awesome, we also read lots of books and love to give out our opinions like candy. What's your favorite flavor? Science fiction? Check. Fantasy? Double-check. Horror? Can't do without a little of that. So find yourself an awesome chair or comfy nook quick, because you're about to find a whole lot of recs for a whole lotta great books.
Recent Posts
Review
Kitty's Mix Tape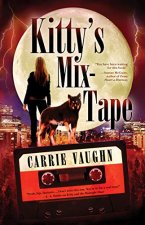 First thing you should know is that KITTY'S MIX TAPE can be read without having read any of the books in the series (we've reviewed a few of them HERE). BUT, if you read this book before reading any of the books there will be a few spoilers. However, if you want a taste of the world of Kitty Norville and the werewolves, vampires, and witches that inhabit it without diving wholesale into the 14-book series, you wouldn't be disappointed.
Read the rest of this review »
Review
War Girls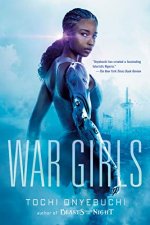 Citing a long history of erasure and silence surrounding the Nigerian civil war, author Tochi Onyebuchi wrote WAR GIRLS (Amazon) to illustrate the way that the tensions that incited the conflict–economic, religious, tribal–exist today and how they might play out in a post-apocalyptic future. I didn't know any of this history when I started the book and the story stands admirably on its own (interested readers can find additional reading in Onyebuchi's afterword).
Read the rest of this review »
Review
A Plague of Giants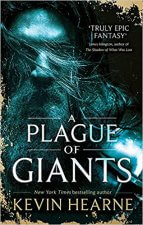 There are five known magical 'kennings' or types: air, water, fire, earth, and plants. Each nation specializes in of these kennings, and the magic influences the society. There's a big pitfall with this diversity of ability and locale–not everyone gets along.
Read the rest of this review »
Review
The Orphans of Raspay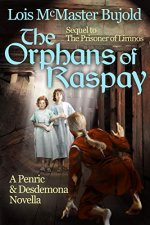 Lois McMaster Bujold's delightful series of novellas featuring Penric and his demon Desdemona continues with "The Orphans of Raspay" where Penric becomes hopelessly caught up in the sad situation of two orphan girls. If you haven't read the previous novellas, go check them out, starting with "Penric's Demon" (EBR review), where you'll get my opinion on the Audible reader as well as the low-down on what it means to be a sorcerer with one's own demon.
Read the rest of this review »
Review
Six of Crows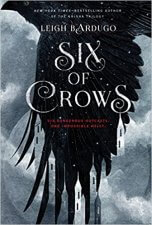 Kaz is a lieutenant for one of the crime lords of Ketterdam. He's made a name for himself, mostly because he's willing to do anything for money. And when he's offered an insane amount of money for a job that may get him killed, he takes it. If anyone can out-think an impossible situation, it's Kaz Brekker.
But he needs the right crew if he plans to pull it off.
Read the rest of this review »
Review
How Rory Thorne Destroyed the Multiverse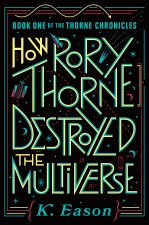 It's not often that I realize I'm not going to like a book by the time I finish its first line. It does happen though, and this happened to be one of those. For your reference:
"They named the child Rory, because the firstborn of every generation was always a Rory, and had been since the first of that name had cut his way through the cursed briars on the homeworld and saved the kingdom of Thorne–and, incidentally, the princess–from the consequences of poor manners."
In this case, it was the combination of its length and a failed attempt at nonchalant humor that just turned me off. Well, that and the tone of the thing, which portended nothing short of hundreds of pages of unnecessary detail, generic character, and lazy meanderings of plot. At least in that, I was not disappointed.
Read the rest of this review »
Review
Driftwood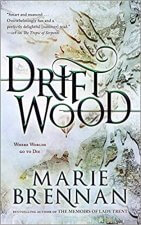 "Last" is the name of a man you can hire to lead you through the confusing realm of Driftwood. But that's not the name he was born with. If he can remember back that far.
First you need to understand Driftwood, a realm where dying civilizations get caught up into its black hole (not really any way to explain it, even though that's not what it is). At first their neighbors disappear. Then their boundaries. Then they find themselves with new neighbors of different worlds, races, and languages. And all of them are moving toward the inexorable deterioration of their society until it disappears completely. It may take a few generations (depending on the life-expectancy of the natives), but their apocalypse is inevitable.
Read the rest of this review »
Review
Middlegame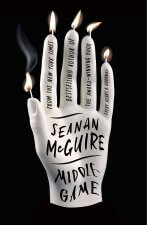 A lot of books can't wait to reveal all of their secrets. Others dole them out slowly, reeling the reader in little by little. And while unintentional disorientation is the sign of bad writing, intentional disorientation can be fun. It requires a little more work and patience from your reader, but once you figure out the game, it can heighten the pleasure inherent in reading, the tension and relief of revelation.
MIDDLEGAME takes the 'low and slow' approach, revealing its secrets bit by bit. It's effective because McGuire centers a complex story structure around compelling and simple character stakes to make an unusual story.
Asphodel Baker, a talented alchemist who was ignored and underestimated because she was a woman, had a big idea. She wanted to embody the Doctrine of Ethos, which McGuire describes as the "balance between language and mathematics" (kindle location 108). Basically Baker believed that these two forces shape the world, and could bring magic back into it if […]Read the rest of this review »
Review
The Lessons Never Learned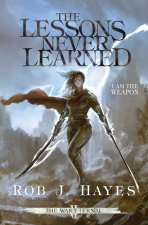 Okay, so yes. I admit it. I've been putting off writing this review. In case you might have somehow missed my response to the first book in this series, ALONG THE RAZORS EDGE (EBR Review), it absolutely left me gasping for more. That story is easily one of the best dark fantasy stories I've read in the last year, and I haven't only been noodling around in the self-published arena during that time. I've read some authors that I consider to be some heavy hitters. So to say that I was super excited to get into this book would be a pretty powerful understatement. I absolutely couldn't wait. Like fingers twitching and stuff, grasping for more of The War Eternal. It stands to reason that there will be some spoilers here. So, if you haven't read that first one yet… seriously, go buy it and read it and then you can come back for my thoughts on this one.
Read the rest of this review »
Review
A Declaration of the Rights of Magicians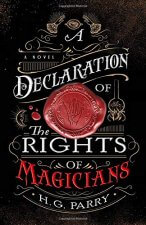 A DECLARATION OF THE RIGHTS OF MAGICIANS explores the ways that magic might have intertwined with slavery, trade, and politics during the political upheaval of the 1790s. Also, there's dark magic. And vampires. And they storm the Bastille!
But you knew that last one already.
In Parry's past, "commoner" magicians are prevented from using their magic with heavy silver bracelets, monitored by the Knights Templar. Europe lives under the fear of another Vampire War, like the one that devastated that continent 300 years ago. And the sense that people should have the right to practice their own magic freely is growing.
Read the rest of this review »