Welcome to Elitist Book Reviews!
We're a small group of people that just happen to have better taste in books than you. :) Aside from being completely awesome, we also read lots of books and love to give out our opinions like candy. What's your favorite flavor? Science fiction? Check. Fantasy? Double-check. Horror? Can't do without a little of that. So find yourself an awesome chair or comfy nook quick, because you're about to find a whole lot of recs for a whole lotta great books.
Recent Posts
Review
Buzz Kill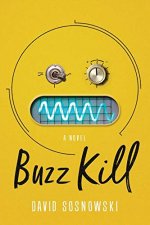 BUZZ KILL (Amazon) is a narrative journey without a destination. The journey itself is interesting as author David Sosnowski explores the ramifications of social media; hacking; AI; a networked world, and the unregulated power of corporations to pursue projects for profit. Pandora and George, the two POV characters, are sympathetic. But a weak final third of the novel leaves readers with too many loose character threads and an abrupt conclusion that significantly weakens the narrative.
Read the rest of this review »
Review
Kalanon's Rising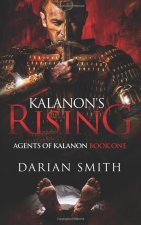 So it's been a minute since we were involved with the Self-Published Fantasy Blog-Off run by Mark Lawrence, and I constantly find myself torn over the fact that we aren't involved anymore. This annual contest is doing sooooo much good in finding some really good authors that have taken the self-publication route. Whether they plan on sticking to their guns for the long term or are hoping to gain the attention of a traditional publication house, you can't deny the fact that the efforts Mark Lawrence (and all of the online review houses involved) is making for these authors is nothing but pure gold. Recently, we were approached by the author of a finalist in the current incarnation of the contest for a review, and I couldn't help but accept.
Read the rest of this review »
Review
Permutation City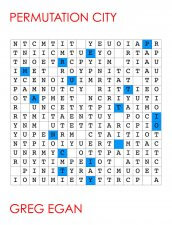 I'm reaching way back into the vault for this one: 1994. Yeah. I was still in high school and nowhere near mature enough of a reader to pick up half of what science fiction was offering at the time. Sometimes I wonder if I'm a mature enough reader these days to understand some of the stuff that science fiction is bringing to the table. A lot of it just makes me go cross-eyed with annoyance and leaves me wondering why story and character are so often pushed to the back burner in favor of presenting ideas that the author thinks are important. Why do they need to present these ideas in the form of fiction? Why not just fill out encyclopedias with these awesome ideas and essays, if the presented construct doesn't really matter? Still, there are some really cool ideas that get flung around here and there, and I guess authors aren't exactly going to stop presenting their ideas in these ways. So, we might as well read them, if we can handle them, and try to get what we can out of them. Yes? Yes.
Read the rest of this review »
Review
To Be Taught, If Fortunate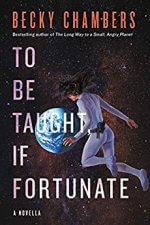 If you've been keeping up with our reviews (and frankly, who hasn't?) you'll know that we enjoyed Becky Chambers RECORD OF A SPACEBORN FEW (EBR Review) and we're looking forward to happily reading along with where she takes the Wayfarers Series. In the meantime, we can gladly recommend her standalone novella, TO BE TAUGHT, IF FORTUNATE.
Read the rest of this review »
EBR Archive
Best of 2019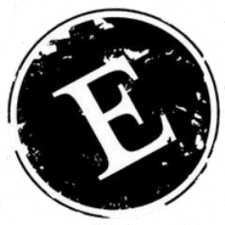 I'm not gonna sugar coat it. 2019 hit us pretty hard here at EBR, and I find it somehow apropos that I'm sitting here writing the content for this page while I'm slowly and inevitably sliding down into clutching grasp of a cold. Just kind of puts the cherry on top of things, you know? If you happened to notice those weeks in 2019 that we failed to meet our goals, please trust that we were at the very least always banging away at that pile of books, trying to share our oh-so-vaulted opinions with you our reading public. And if you didn't notice… well… thank you very much for not noticing. 🙂
Below is our list of the best fantasy books and best science fiction books that we read here at EBR. Honestly, we should have read more horror than we did. I'm still trying to finagle a way to get Adam Nevill's most recent book. There's a lot of great fiction out there. So, this list probably doesn't fit everyone's bill, but they definitely hit ours.
Read the rest of this page »
Review
The New Voices of Science Fiction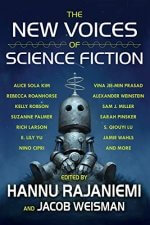 I've been looking for something from Hannu Rajaniemi for some time now. At least, it feels like it's been a long time since I read something from him. Year-and-a-half maybe? So, even though none of the stories in this anthology was by him, I was still pretty excited to read it when it got dropped into my TBR pile. It is, unfortunately, the last bit of short fiction that I'll be getting to for a while. Nothing else on the near horizon anyhow.
Read the rest of this review »
Review
The Wolf of Oren-Yaro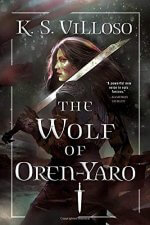 THE WOLF OF OREN-YARO (Amazon), originally self-published back in 2017, fought its way to the top of the fantasy charts on Amazon, catching enough people's attention along that way that Orbit plans on publishing a trade paperback version in February 2020.
So what's the hype about?
Well, THE WOLF OF OREN-YARO is an epic fantasy with world building elements pulled from a variety of Asian countries and a compelling female protagonist.
Cool, cool, cool. Sign me up.
Read the rest of this review »
Review
Spinning Silver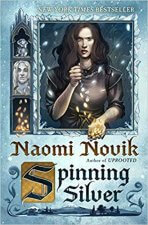 I loved Naomi Novik's Temeraire series (even during the trudging years), but when she departed from the dragons and wrote UPROOTED (EBR Review) I admit I didn't jump on board as quickly as I ought to have. When I did finally read it, I loved it and recommend it to anyone who would listen. I went into SPINNING SILVER with the hope it was just as good, bought it, and carved out holiday me time so I could focus on the anticipated deliciousness–even though it's been released for over a year (my bad).
It was everything I hoped it would be and more.
Read the rest of this review »
Review
Blood Heir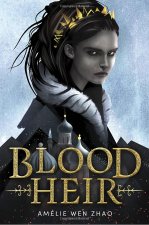 I was fairly surprised when I saw this book displayed on a wall at my local library. Some of you may be familiar with or remember some of the mess that rose up around this book back in 2018. This is the author's debut novel, and when it went out for early reviews, there was a bundle of people that started complaining quite loudly about how the book was racist and condoned slavery, and there was a big ruckus about it. By the time I'd even heard about it though, the book had been pulled from publication, by request of the author, and it was no longer available for review. Color me excited though when I saw that the book had quite obviously been published after all, and I was going to get a look at what all the hubbub was about.
Turns out, there wasn't much to get excited over.
Read the rest of this review »
Review
Stars Beyond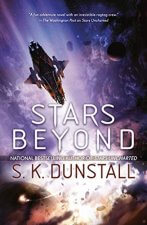 We were introduced to Nika and Josune (our PoV characters) and the eclectic crew of the Road to the Goberling in STARS UNCHARTED (EBR Review), an exciting book full of interesting characters, imaginative science, and some moral dilemmas. Their story continues (and wraps up) in STARS BEYOND (Amazon) as they attempt to shake off their pursuers for good.
Read the rest of this review »