Welcome to Elitist Book Reviews!
We're a small group of people that just happen to have better taste in books than you. :) Aside from being completely awesome, we also read lots of books and love to give out our opinions like candy. What's your favorite flavor? Science fiction? Check. Fantasy? Double-check. Horror? Can't do without a little of that. So find yourself an awesome chair or comfy nook quick, because you're about to find a whole lot of recs for a whole lotta great books.
Recent Posts
Interview with Steven Brust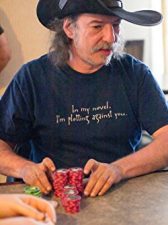 EBR: Who is Steven Brust, in that "Inside the Actors' Studio" way, and tell us a little bit about yourself? What would people enjoy about your novels, besides the true crime story in an epic fantasy novel series you've had running for a few decades?
Steven Brust: You ask hard questions for someone raised to believe that one doesn't talk about one's self. I do need to rewatch some "Inside the Actors' Studio" though, thanks for reminding me. In the meantime, I'm not sure how to answer that. Born in Minnesota, I've lived here most of my life. I was raised by proletarian revolutionists, and still consider myself Trotskyist sympathizer. I also consider myself extraordinarily fortunate to be able to make a living doing what I love, not just in the sense of writing fantastical fiction, but that (so far) I've been able to survive writing the next book I want to read. The next book I want to read usually has a fair bit of wit, Read the rest of this post »
Good Guys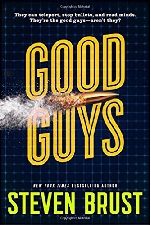 Sometimes I wonder if Urban Fantasy is stuck in the year 2005. Vampires. Werewolves. Angels. The Fae. And then once in a while, lo and behold, I find a novel that fulfills a certain niche: mages versus mages. Except this isn't Hogwarts, or Harry Dresden walking into yet another CSI murder scene that turns into the Fae having a turf war. No. It's Steven Brust, author of the acclaimed Vlad Taltos series, returning with his first standalone in twenty plus years. And it has all the trademarks of Brust's usual style: dry wit, working-class grit, and a whole lot of talking. GOOD GUYS asks a simple question: Is it good to be working for a shady organization who pays you peanuts for a wage? Maybe.
Read the rest of this review »
Sorcery for Beginners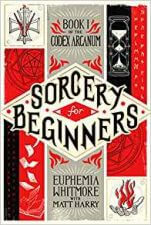 Owen is your average Middle Schooler: he's ok at sports, he passes his classes, and he has a couple friends. But when his mom leaves to work in Sumatra and dad takes him to live in Las Vegas, Owen is sure life will never be the same.
Even then, he didn't account for finding the Codex Arcanum bookstore and buying SORCERY FOR BEGINNERS. Now his life is *really* going to change.
SORCERY FOR BEGINNERS claims it's what the title says: that this book will teach you, via story and real-life examples, how to become a sorcerer. You'll follow Owen's story as he buys the book after being promised the "Spell to Rewrite History" which Owen plans to use to revert to the time before his mom left.
Read the rest of this review »
And we're back!

Okay, well…kind of. Like we mentioned in our initial announcement, this incarnation of the site is a bare-minimum effort to just get us up and populating with good SEO site-value as soon as possible. Dan is still working on making sure that everything's working right (social media posting might take a bit…), and we have a METRIC TON of old posts to go back through and update so that everything looks and works beautifully. But the first step has been taken.
Thanks for being patient with Dan while he figured out all the details of the move this last week. He's ridiculously excited to get into further development, and the rest of us can't wait to see how everything develops with the new site as well.
As an aside, if any of you have suggestions for Dan's further development efforts, or if Read the rest of this post »
Website Under Construction

And we're off! Yeah, okay, so this is likely going to take a while. I'm hoping not more than the week, but I don't do this book-review stuff full time (no one here does) and so it's going to come as it comes because I only have so much free time and my heart needs its beauty sleep these days.
Once the whole transition to the new site is complete, We will post an official announcement of it. Until that point, you may find yourself at either site version, somewhere in-between, or even at a page that says "This website is insecure!". Just know that I'm busy getting everything to work out completely, and we won't need any feedback about stuff that "looks or acts broken" until after that official post. Also, any comments you may try to make could potentially be lost in the Read the rest of this post »
New Website Coming

A little while ago, Dan was wandering around on our site and made a horrifying discovery: our site has no SEO value whatsoever. Yeah. Blame the theme developers for this bungle, if you must, but we were the ones that set the dang thing up without realizing that. So…
For those of you unfamiliar with what SEO is, it's the stuff that happens in the background of a site that makes it show up in Google search results.
Yeah. Not good.
As soon as we figured this out, we were on the lookout for another option. To make a long story short, we decided that the best option for us was so strike out on our own, so to speak.
Dan's day job is as a web developer. So, he's put together a new website and we'll be changing over to that one in the very near future. In all honesty, it's going to be a bare minimum Read the rest of this post »
Altered Carbon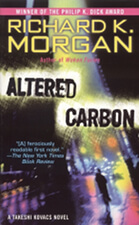 As with my previous review, the decision to finally read this novel came as a result of consuming media outside of the book realm. Prior to now, I hadn't picked this book up because of the complete underwhelming Richard K. Morgan had given me in previous books. Granted, most of his stuff that I'd read was in the fantasy genre. Although I have also read Thirteen, but that didn't really ruffle my feathers either. Still, the trailer for the series that Netflix recently did just looked AMAZING. Grabbed me and would not let go. And wouldn't you know it, about that same time the book came up in my audiobook queue at the library as available and I just couldn't help myself. Turns out, I probably should have listened to myself and/or watched the show instead.
Read the rest of this review »
The Genius Plague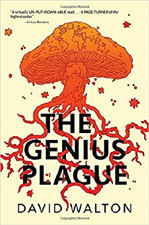 I was telling a friend about this book and the first thing that came out of my mouth was "I learned a lot about fungus." Don't worry! There are plenty of other fun things to recommend this book, such as NSA code breaking and creepy assassinations, but Walton has found an interesting hook and then amplified it until you will willingly read an entire book about fungus taking over people's brains. Really.
Read the rest of this review »
Giveaway: Iron Gold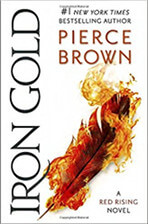 This giveaway is closed.
Update 3/30/18: Micaela from Ohio is our winner. Congrats! Your book will be on its way soon and happy reading!
EBR has a spare copy of IRON GOLD by Pierce Brown to send to one lucky reader. To enter this giveaway:
1. Email us at elitistbookreviews@gmail.com
2. Include the following on the subject line: IRON GOLD GIVEAWAY
3. In the body of the email include your name and mailing address. This giveaway is only available to U.S. addresses.
Giveaway rules can be found here. Entries will be accepted until midnight of March 29 and the winner will be posted on March 30. Good luck!
See Dan's review here: IRON GOLD
Elantris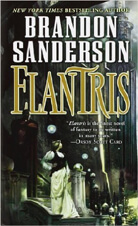 I love a good series. From J.R.R. to George R.R., there's a plethora of ways to enjoy the intricate plot and character development that occurs when you start counting pages not in the hundreds, but in the thousands. But sometimes I just… want to read a book? Singular?
Brandon Sanderson's ELANTRIS is one of these rare standalone novels; rare in the sense that the genre, and Sanderson in particular, tends towards producing series. Not that I would complain if ELANTRIS became a series–I had a great time reading it and I would say that thirteen years after its initial publication the story is as fun and compelling as ever.
ELANTRIS begins with Princess Sarene of Teod sailing into the kingdom of Arelon only to discover that she is a widow. The man she was supposed to marry, Prince Raoden, has died, but her marriage contract stipulates that she is still his wife, whether or not she had the chance to meet him. Disappointed but not distraught, Sarene immediately begins puzzling out the political situation in Arelon.
Read the rest of this review »