Welcome to Elitist Book Reviews!
We're a small group of people that just happen to have better taste in books than you. :) Aside from being completely awesome, we also read lots of books and love to give out our opinions like candy. What's your favorite flavor? Science fiction? Check. Fantasy? Double-check. Horror? Can't do without a little of that. So find yourself an awesome chair or comfy nook quick, because you're about to find a whole lot of recs for a whole lotta great books.
Recent Posts
Review
Blood Heir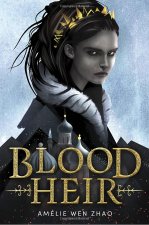 I was fairly surprised when I saw this book displayed on a wall at my local library. Some of you may be familiar with or remember some of the mess that rose up around this book back in 2018. This is the author's debut novel, and when it went out for early reviews, there was a bundle of people that started complaining quite loudly about how the book was racist and condoned slavery, and there was a big ruckus about it. By the time I'd even heard about it though, the book had been pulled from publication, by request of the author, and it was no longer available for review. Color me excited though when I saw that the book had quite obviously been published after all, and I was going to get a look at what all the hubbub was about.
Turns out, there wasn't much to get excited over.
Read the rest of this review »
Review
Stars Beyond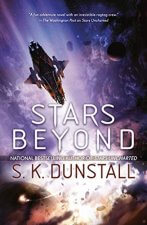 We were introduced to Nika and Josune (our PoV characters) and the eclectic crew of the Road to the Goberling in STARS UNCHARTED (EBR Review), an exciting book full of interesting characters, imaginative science, and some moral dilemmas. Their story continues (and wraps up) in STARS BEYOND (Amazon) as they attempt to shake off their pursuers for good.
Read the rest of this review »
Review
Strange Exit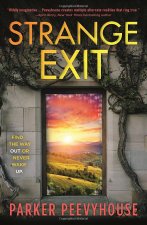 The concept of virtual worlds has always intrigued me. In some ways, we're rapidly approaching the condition where such things could become a reality. And in others, I think we're light years away. When I've seen them used in stories, one of the big themes that invariably comes into play is the ability to determine whether you're in the virtual world or the real world. Inception, anyone? There are lots of other ideas to play with in that realm as well, but this one is of particular importance because it comes into play in this book. In Inception, there was a very simple, very direct way of determining which world the character found themselves. Made it easy for the audience to stay grounded. But without such a device? Well, let me not spoil the message of this review.
Read the rest of this review »
Review
Age of Assassins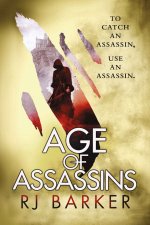 Recently I'd been seeing frequent mentions about R.J. Barker's new book, The Bone Ships, but didn't have ready access to a copy. So I went looking for another book by the same author and found this one. Apparently it's his debut novel, and was just published a couple years ago. From the publication schedule, it looks like they were probably all written first, and then he got picked up by his publisher. 6-month, very regular release dates kind of point in that direction. Seems like I see this significantly more often from speculative authors across the pond, but not so much from those here in America. Wonder if that's because I just haven't noticed them, or perhaps if it's just something they don't do here as often. Bonus for people that find they really like the thing, I guess. 🙂
Read the rest of this review »
Review
The Girl in Red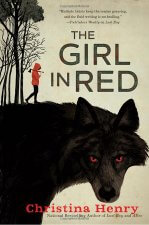 I have a thing for constancy. When I drive somewhere I usually take the same route. When I'm feeling down, I like to hit the used book store. Things I do on a regular basis are safe and known quantities. But I also have a thing for new stuff. Surfing YouTube for new music. Trying out some new kind of food. I may or may not really like to find new breakfast cereals, despite the fact that I know pretty much anything else would be better for me in the mornings. When it comes to books and stories, I also like to see new things. All the sequels that Disney puts out frequently annoy me. Although it seems as if Pixar can do no wrong. So when I come across a story that is a "re-telling of a classic fairy tale", I'll typically pass. For whatever reason, the third time I picked this book up off my EBR-TBR shelf, I decided that I'd read it. Must have been my "constancy" having a surge of strength that day or something. Whatever. I picked this one up, and boy am I glad that I did.
Read the rest of this review »
Giveaway: Book Bundle 2019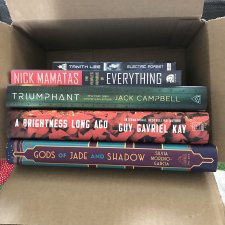 ***Updated 12/29/19, this giveaway is closed: Jesse B of Gardland TX is our winner. Congrats! The books will be on their way soon.***
2019 is almost over and Vanessa is cleaning out her shelf of a few extra books. You can win this (eclectic) box of books published within the last year (mostly), which includes:
ELECTRIC FOREST by Tanith Lee (EBR Review)
THE PEOPLE'S REPUBLIC OF EVERYTHING by Nick Mamatas
TRIUMPHANT by Jack Campbell
A BRIGHTNESS LONG AGO by Guy Gavriel Kay (EBR Review)
GODS OF JADE AND SHADOW by Silvia Moreno-Garcia (EBR Review)
To win this book bundle:
Read the rest of this post »
Review
Salvaged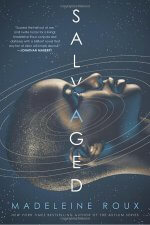 Sometimes I think it surprising that a good cover quote by a published author can still sway my opinion on whether to read a given book or not. I mean, I'd like to think that EVERY cover quote would be legitimately honest and portray the full feelings of the one giving the quote, but there is this very pessimistic side of me that has been shoved into the advertisement and marketing niche for too long to believe that this is completely true. The cover quote on this book definitely caught my attention, and pushed the book to the front of my reading queue after I'd checked out the first couple pages and found it readable. To a limited extent, I can say that I agree with what the cover quote had to say. But I also felt like it was somewhat skewed to represent only one of the best aspects of the book and not the book as a whole. Which kind of goes back to my point. But I digress. There was plenty in this book to enjoy… and to be frustrated with.
Read the rest of this review »
Review
Writers of the Future, Volume 35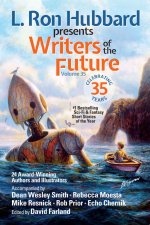 So I'm a little behind in getting to this anthology this year. Can't say that I really have a good excuse for that. Just sat on my shelf for way too long, and then I noticed it a few weeks ago and decided that I had better stop passing it by in favor of other reads. Regardless of my overall impression of the stories this annual anthology contains, I always find it an informative read and well worth the time I put into it. Although, I admit, I have some strictly selfish reasons for feeling that way: I'm still trying to craft a winning entry. 🙂
The anthology included 12 stories this year. No Published Finalists. There were also a couple essays and a couple stories by those associated with the contest, and then the art for each of the winners. For me though, the important part was the stories. Want to know what I thought? Figured so.
Read the rest of this review »
Review
The Poppy War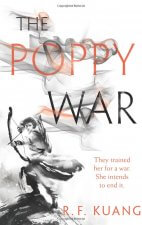 There's a part of me that wonders if I'd have ever decided to pick up this book if I didn't have a Twitter account. A few months ago, there was just this rash of people talking about it in my feed and gushing about how beautiful it was, or what a great book it was. So I decided I'd better see what all the hubbub was about. There are a couple other books like that in my to-read queue right now, but this was the one that took precedence because it was the first one I had free access to it. Got nothing but love for my local library.
Read the rest of this review »
EBR Archive
Best Science Fiction Books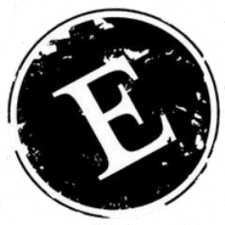 This is a list of books that we consider to be the best Science Fiction books we've ever read. In making this list, we're not trying to dictate what the best Science Fiction books ever might be. Although this list would likely overlap with that one to some extent, were we to make such a list. But we're not. So there, Mr. Internet. Still, there's a wide timeline that we're trying to cover here, so don't be surprised if there are some old ones on this list.
Read the rest of this page »