Welcome to Elitist Book Reviews!
We're a small group of people that just happen to have better taste in books than you. :) Aside from being completely awesome, we also read lots of books and love to give out our opinions like candy. What's your favorite flavor? Science fiction? Check. Fantasy? Double-check. Horror? Can't do without a little of that. So find yourself an awesome chair or comfy nook quick, because you're about to find a whole lot of recs for a whole lotta great books.
Recent Posts
Review
All Systems Red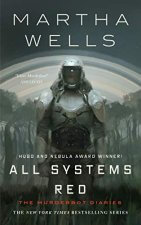 Last week in my interview with S.K. Dunstall (see it here), they mentioned loving Martha Wells' Murderbot stories. With such high praise from an author-duo I enjoy, how could I resist?
I've been missing out. Murderbot is totally worth reading.Read the rest of this review »
Review
The Fever King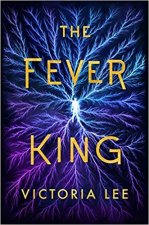 To borrow a phrase from The Princess Bride, Victoria Lee isn't writing to the death in THE FEVER KING — she's writing to the pain. So when I characterize this novel as dark and unsettling, I have to believe that Lee would take that as a complement.Read the rest of this review »
Review
Zero G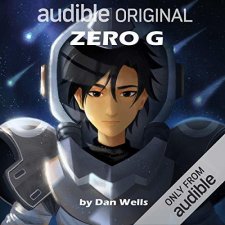 I don't read a lot of middle grade books. Last ones I got to were probably the Series of Unfortunate Events books by Lemony Snicket (Amazon), which are brilliant good fun, especially when they're read aloud. I was trying to remember what books I was reading around that age and realized that at 11 I was pretty deep into the Dragonlance Chronicles series by Margaret Weiss and Tracy Hickman (Amazon), thanks to my good friend Scot. It might be because of this, that I don't remember reading an awful lot of funny, goofy, adventure romps like this one. There's a part of me that thinks I might have missed out, but another that can't help but remember how much I enjoyed reading back in those days. So I can't have missed out on too much, can I?
Read the rest of this review »
Review
Stars Uncharted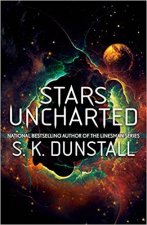 Nika Rik Terri is known as one of the best body modders (as in she modifies human bodies with her machines) in the galaxy. But even those famous for their abilities can make dumb decisions: like, say, hook up with a man who becomes an abusive boyfriend. She makes a business deal with his boss so her ex-boyfriend will leave the planet and harass other people instead. Unfortunately she ends up on the run anyway after her ex's "co-worker" threatens Nika's life.
Josune was recently hired as assistant engineer on the spaceship The Road to the Goberling, but she's there to spy for her boss, the captain of the Hassim, who wants to learn something only Captain Roystan will know. But when the Hassim arrives suddenly out of nullspace with company men on board (think pirate mentality but with corporate backing) and the original crew dead, Josune suddenly finds herself in a predicament.
But neither woman is without resources or smarts, and they must use all their wits to come out of this alive.Read the rest of this review »
Interview with S.K. Dunstall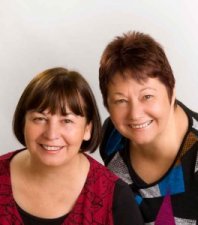 With the recent release of STARS UNCHARTED, we asked author(s) S.K. Dunstall if we could ask a few questions. They graciously answered.
Elitist Book Reviews: S.K. Dunstall actually stands for a sister-writing duo. We think that's pretty awesome. Please introduce yourself to our readers.
Sherylyn: Thank you for having us. I'm Sherylyn, the 'S' part of the name.
Karen: And I'm the 'K'. Karen. We both live in Melbourne, Australia. As you noted, we are sisters.
Sherylyn: Some people think the Dunstall part is a made-up name. It's not. It's our real surname.
EBR: Tell us a little about your writing history and how you came to be published authors?
K: We always told and wrote stories. Originally, we wrote separately. Sherylyn was my sounding board, and my first reader, and vice-versa. We critiqued each other heavily.
S: So much so that one day another of our sisters (we come from a big family) who was listening to one of our discussions, told me off for being mean to Karen.
K: We […]Read the rest of this post »
Giveaway: Magic of Recluce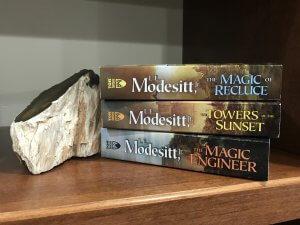 ***Updated 1/25/18: The winner of this giveaway is Anthon of Vineyard, Utah. Your books will be on their way, soon. Congrats! And thanks to everyone who entered. ***
In honor of the 20th anniversary of L.E. Modesitt's The Magic of Recluce series, the publishers are reprinting the books with new, beautiful paperback cover art. If you aren't familiar with the series, here's your chance to pick it up where it all began, because one lucky EBR reader will receive a set of the first three books in the series.
To enter this giveaway…
Read the rest of this post »
Review
Avengers of the Moon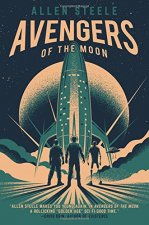 Sherlock. Queer Eye. Sabrina. An endless parade of Spider-Men (is 'parade' the right collective noun for spiders? Update: the internet informs me it might more correctly be called a 'cluster of Spider-Men').
Anyways.
Reboots are everywhere and Allen Steele's AVENGERS OF THE MOON is one of them, a reboot of a classic, pulpy sci-fi series called Captain Future. I'm going to date myself by saying it was WELL before my time and that I've never read the previous series; regardless, I think the reboot criteria are clear:
A reboot should stand on its own.
A reboot should make characters and story arcs more accessible to modern audiences by updating the piece's sensibilities.
A reboot should retain some of the essential qualities that made the work popular in the first place.
So does Steele deliver? Read the rest of this review »
Review
The Hod King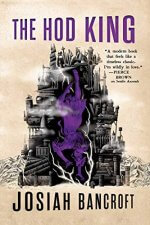 It certainly seems like it's been a considerable period of time since I read the first two Books of Babel. Thanks to the words of Mark Lawrence during the 2016-round of his Self-Published Fantasy Blog-off, I was made aware of this brilliant series that had yet to be picked up by a traditional publication house. In point of fact, it's been a little less than 18 months since I closed the pages of THE ARM OF THE SPHINX (EBR Review) and began my wait for this next book. Would it be the last? Or just the next? Would it be as good? Bah, how could it not be? Tom finally knows where his wife is, and he's bound to get to her! I had a difficult time believing that anyone that had read the previous two books (that you? hmmmmm?) wouldn't be just as ecstatic to get into this story as I.
Read the rest of this review »
Review
Shadow Captain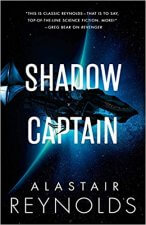 It's always an interesting ride, I think, when an author that typically writes for readers within a particular age range ventures outside their normal boundaries. Age ranges being groups like Children, Middle Grade, Young Adult, blah, blah, blah. In this, I'm thinking Abercrombie's Shattered Sea (EBR Archive) or Rowling's Casual Vacancy are decent examples of this jump in readership. Sometimes they work; other times, not so much. I've never tried any of Rowling's non-Potter books, but of the three YA books that Abercrombie gave us, I thought the first and third not quite as good as what I was used to getting from him, but the second, in my estimation, was possibly the best book he's ever written. And while Revenger wasn't necessarily my favorite book from Mr. Reynolds, and I'd likely be more interested in getting another in the Prefect Dreyfus series, I was still super excited to get another anything from him, as he's easily one of my favorite science fiction authors these days.
Read the rest of this review »
EBR Archive
Best of 2018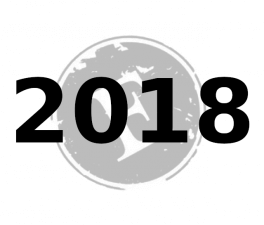 2018 was a bit of a crazy year for us here at EBR. We started by throwing off the shackles and supremely annoying ads of Wordpress.com, leaving behind a website that was doing essentially nothing for us with regards to helping us find more readers.
The new site has been a labor of love, and a copious number of hours have been spent by the team in hacking and slashing the reviews we've posted over the last ten years (yeah, ten years people!) and trying to figure out how best to restructure the site to make both our readers and search engines (Google) love us ever more.
We held a contest for and opened our doors to a couple new reviewers — Yea, new reviewers! — and have loved what they've been able to add to the site. We've tackled in earnest the social media sphere and have picked up a growing number of followers there on multiple different platforms. From the look of things, most of the rocky is done and over, and the future is looking up, up, up from here.
Read the rest of this page »
Like EBR On Facebook
Keep Up With EBR on Instagram
Review Tags