Welcome to Elitist Book Reviews!
We're a small group of people that just happen to have better taste in books than you. :) Aside from being completely awesome, we also read lots of books and love to give out our opinions like candy. What's your favorite flavor? Science fiction? Check. Fantasy? Double-check. Horror? Can't do without a little of that. So find yourself an awesome chair or comfy nook quick, because you're about to find a whole lot of recs for a whole lotta great books.
Recent Posts
Review
Foundryside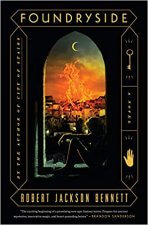 So my first whiff of this book came last February while I was sitting in a group of friends at LTUE, which is a writer's conference that meets in Utah every year, and Brian McClellan (EBR Archive) casually said that he was reading Robert Jackson Bennett's new book and that it was really good. I was immediately jealous and began wondering how I might be able to find my way into Mr. Bennett's in-group. To say the least, I was excited to hear that the next book from this great author was coming along smashingly. After sailing my way through his Divine Cities series (EBR Archive), I was really looking forward to some more goodness from his direction.
Read the rest of this review »
Review
The Fated Sky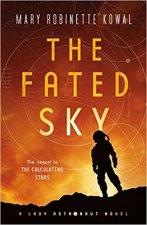 In THE CALCULATING STARS you got to know Elma York, the brilliant mathematician who becomes one of the first lady astronauts on an Earth that must take to the stars to survive.
Now it looks like she'll be one of the first women to Mars.Read the rest of this review »
Review
Dive Smack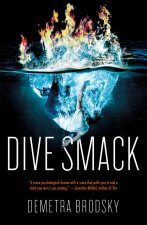 DIVE SMACK , Demetra Brodsky's debut YA novel, is a fast-paced mystery that conveys both the exhilaration and exhaustion of teen life with a supernatural twist. In diving parlance, a 'dive smack' occurs when a diver mis-judges their entry and hits the water painfully instead of smoothly. It also describes the situation of Theo Mackey, who's the captain of the dive team and has a good shot at a scholarship to Stanford–if he can keep the rest of his life from spiraling out of control.
When Theo is assigned a family history project at school he freaks out. Theo has a good reason though–hewas playing with matches the night his house burned down, killing his mother. He blames himself her death as well as his father's, which followed three years later. So when Theo is assigned a family history project at school he…freaks out. The bad news is that the only way Theo can find out about his family history is by asking his alcoholic grandfather, or his Uncle Phil, […]Read the rest of this review »
Review
The Last Unicorn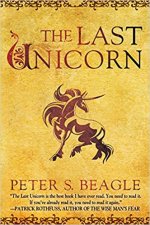 Patrick Rothfuss called this "the best book I've ever read." His love for THE LAST UNICORN explains the tone and texture of his THE SLOW REGARD OF SILENT THINGS EBR Review, which I loved, and it was Rothfuss's endorsement that prompted me to get in the Way Back Machine and read this classic. I'm glad I did.
This breezy gem-of-a-book is hard to describe. I find myself at a loss because anything I write will be so inferior to it and I'd like to do THE LAST UNICORN justice. There is poetry on every page. To say I identified with the characters and that they were sympathetic is like saying that a quiet cloud drifting past a shining, amber harvest moon is beautiful. (If you hated that, then skip this; you will not enjoy 1960s era whimsical fantasy.)
There are no cardboard figures, no noble savages, this being near the beginning of the anti-hero era in literature and cinema. The nuance we hope for is present throughout, so even the really-bad bad guy is […]Read the rest of this review »
Review
Mystic Dragon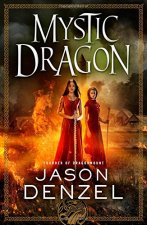 I love traditional heroic fantasy. My best friend's family took me camping in Big Sur, CA, long ago and we read THE LORD OF THE RINGS for the very first time together. Unforgettable, of course. So it was with bated breath and a slightly elevated heart rate that I opened Jason Denzel's sophomore effort MYSTIC DRAGON. But first…
Tor created a lovely booklet-sized prologue to the entire Mystic series called THE NAMELESS SAINT and I was fortunate to obtain a copy. It is a nearly perfect essay-length gem and the stunning cover art continues to impress. Unfortunately, these are only available at MYSTIC DRAGON book signings. (I bet Jason might send you a signed copy if you ask nicely.)
Read the rest of this review »
Review
Priest of Bones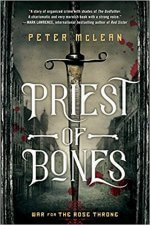 I'm always leery about books that tout themselves as dark and gritty. "I'm dark! Read me!" they yell. "And I'm gritty! Read me!" But what is "dark" and what is "gritty"? So many authors, and even publishers, get it dead wrong all the time. You don't become dark and gritty by including profanity; though such stories usually do contain a bundle of profanity. And stories aren't dark and gritty because there's a lot of violence in them either; although they typically contain a lot of the bloody hack-and-slash as well. And yet, there are constantly those that will try to throw a bunch of violence and profanity into a book and call it "dark and gritty", and then try sliding it in under the noses of you wonderful readers.
<<eye roll>>
When will they ever learn?
Read the rest of this review »
Review
Nebula Awards Showcase 2018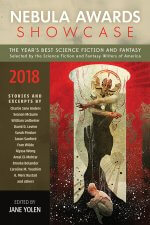 When I mentioned to my husband that I was reviewing the NEBULA AWARDS SHOWCASE 2018 he asked: isn't the fact that all of these pieces were nominated for an award a review in and of itself?
It's not a bad question. But I think the answer is only: sort of? Anthologies are are hard. Even anthologies where the stories have all been previously vetted can feel bloated or uneven. In fact, I haven't picked up an anthology in long time for these two reasons–the last few I read felt like a lot of panning and sifting for very little gold. So even with the words "Nebula Awards Showcase" emblazoned across the front I was skeptical.
And I was wrong. This anthology is full of strong pieces, both short stories and novelettes, as well as (unfortunately, but probably inevitably) excerpted novellas. Jane Yolen, who was the editor of this anthology, faced a tough job but I felt like the pieces she included from the awards spoke to the breadth and depth of the field. She arranged the […]Read the rest of this review »
Review
Trial By Treason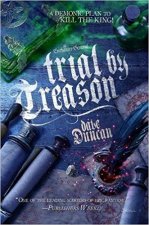 So I'd never heard of Dave Duncan before this book showed up at my house. As the managing editor here at EBR I'm the one who gets the books and divvies them out. There used to be a time–when I first started here eight years ago–that Steve would send me stuff and I would read it because he told me to; sometimes I'd get to choose. Not anymore. I'll admit that now it's typical for me to read the first couple pages of everything that comes in and keep what I think looks interesting. I'll also admit that the front cover of this book didn't particularly grab me.
But then I read the first couple of pages. And then I read the first couple of chapters. Then I looked up Dave Duncan on the wiki and that dude has something like 40 books to his name! What dungeon have I been holed up in all these years? First I remedied it by reading TRIAL BY TREASON then I'll continue to see what else he's got.Read the rest of this review »
Review
Iron Dragoons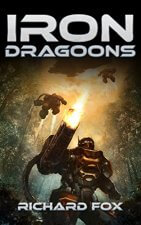 Military Science Fiction is a sub-genre that I don't very often find myself reading. Not that I don't like it, or even that I think I might not like it, but I just haven't read much of it. Kind of the same way that I don't very often find myself singing while riding the city bus. Not that the other patrons on the bus might not like my warbling voice or that I might not enjoy such an experience… I just don't do it all that much. So this was a bit of a departure for me, but I got a copy of the ebook for free from the author on Facebook, if I remember correctly. Trying to drum up some business and get his name out there, I'd gather, and two cheers for him, I say! I think that more beginning authors should be giving a decent smattering of their stuff away for free. Take note, newbie authors. Especially those that are self-published. Just make sure that what you're floating in front of people's noses for FREE is also awesome-sauce, […]Read the rest of this review »
Review
Ball Lightning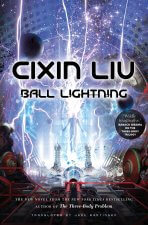 You're probably going to do this anyways, so instead of leaving halfway through the review I'll suggest now that you type 'ball lightning' into Youtube/Wikipedia and get it out of your system.
Pretty weird, huh?
Alright, back to the review.
If Cixin Liu's name sounded familiar to you a few years ago, it might have been because you were following the speculative fiction scene in China, where Liu has won multiple Galaxy and Xingyun Awards (equivalent to winning multiple Hugos and Nebulas, respectively).
If Liu's name sounds familiar to you now, it's probably because he was the first Chinese author to win a Hugo award for his novel THE THREE BODY PROBLEM, the first book in The Remembrance of Earth's Past trilogy.
Read the rest of this review »