Best of 2017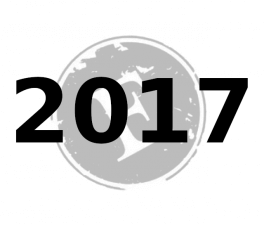 2017 was just as awesome of a year as we'd ever had, but the first part of 2018, which is when this page should have first been published, was a wicked wild ride. What with launching off on our own and pulling in some new reviewers, things were busy around here to say the least. Suffice it to say that this annual update to the site was overlooked at the time, possibly pushed to the back burner. Thinking back about that time of our lives and the life of our website… I don't blame us at all for skipping over this one. 🙂 We can only hope that you'll forgive us for this small indiscretion and accept our humble apologies along with our list of favorites for the year.

Probably the most time-consuming portion of 2017 was swallowed up by another round of The Great Self-Published Fantasy Blog Off (EBR Archive) run by your pal and mine, Mark Lawrence. This is probably one of the most impressive things I've ever seen an author do to help those still trying to break into traditional publishing. And he even had a couple authors that made it into a traditional publication house as a direct result of the effects of the contest. Super cool stuff. Although, it did tend to cut into the reading time of the entire team…. Sacrifices.
Still we were able to rack up a bunch of reviews for a bunch of awesome books. Here's the list of our favorites for the year.
Best Books of 2017
Persepolis Rising by James S.A. Corey (EBR Review)
The Liberation by Ian Tregillis (EBR Review)
Nothing Left to Lose by Dan Wells (EBR Review)
Within the Sanctuary of Wings by Marie Brennan (EBR Review)
Senlin Ascends by Josiah Bancroft (EBR Review)
*** This is only a very mild cheat, as the self-publication date was likely pre-2017, but the official publication date definitely falls into the parameters of this list. Still I can't help but make sure this one gets listed here. Most of these comments also apply to the next one…
The Grey Bastards by Jonathan French (EBR Review)
City of Miracles by Robert Jackson Bennett (EBR Review)
Oathbringer by Brandon Sanderson (EBR Review)
The Creeping Shadow by Johnathan Stroud (EBR Review)
Silence Fallen by Patricia Briggs (EBR Review)
There were also a handful that got pretty close to making this list. We like to call em:
Honorable Mentions of 2018
The Collapsing Empire by John Scalzi (EBR Review)
Sins of Empire by Brian McClellan (EBR Review)
Revenger by Alastair Reynolds (EBR Review)
The Stone in the Skull by Elizabeth Bear (EBR Review)
At this point it seems somewhat anti-climactic to be talking about the books we're most looking forward to in 2018, which is what would normally come next. As we're finally posting this page in 2019 however… it's likely that the large majority of the books that would have made the list at that time ended up as a part of those we loved from 2018. If you haven't been over to that page yet… it just happens to be waiting for your perusal. 🙂 (EBR Best of 2018)
What you're not going to see here is a lot of hand waving and exclamations to "Look over here!" and "Please ignore the man behind the curtain!" as we try to make this post seem like we're all a bunch of machines and that nothing ever goes wrong here. This is the real us. We're here to give you the truth. Whether that includes our opinions of the books we read, or the accuracy of the news that we relate, we're going to give it to you straight.
Regardless of when you find yourself reading this, thanks for being a patron of the site. We hope that you enjoy our reviews and are able to take a recommendation or two away with you after your visit today. It's why we do this stuff, after all: Find the best books and then share them with you.
Happy hunting!
Looking to scan through the reviews we wrote in 2017? We've got you covered. Check em out here –> (EBR Archive).
Parent page: Best-of Lists