Best of 2018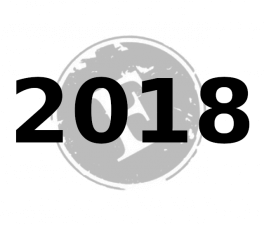 2018 was a bit of a crazy year for us here at EBR. We started by throwing off the shackles and supremely annoying ads of WordPress.com, and leaving behind a website that was doing essentially nothing for us with regards to helping us find more readers.
The new site has been a labor of love, and a copious number of hours have been spent by the team in hacking and slashing the reviews we've posted over the last ten years (yeah, ten years people!) and trying to figure out how best to restructure the site to make both our readers and search engines (Google) love us ever more.
We held a contest for and opened our doors to a couple new reviewers — Yea, new reviewers! — and have loved what they've been able to add to the site. We've tackled in earnest the social media sphere and have picked up a growing number of followers there on multiple different platforms. From the look of things, most of the rocky is done and over, and the future is looking up, up, up from here.

Along the way, we've tried to stay pretty regular about getting at least two reviews out every week. Sometimes that was difficult. Other times, not so much. Life, as they say, has a tendency of getting in the way, and everyone here at EBR has their own chaotic life that underpins the volunteer work of writing awesome reviews for your benefit.
So, to to finish the year off, we've put together a list of those books we thought were the best of those we read along the way.
Best Books of 2018
Iron Gold by Pierce Brown (EBR Review)
Elysium Fire by Alastair Reynolds (EBR Review)
The Consuming Fire by John Scalzi (EBR Review)
Brief Cases by Jim Butcher (EBR Review)
*** This is kind of a cheat, as this is a bunch of short stories that weren't all written in 2019. Mmph. Still uber-awesome.
Legion: The Many Lives of Stephen Leeds by Brandon Sanderson EBR Review
Silence Fallen by Patricia Briggs (EBR Review)
Freeze Frame Revolution by Peter Watts (EBR Review)
Armistice by Lara Donnelly (EBR Review)
Foundryside by Robert Jackson Bennett (EBR Review)
Summerland by Hannu Rajaniemi (EBR Review)
Head On by John Scalzi (EBR Review)
Terror is Our Business by Joe R. Lansdale and Kasey Landsdale EBR Review
Overall, we think they were pretty dang good. If you missed any of them, you might want to rectify that. 🙂 If you read any others that were uber-fantastic and you think we should repent… well, leave us a note about it below. We'll try to look past your impertinence and decide if we think they're our cuppa tea or not. If so, on the pile they'll go.
We'll try our best, anyhow. Because honestly, there are a lot of books we're expecting to have fall into our greedy little hands any day now. Some of those we're actively drooling in anticipation for this year are:
Eagerly Anticipated Books of 2019
Tiamat's Wrath by James S.A. Corey (Amazon)
Seven Blades in Black by Sam Sykes (Amazon)
Dark Age by Pierce Brown (Amazon) and maybe even something more…
A Little Hatred by Joe Abercrombie (Amazon)
The Hod King by Josiah Bancroft (Amazon)
Holy Sister by Mark Lawrence (Amazon)
Shadow Captain by Alastair Reynolds (Amazon)
Sixteen Ways to Defend a Walled City by K.J. Parker (Amazon)
Cardinal Black by Robert McCammon (Amazon)
Peace Talks by Jim Butcher (If the gods are kind…)
The Doors of Stone by Patrick Rothfuss (If the gods are crazy…)
Winds of Winter by Geroge R.R. Martin (If the gods first bring on the apocalypse!)
The Burning White by Brent Weeks (Amazon)
House of Assassins by Larry Correia (Amazon)
Vultures by Chuck Wendig (Amazon)
Starsight by Brandon Sanderson (Fall 2019)
Ancestral Night by Elizabeth Bear (Amazon)
Children of Ruin by Adrian Tchaikovsky (Amazon)
Empress of Forever by Max Gladstone (Amazon)
Storm Cursed by Patricia Briggs (Amazon)
Shorefall by Robert Jackson Bennett (Amazon)
Amnesty by Lara Donnelly (Amazon)
Middlegame by Seanan McGuire (Amazon)
Storm of Locusts by Rebecca Roanhorse (Amazon)
We Hunt the Flame by Hafsah Faizal (Amazon)
This Is How You Lose the Time War by Amal El-Mohtar and Max Gladstone (Amazon)
The Merciful Crow by Margaret Owen (Amazon)
The Raven Tower by Ann Leckie (Amazon)
Whoa. That IS a lot of books. 🙂 Not to mention, there's still a few from 2018 we still haven't made it to that look like they're going to be uber awesome:
Blood of Ten Kings by Edward Lazellari (Amazon)
Grey Sister by Mark Lawrence (Amazon)
Deep Silence by Jonathan Maberry (Amazon)
We also felt that we needed to mention a few authors we really want to see something new from, but haven't heard any official stirrings of publication as of yet:
Jeff Salyards — New series take time. We get it. Still.
Ian Tregillis — You too, Ian? Dang. Yeah, yeah. New series and all that jazz.
Scott Lynch — Okay, so we're still holding out for this guy. Don't call any of us crazy.
Anyhow, here's to another great year for EBR and more awesome books from the authors we love. Tell all your friends and neighbors about us, will ya?
See you 'round!
Looking to scan through the reviews we wrote in 2018? We've got you covered. Check em out here –> (EBR Archive).
And for those of you that are especially on top of your game… yes, we know that we're currently lacking a "Best of 2017" list. Rest assured that one is in the queue and coming soon.
Parent page: Best-of Lists