Review: Within the Sanctuary of Wings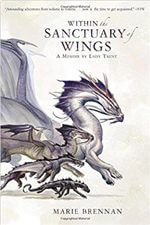 Amazon
We've followed Lady Trent from the mountains of Vystrana to war-torn Eriga to the high seas to the deserts of the Akhia all for the sake of studying dragons. Now here we are at the fifth and final novel in this fantastic series, WITHIN THE SANCTUARY OF WINGS, and finale well worthy of Isabella and company.
After years of making a name for herself as a result of her study of dragons, Isabella, Lady Trent, has settled into a routine of study from her home in Scirland, supporting her husband's linguistic endeavors, and encouraging her son's education. While she's happy with her life, she yearns for the adventure associated with her scientific finds that changed the face of the study of dragons. But what else is there for the woman who's done everything?
Until one fateful day when a man brings her the story of the remains of a strange species of dragon found in the snow of the highest mountains in the world. Unfortunately in order to see it, she would have to travel to a territory claimed by Scirland's enemies. Remember, this is Isabella we're talking about, and little things like being banned from a country or traversing the highest mountain range will never deter her from her profound curiosity for all things dragon.

After the adventures in IN THE LABYRINTH OF DRAKES I honestly didn't think Marie Brennan could top what's come before. I was so wrong. (Happily so.) It turns out that the events of the previous books all work toward the find that will become Isabella's seminal work, the find that would change the face of dragon study forever. I won't want to spoil it for you, but understand that it's completely awesome and of course it should be Isabella to discover it.
WITHIN THE SANCTUARY OF WINGS is exciting, Isabella's storytelling fun to read, and a fitting end to a series worth reading.
It's Isabella's experience (and acknowledgement of her limitations) that helps her as she struggles through a situation that would have overwhelmed others. She meets others, such as Thu, the man who risked everything to bring the news of the specimen to Isabella, and finds in her an unexpected ally. We learn about a culture so different from her own that she struggles to understand, but eventually comes to love them. With her is her husband Suhail, who understands his wife's obsession with dragons and is willing to support her even on crazy dangerous schemes. But here it continues to be Isabella's story and how it's her reliance on her mind and intelligence that changes everything. What better heroine than one who relies on her intellect to save the day?
The story is mostly set in the extreme climate of  mountain range much like our Himalayas. We meet the locals and how they survive in an inhospitable environment. We learn how the seasons inhibit activities, much to Isabella's frustration. Isabella's been through swamps, desert, and mountains, so she's no stranger to physical hardship, so of course Brennan wouldn't let her get away without the hardest locale of all. Personally I hate the cold and reading the difficulties she suffers made me happy I wasn't there with her, but one has to admire her traversing glaciers and mountain obstacles with determination.
Ultimately Isabella makes the find of a lifetime and I enjoyed as she works through the implications of its discovery to a world that will find it problematic. WITHIN THE SANCTUARY OF WINGS is exciting, Isabella's storytelling fun to read, and a fitting end to a series worth reading. If you haven't started yet, go pick up A NATURAL HISTORY OF DRAGONS and get acquainted with Isabella and her compatriots. You won't be disappointed.
Recommended Age:

14+

Language:

None

Violence:

One short scene without gory detail

Sex:

Vague references