Best of 2014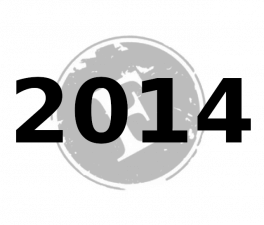 Alrighty. 2014 somehow vanished. It was a wild year for all of us here at EBR, both professionally and personally. We'll get into some of that down below, and in a separate post. Anywho! The Best of 2014! Yowsa, we had some killer novels this year. As usual, we don't present the books in any order. And there are gonna be some books here that we haven't even reviewed yet (again, this year was a bit crazy). And we didn't even come close to reading everything… so feel free to poke and prod us in the comments about stuff you don't see on this list!
THE BEST OF 2014
THE THICKET by Joe Lansdale (Amazon — EBR Review)
THE WIDOW'S HOUSE by Daniel Abraham (Amazon)
THE BROKEN EYE by Brent Weeks (Amazon — EBR Review)
SKIN GAME by Jim Butcher (Amazon — EBR Review)
DUST AND LIGHT by Carol Berg (Amazon — EBR Review)
THE RIVER OF SOULS by Robert McCammon (Amazon — EBR Review)
STELES OF THE SKY by Elizabeth Bear (Amazon — EBR Review)
WORDS OF RADIANCE by Brandon Sanderson (Amazon — EBR Review)
PRINCE OF FOOLS by Mark Lawrence (Amazon — EBR Review)
MONSTER HUNTER NEMESIS by Larry Correia (Amazon)
FEAR CITY by F Paul Wilson (Amazon)
CODE ZERO by Jonathan Maberry (Amazon)
VEIL OF THE DESERTERS by Jeff Salyards (Amazon — EBR Review)
GRUNT LIFE by Weston Ochse (Amazon — EBR Review)
TRIAL BY FIRE by Chuck Gannon (Amazon — EBR Review)
RED RISING by Pierce Brown (Amazon)
MOST ANTICIPATED OF 2015
THE LIAR'S KEY by Mark Lawrence
THE MECHANICAL by Ian Tregillis
MURDER by Sarah Pinborough
THE BORDER by Robert McCammon
PARADISE SKY by Joe Lansdale
THE AUTUMN REPUBLIC by Brian McClellan
THE SPIDER'S WAR by Daniel Abraham
NEMESIS GAMES by James S.A. Corey
FALL OF LIGHT by Steven Erikson
TRIAL OF INTENTIONS by Peter Orullian
THE LAST RITE by Jasper Kent
GRUNT TRAITOR by Weston Ochse
VOYAGE OF THE BASILISK by Marie Brennan
RESIDUE by Steven Diamond (What?! Why, that's ME!)
THE DEVIL'S ONLY FRIEND by Dan Wells
SONS OF THE BLACK SWORD by Larry Correia
GOLDEN SON by Pierce Brown
THE RED by Linda Nagata
THE FOLD by Peter Clines
Yeah. 2015 is gonna be fantastic. What do you think?
Looking to scan through the reviews we wrote in 2014? We've got you covered. Check em out here –> (EBR Archive).
Parent page: Best-of Lists