Best of 2013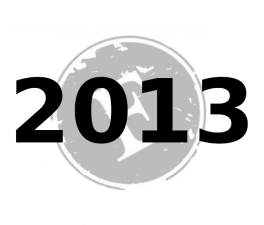 Well then. 2013 is done. While I'm not a huge fan of the "Best Of" lists, I've been asked enough (by readers, authors, and even my own reviewers) that I figured I should give it a go. I'm not going to number them, as usual, and there will likely be more than 10. Why? Because I can do what I want! And stuff!

Seriously though, this was a great year. We had fantastic original, non-sequels, mixed with a ton of amazing follow-ups.
Also a disclaimer: this might not be a complete list, nor have we gotten around to writing the reviews for everything ON this list. There are a couple of novels that either I or my awesome reviewers have that just haven't been read yet. People whom I trust completely have said these particular books are completely incredible, so I tend to expect that to be true (if not, I will be so angry. LOOKING AT YOU JUSTIN!). So take this list as EBR's long-list for what we will considering for Hugo nominations. 'Cause it's that time of the year!
THE BEST OF 2013:
AMERICAN ELSEWHERE by Robert Jackson Bennett (Amazon)
NECESSARY EVIL by Ian Tregillis (EBR Review)
EMPEROR OF THORNS by Mark Lawrence Amazon
IMPOSSIBLE MONSTERS, Edited by Kasey Lansdale (EBR Review)
WARBOUND by Larry Correia (EBR review)
THE SECRET OF ABDU EL YEZDI by Mark Hodder (EBR review)
GRAVEYARD CHILD by MLN Hanover (EBR review)
THE FORGOTTEN GODS TRILOGY by Sarah Pinborough (This is totally a cheater pick. Not only is it three books, but they were all released prior to 2013. BUT NOT IN THE US! HA!… like I said, cheater pick… EBR reviews of Book 1, Book 2, and Book 3)
TWO SERPENTS RISE by Max Gladstone (EBR review)
THE OCEAN AT THE END OF THE LANE by Neil Gaiman (EBR review)
THE RED KNIGHT by Miles Cameron (Amazon)
FIRE WITH FIRE by Charles E. Gannon (EBR review)
THE THOUSAND NAMES by Django Wexler (Amazon)
NEXUS/CRUX by Ramez Naam (EBR Review) (a bit cheater, since NEXUS came out at the VERY end of 2012)
FIEND by Peter Stenson (Amazon)
HONORABLE MENTIONS (This is quite the impressive list by itself):
RED COUNTRY by Joe Abercrombie (EBR Review)
ABADDON'S GATE by James SA Corey (Amazon)
TYRANT'S LAW by Daniel Abraham (Amazon)
THE REPUBLIC OF THIEVES by Scott Lynch (EBR Review)
PROMISE OF BLOOD by Brian McClellan (EBR Review)
PHOENIX ISLAND by John Dixon (EBR Review)
GENERATION V by M.L. Brennan (Amazon)
MOST ANTICIPATED OF 2014 (Not even close to a full list):
THE RETURN OF THE DISCONTINUED MAN by Mark Hodder
PRINCE OF FOOLS by Mark Lawrence
MAYHEM by Sarah Pinborough
WORDS OF RADIANCE by Brandon Sanderson
MONSTER HUNTER NEMESIS by Larry Correia
THE WIDOW'S HOUSE by Daniel Abraham
CIBOLA BURN by James SA Corey
THE CITY STAINED RED by Sam Sykes
RUINS by Dan Wells
FALL OF LIGHT by Steven Erikson
ASSAIL by Ian C Esslemont
RIVER OF SOULS by Robert McCammon
THE BROKEN EYE by Brent Weeks
CITY OF STAIRS by Robert Jackson Bennett
Well, that's it.  This is the part where you tell us how wrong we were, or berate us for not picking your favorite novel. This is also where you remember "Oh! I can nominate EBR for a Hugo Award for Best Fanzine!"
Looking to scan through the reviews we wrote in 2013? We've got you covered. Check em out here –> (EBR Archive).
Parent page: Best-of Lists