Review: The Ocean at the End of the Lane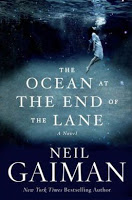 Amazon
Neil Gaiman's last published novel, ANANSI BOYS (Amazon), was clear back in 2005, so imagine the squees of fans (female and male alike) with the knowledge that June 2013 meant the relief of the drought with THE OCEAN AT THE END OF THE LANE (Amazon).

Gaiman's works are hard to truly define. In this case, OCEAN is rather like his YA books, such as CORALINE (Amazon) and THE GRAVEYARD BOOK (EBR Review); it's a fantasy with moments of horror, hints at mythology, with the tone of a fairytale.
The PoV character is an unnamed man returning to his hometown to attend a funeral. While there he visits the old farmhouse of his childhood friend Lettie Hempstock. It's while gazing at the duck pond at the end of the lane where he recalls the events of the summer when he was seven years old.
A reserved and bookish boy, the narrator begins his memory building up the events that lead him to meet Lettie and her mysterious family, and the results of her allowing him to see a part of her world; but part of her world follows him back to his, with disastrous results. The rest of the story is how the boy and Lettie must deal with the fallout.
It took me a few days to sort out my thoughts about this book. OCEAN is short, really more novella length, and can be read in one sitting. I was hoping for something longer and more exciting like the astounding AMERICAN GODS (Amazon). Here Gaiman I think is trying to make the fantastical elements of the boy's experience more accessible to a wider audience, and the result is part adventure part dark fairytale. It's different from Gaiman's usual stories (which may disappoint some fans), yet contains many of the same elements and themes he's used before.
THE OCEAN AT THE END OF THE LANE may be a short book, but its themes of childhood adventures is timeless. Don't miss this brilliant read.
OCEAN is an easy book to read. The prose is precise and fluid, simple and lovely–it's easy to tell the care Gaiman took in crafting it. He creates the boy and his setting with the intent that we understand not only the boy, but probably also Gaiman himself, their points of view showing what it was like to be a child and the constraints caused by the demands of adults. Such adult-created rules are supposed to keep children safe, but in this case the boy only had to walk through his back yard to find trouble.
Take the book at face value–for what it is, not what you want it to be–and you will like it. We all could do with remembering the adventures of our own childhoods, especially the ones where we had to learn a hard and painful lesson.
Recommended Age:

While 16+ could read it, I get the feeling that it's a story adults would understand best

Language:

None

Violence:

Some peril and death, but not detailed

Sex:

A vague brief scene and references