Review: Impossible Monsters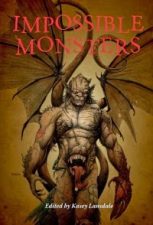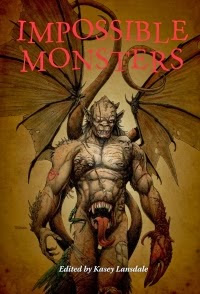 Amazon
I love Horror novels. I absolutely love them. I love when an author can terrify me with things that prey on the most basic fears we feel as humans. A great story teller can spin a tale in which I'm scared to look at the next page, and yet I'm equally thrilled to do just that. I also love the unexplained, and it is in short fiction that the unexplained aspect of Horror really shines. If you want great Horror short fiction, the place to look right now, in my opinion, is either with Subterranean Press or with Tachyon Publications. For this review, I want to draw the attention of every reader to IMPOSSIBLE MONSTERS (Amazon), which is edited by Kasey Lansdale.

I bought IMPOSSIBLE MONSTERS knowing nothing about it other than it was a Horror anthology published through Subterranean Press, and that there were stories in the collection by Joe Lansdale and Neil Gaiman. What else is needed? I really knew nothing about the editor, Kasey Lansdale, other than who she was related to. It didn't really matter. I just wanted good stories, and I figured I would learn a bit about Kasey's skill as an editor by reading the stories.
Let's just say I'm more than impressed.
IMPOSSIBLE MONSTERS is an anthology about–wait for it–monsters! Impossible ones! Crazy ones! Different ones! Like every anthology, has its ups and downs. In every case these are due to personal taste. The variety of stories in the collection is so wide that there is something here for literally everyone who reads Horror. It isn't very often that I read an anthology and feel proud after finishing. I'm truly blown away by the quality of authors Kasey Lansdale was able to get, and even more proud of how well the stories are paced, how solid their quality is, and by how many different emotions are induced by reading this collection. In a collection like this, a reader isn't meant to love every single story. It just isn't going to happen. But it should also be easy to see whether or not other people could potentially love the stories others dislike. I'll keep the spoilers to a minimum, because you just can't have these stories ruined at all.
Let's start with the first story, Blue Amber, by David J. Schow. This was the perfect lead story. It starts with the discovery of a complete piece of skin from a person hanging on a fence. And by that I mean like a person having shed their entire outer layer of skin. The story is creepy, paced perfectly, and has a great, Horror-story ending. Loved it. One of my favorite stories in the collection.
Click-Clack the Rattlebag is an extremely short Neil Gaiman story, and in it Gaiman again shows how awesome he is. That's really all I can say about this one.
Monster, by Anne Perry, was a surprisingly good story. I haven't read much by her in the past, but this had a very distinct British Horror feel to it. The story was a bit predictable, but that didn't stop me from enjoying it at all.
IMPOSSIBLE MONSTERS is a fantastic collection of horror stories every reader of horror should read, and every horror author should study.
Selina Rosen's, Nathan, was the hardest to read. The unreliable narrator (maybe) is executed effortlessly in this story, but a few sections in the story were truly horrific in an uncomfortable way. This could have been a terrible story, and yet I liked it in large part due to quality of writing. It was pulled off extremely well. Keep in mind though… geez… it was a bit much in places.
The Case of the Angry Traveler, by Joe Lansdale, is exactly what I've come to expect from him. Witty, with an odd blend of literary charm mixed with pulpish action and horror. I love Lansdale's stuff so much. For those of you that read a lot of Lansdale, this is a Dana Roberts story, so you know what to expect… kinda. This one kept me guessing. It was also my second favorite story of the collection.
Yeah.
The best story? For me it was Al Sarrantonio's Orange Lake. A Horror story within a Horror story, and it made me embarrassed that I'd never read anything by him before. I vow to remedy this. This wasn't just the best story fo the collection for me, it was one of the best pieces of Horror short-fiction that I've ever read. Sarrantonio manages to squeeze in so much character into his main PoV, that I hardly realized this was already an established character from a series he wrote. Orange Lake is a story I'd love to see win a Stoker Award.
The rest? Well, Blood Moccasins by Bradley Denton was so bizarre and different, yet I really enjoyed it. Charlaine Harris provides a story that her fans will like, but it didn't work for me (rough transitions that could have used scene breaks). Detritus, by Chet Williamson had a lot of winks and nudges to Joe Lansdale, and it was a fun read.
No matter who you are, if you like Horror, this is a collection for you. After reading most of the stories, I had an opportunity to talk with Kasey Lansdale at WorldCon, and I was so impressed by how friendly she was, and by how genuinely she just wanted people to read and enjoy these stories. She put a lot of work into them, and it shows. IMPOSSIBLE MONSTERS is a fantastic collection of Horror stories that every reader of Horror should read, and every author who aspires to write Horror should study.
The best compliment I can give? Because of how awesome IMPOSSIBLE MONSTERS is, I'll read any anthology she edits in the future without a moment of hesitation.
Recommended Age:

17+

Language:

Yup. Pretty strong and frequent depending on the author.

Violence:

All sorts. It varies based on the monster, but it can get pretty wild and graphic. Nathan has the most disturbing violence.

Sex:

Nathan has some really messed up stuff in it. Bloaters has a bit too.
Want to buy the anthology? Good. You should. Right-freaking-now.