Review: Phoenix Island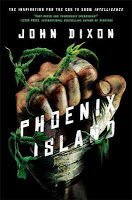 Amazon
John Dixon's PHOENIX ISLAND (Amazon) first came to my attention when I heard that a Young Adult novel has inspired a new CBS television series starring Josh Holloway (LOST) and Marg Helgenberger (CSI: Crime Scene Investigation)– before the book had even released. It seems that with the recent success of the THE HUNGER GAMES series (Amazon), studios have been aggressively pursuing the next big YA property. Of all the YA novels that have been optioned PHOENIX ISLAND is the first I've heard of to get picked up for TV–and before it has had a chance to gain a fanbase no less! It's enough to get a reader excited, that's for sure.

PHOENIX ISLAND is the story of Carl, an orphan with a history of violence. He's a fighter and he only targets bullies, but in a "civilized" society his talents are frowned upon. After the most recent in a long list of assault charges Carl is shipped off to Phoenix Island, a hardcore bootcamp for society's rejects. Bootcamp beats the alternative, an adult penitentiary, and Carl is eager to get a fresh start on life. Shortly Carl realizes that Phoenix Island is far more sinister than he could have ever expected. If the vicious drill sergeants don't do him in, Carl's fellow orphans might. The island holds a fair share of secrets, none of them too pleasant. Carl's only hope is to keep his head down and avoid attention but after a lifetime of fighting injustice this is easier said than done and soon he becomes embroiled in a madman's plot for global domination.
It didn't take long to warm up to PHOENIX ISLAND's protagonist Carl. His life has been transformed and surrounded by violence from a young age. He has found himself in trouble for meeting bullies head on. This overwhelming need of his drives everything he does, but when he gets to bootcamp he tries to turn over a new leaf. Unfortunately Carl finds himself thrust into conflict regardless of his desire to leave violence behind. Dixon's knowledge of boxing separates Carl from a lot of other YA heroes: he has a talent and it makes him special. He's not The Chosen One as you'll frequently find in the genre. His skills can only be gained through practice. Carl undergoes a bit of self discovery behind his own motivations and never once does he devolve into angst despite the odds stacked against him. It's refreshing. He is both competent and likable, making smart decisions throughout.
I was slightly less impressed with the other characters. I liked Carl's joker buddy Ross, but felt he was underdeveloped. David and Campbell could have also benefitted from more depth. Brief segments of the story are told from the perspective of Octavia, a female orphan and Carl's love interest. Because she gets her own POV Octavia doesn't feel as flat at some of the other characters. As for the relationship between Carl and Octavia–I'd suggest that it develops a little too quickly but it never devolves into the irritating hot mess you're likely to find in other YA stories. Drill Sergeant Parker makes for a great antagonist, readers will just love to hate him. The Old Man is also a good villain with his unique philosophy and warrior's code.
Carl is an orphan with a history of violence. He's a fighter who only targets bullies, but in a "civilized" society his talents are frowned upon. Good story
PHOENIX ISLAND is YA fiction without the kid gloves. It can be a brutal book. The bootcamp training is every bit as hardcore as you might find in the real world. The instructors are wicked, turning the kids against each other in order to weed out the weakest links. There is fighting–real, actual fighting. There is blood and death and depravity. It's nowhere near as heavy as the material found in Paolo Bacigalupi's THE DROWNED CITIES (EBR Review) but it is present. What I truly appreciated is that Dixon was able to depict violence and yet manage to give it the appropriate level of consideration. One of my greatest complaints about THE HUNGER GAMES is how very shallow its representation of death is. PHOENIX ISLAND sidesteps this and manages to tell an impactful story of bullying, institutional violence, and child soldiers. Still, some of the deaths lack the appropriate impact because the characters aren't as three dimensional as they could be.
Those without a stomach for martial fiction may want to think twice before dipping a toe into the waters of PHOENIX ISLAND. The novel doesn't celebrate (or condemn) the military, but a good portion of the novel revolves around training for combat. The purpose of the island is to create an army of super soldiers. I personally enjoy this but I think it's worth making aware to potential readers.
I was most impressed with how the novel ends. I tore through the book in two days and the conclusion of the novel left me feeling fulfilled despite the fact that it opens the door for a sequel or series of sequels. There are still mysteries to reveal and themes to explore. PHOENIX ISLAND is an impressive debut novel. It's up there with VARIANT by Robison Wells (EBR Review) and THE DIVINERS by Libba Bray (EBR Review) as some of the best YA fiction to come out in recent years. Judging by the trailers I have seen for CBS's Intelligence, I'm not sure how much the two properties will have in common but I am excited to find out. Congratulations to Dixon for such a stunning accomplishment and best of luck to the studio behind the show.
Recommended Age:

14+

Language:

No foul language that I picked up on

Violence:

Definitely - mostly fist fighting

Sex:

Nope