Review: A Natural History of Dragons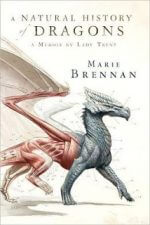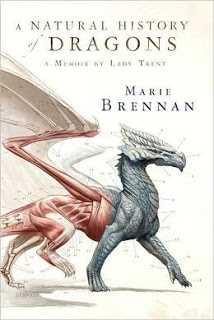 Amazon
Have you ever wondered what a fantasy version of DOWNTON ABBEY would be like? I'm not gonna lie, I've watched every episode of the show. I like it quite bit. And yet every time I watch an episode I can't help but wonder what it would be like in a fantasy setting. It wouldn't be too different, which would allow it to retain the charm while still imparting that fantastical sense of wonder.

Earlier this year, after catching up on Downton Abbey, I picked up Marie Brennan's A NATURAL HISTORY OF DRAGONS: A MEMOIR BY LADY TRENT (Amazon). As soon as I began reading I thought, "This is exactly what I've been asking for!" Don't misunderstand me, the entire novel isn't spent in a manor or anything, but it's the attitudes of the characters that make me draw the comparison. DRAGONS is a fantastic novel that should appeal to any readers of Victorian-esque fantasy. It has all the character and cultural charm of those shows where propriety and manners are of the utmost importance. But DRAGONS is also about following your dreams, regardless of your lot in life.
So what is DRAGONS actually about? Well, the title gives away most of it. The novel is told in a memoir format from the PoV of Lady Isabella Trent as she grows up, gets married and goes on an adventure. The entirely of the story is centered around her love for dragons. From her obsession with them as a child, to her first adventure in a foreign part of the world (note: it's not our world). Brennan does a remarkable job of allowing the reader to see and feel the wonder Isabella experiences in her encounters with the beasts. It is this strong female lead that allows the novel to succeed. While all the side characters are fine, none of them really shine – which is to be expected in a "memoir".
The story, while interesting, isn't actually the main focus of the novel. There is enough there to keep a reader going, but much of the world is glossed over due to the PoV. Again, this is a "memoir". We get only as much of the story as what the Lady Trent considers worthwhile and important. This is equally appropriate and frustrating. Brennan hints at such a deep world, but the PoV of the story just brushes off a lot of it with, "But you can read about that in another memoir." Hopefully this means we'll get more stories set in the world so we can learn more about it all.
Lady Isabella Trent is a noted dragon historian. But to really know her story, start her memoirs with A NATURAL HISTORY OF DRAGONS.
As you read the book, story points are punctuated by illustrations courtesy of Todd Lockwood. While I'm not a huge fan of his art depicting people, no one can deny the guy is amazing with dragons. The illustrations throughout the book are fantastic, and really add to the whole package. In fact, the book as a physical product is incredibly well done. If I were an author, I'd be super jealous of the overall production of this novel.
A NATURAL HISTORY OF DRAGONS benefits from the sum of its parts being far greater than any individual piece. The characters are fun and interesting. The story has enough mystique to keep patient readers satisfied. I guess it comes down to the novel feeling…comfortable. Yeah. Comfortable. In every way, when I would sit down to read DRAGONS, I felt like I was truly taking a break. It's rather hard to describe, but hopefully you get my meaning. Depending on the type of reader you are, you may want to pick this novel up. This is not an action-filled novel. Don't even expect the same level of action as you see in Brennan's prior novels, like WITH FATE CONSPIRE (EBR Review). This is a cozy novel meant to help your imagination roam for a time.
Recommended Age:

15+

Language:

Not really. Some very minor instances.

Violence:

Very, very little. It all has to do with PoV, but it's handled well.

Sex:

Not really
Take a chance on this novel. It's good.