Review: The Tropic of Serpents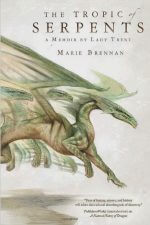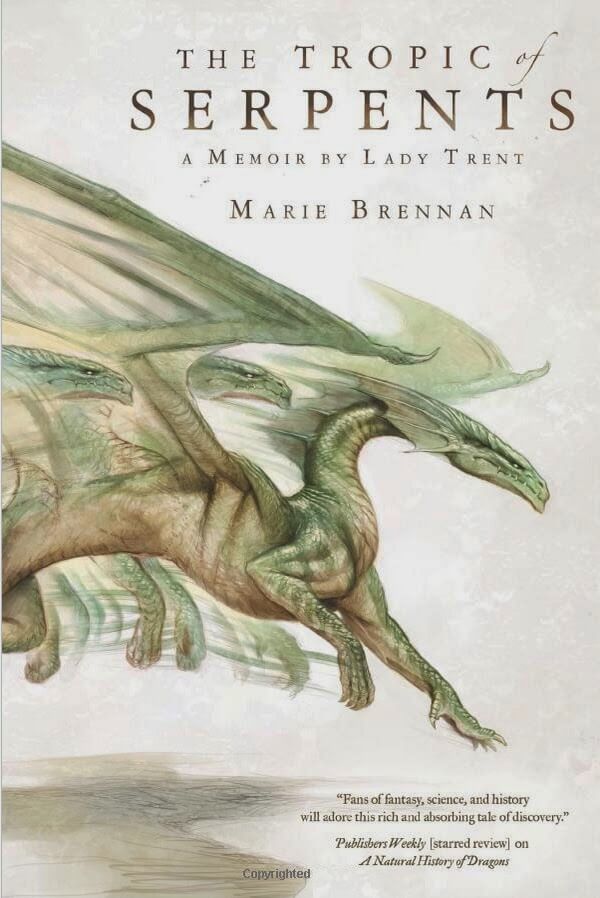 Amazon
You were first introduced to Isabella Camherst in A NATURAL HISTORY OF DRAGONS (EBR Review) in what Steve called a fantasy version of Downton Abby… kinda. I would also like to point lovers of Novik's Temeraire series, and even those who enjoy Elizabeth Peter's Amelia Peabody series, to this exciting new world Marie Brennan has created.

THE TROPIC OF SERPENTS (Amazon) begins three years after NATURAL's fateful expedition to the mountains of Vystrana. Isabella agrees to a second expedition, but this time it's a further-flung journey to study species on the continent of Eriga. It's a good thing she loves dragons because anyone with less passion would have given up by now considering the deck stacked against her: Isabella's family disapproves of her adventures, even scientists must deal with local politics, and the climate is not only oppressive it's dangerous. The mountains of Vystrana tested her strength, and now the jungle known as the Green Hell will test her resolve.
Along for this expedition is Mr. Wilker, the only recurring character to appear with consistency. If you recall in NATURAL, Isabella and Mr. Wilker didn't get along much, but here they have to rely on each other and come to a mutual agreement. There is also Isabella's mechanically gifted friend Natalie, who has to escape her family in order to join the expedition. There are various locals and a big-game hunter who stirs things up a bit, but on the whole the story is about Isabella and her experience. As a result the secondary characters don't go into much depth, but Isabella is such a fascinating person and her description of people and events is entertainment enough.
The locale is more in-depth here compared to NATURAL, but there are a lot of place and race names to keep track of. I mentally attempted to parallel the place/race with real-life equivalents, but that only gave me a headache. And there's a lot of politics: the local king, settlers from Isabella's country, locals who live in the swamp, and those who live on the other side of the swamp/river, potential invasions, foreigner meddling, etc. We have a lot to learn about Isabella's world.
THE TROPIC OF SERPENTS begins three years after NATURAL's fateful expedition to the mountains of Vystrana. Loved the storytelling and dragon hunting.
Personally I wanted to skip all that for the dragon hunting. Fortunately, despite this front-heavy information, once all that is out of the way we get into the story itself. It's worth pushing through because it does matter to the story, and fortunately Brennan doesn't make it boring. And there's plenty of dragon information to whet one's appetite. Once Isabella arrives on Eriga we begin to get a better feel for the politics and culture, and as the story unfolds everything makes sense.
Brennan's prose and storytelling are a pleasure to read, compelling, delightful, and entertaining. Just like Downton Abby. Definitely worth your time.
Recommended Age:

15+ (my 15-year-old daughter loved the first book and snatched up this one as soon as it arrived)

Language:

Very little

Violence:

Peril (human and animal related) and off-screen deaths

Sex:

Vague references