Review
Gideon the Ninth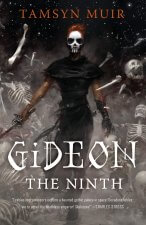 I had to restrain myself from writing this review in all-caps. That's how much I enjoyed Tamsyn Muir's novel, GIDEON THE NINTH (Amazon). It was spiky and weird, with magic that kept surprising me and the kind of characters I love–a little too smart for their own good, sarcastic, and tragic.
Gideon Nav has two goals in life. The first is to escape the smothering, incessant gloom of the Ninth and become a soldier in the Emperor's Cohort. But Gideon is indentured and without the permission of Ninth House, she's stuck. So she spends her days planning (and failing) to escape and training with her sword.
Her only other desire is to do everything in her power to make Harrowhark Nonagesimus, the powerful necromantic heir of the Ninth, absolutely miserable. Harrow has tormented Gideon unceasingly since childhood, and Gideon hates Harrow as much Harrow hates her.
Read the rest of this review »
Review
Alice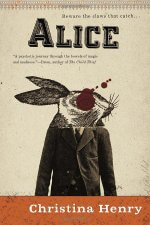 After reading Christina Henry's THE GIRL IN RED (EBR Review), I couldn't wait to find out what other tales she'd been telling that I didn't yet know about. That first one was a brilliant take on the simple tale of Red Riding Hood, and I was hoping to find more of the same in this one, which is obviously pointed at the classic tale Alice in Wonderland. There have been enough versions of both these tales told that it might seem as if we really don't need another. One of the great things about storytelling though is that even if the ideas and plots are pillars of stability in our minds, a new tale can still be just as invigorating and fun to read as if everything were brand new. And these stories? They're pretty new. There's enough of both the familiar and the new that they end up being really great reads. But here I am getting ahead of myself a bit.
Read the rest of this review »
Review
The Electric Heir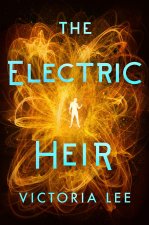 Beautiful, self-destructive teens placed in abusive, impossible situations. An interweaving of magic and technology. An ongoing sense of dread.
Welcome back to Victoria Lee's Feverwake series! THE ELECTRIC HEIR, the dark and compelling final installment carries our protagonist, Noam Álvaro towards a brutal confrontation with tyrant and with his own choices.
A brief note: while I tried to avoid spoilers for THE ELECTRIC HEIR, this review has MAJOR spoilers for the first book in the duology, THE FEVER KING. Reader beware.
Read the rest of this review »
Review
Neuromancer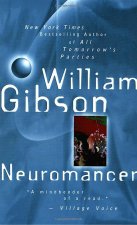 While putting together our Best Science Fiction Books page (EBR Archive) I realized that we didn't have a review up for this book, and decided that I had better put one together. It had been long enough since I'd first read it that I decided to ingest it again. You know, it's really nice to be able to read a book for a second time (especially after a long while has passed) and find out that you enjoyed the story just as well that time around. I think it says something important about that story. I remember doing that for the main sequence of the DragonLance books by Margaret Weiss and Tracy Hickman (Amazon), which I absolutely loved as a kid. Good stuff.
Read the rest of this post »
Review
Ivory Apples
At this point in my "reading career" it is often somewhat easy to look at a book cover, read the first couple pages, and then determine whether a particular book is going to be "my type". This time I didn't even have to read any pages. Just the cover alone gave me a pretty good idea that this book wasn't exactly going to land in my wheelhouse. And that's exactly why I decided to read it. This is me trying to branch out. Although, truth be told, I'm branching out within the context of the books that get sent to us by publishers/editors/etc. Still, you never know what you're going to find when it comes to reading a new author. May just end up reading a book that was nothing short of fantabulous.
Spoiler alert: this one wasn't.
Read the rest of this review »
Review
Buzz Kill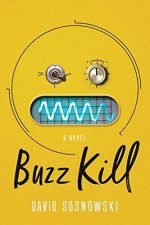 BUZZ KILL (Amazon) is a narrative journey without a destination. The journey itself is interesting as author David Sosnowski explores the ramifications of social media; hacking; AI; a networked world, and the unregulated power of corporations to pursue projects for profit. Pandora and George, the two POV characters, are sympathetic. But a weak final third of the novel leaves readers with too many loose character threads and an abrupt conclusion that significantly weakens the narrative.
Read the rest of this review »
Review
Kalanon's Rising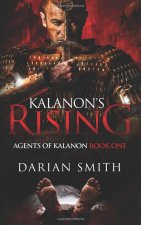 So it's been a minute since we were involved with the Self-Published Fantasy Blog-Off run by Mark Lawrence, and I constantly find myself torn over the fact that we aren't involved anymore. This annual contest is doing sooooo much good in finding some really good authors that have taken the self-publication route. Whether they plan on sticking to their guns for the long term or are hoping to gain the attention of a traditional publication house, you can't deny the fact that the efforts Mark Lawrence (and all of the online review houses involved) is making for these authors is nothing but pure gold. Recently, we were approached by the author of a finalist in the current incarnation of the contest for a review, and I couldn't help but accept.
Read the rest of this review »
Review
Permutation City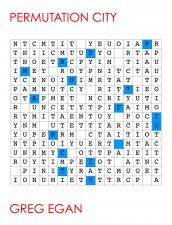 I'm reaching way back into the vault for this one: 1994. Yeah. I was still in high school and nowhere near mature enough of a reader to pick up half of what science fiction was offering at the time. Sometimes I wonder if I'm a mature enough reader these days to understand some of the stuff that science fiction is bringing to the table. A lot of it just makes me go cross-eyed with annoyance and leaves me wondering why story and character are so often pushed to the back burner in favor of presenting ideas that the author thinks are important. Why do they need to present these ideas in the form of fiction? Why not just fill out encyclopedias with these awesome ideas and essays, if the presented construct doesn't really matter? Still, there are some really cool ideas that get flung around here and there, and I guess authors aren't exactly going to stop presenting their ideas in these ways. So, we might as well read them, if we can handle them, and try to get what we can out of them. Yes? Yes.
Read the rest of this review »
Review
To Be Taught, If Fortunate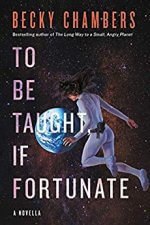 If you've been keeping up with our reviews (and frankly, who hasn't?) you'll know that we enjoyed Becky Chambers RECORD OF A SPACEBORN FEW (EBR Review) and we're looking forward to happily reading along with where she takes the Wayfarers Series. In the meantime, we can gladly recommend her standalone novella, TO BE TAUGHT, IF FORTUNATE.
Read the rest of this review »
EBR Archive
Best of 2019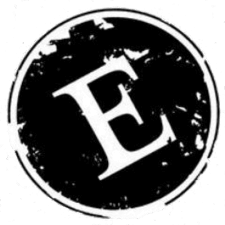 I'm not gonna sugar coat it. 2019 hit us pretty hard here at EBR, and I find it somehow apropos that I'm sitting here writing the content for this page while I'm slowly and inevitably sliding down into clutching grasp of a cold. Just kind of puts the cherry on top of things, you know? If you happened to notice those weeks in 2019 that we failed to meet our goals, please trust that we were at the very least always banging away at that pile of books, trying to share our oh-so-vaulted opinions with you our reading public. And if you didn't notice… well… thank you very much for not noticing. 🙂
Below is our list of the best fantasy books and best science fiction books that we read here at EBR. Honestly, we should have read more horror than we did. I'm still trying to finagle a way to get Adam Nevill's most recent book. There's a lot of great fiction out there. So, this list probably doesn't fit everyone's bill, but they definitely hit ours.
Read the rest of this page »