Review
The Moons of Barsk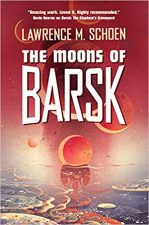 BARSK: THE ELEPHANTS' GRAVEYARD (EBR Review) was such a pleasant surprise that I can't help but smile every time I think about the experience of reading that book. And feel bad, of course, because it took so long to finally make its way to the top of my reading queue. It was fun and engaging and intelligent without feeling like it was pandering in any way. So, when I saw that there was going to be a sequel… I determined that I was going to do right by it. To mention nothing of the fact that I was actually quite excited to hear that we'd be getting more from the world of Barsk. In fact, I can still feel that excitement in the slightest bit, even on this side of my reading experience.
Which is somewhat interesting, because it's been a long time since I've been quite so disappointed with a sequel.
Read the rest of this review »
Review
Sparrow Hill Road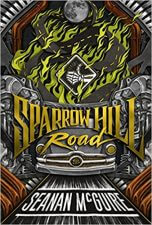 Most of you should remember my post from a few weeks ago. One, two, three, four… okay, well, seven IS more than a few, I'll grant you that. Anyhow, my post was about Seanan McGuire's book being uploaded to one of those free download websites before it had even been released. If not, you can go read it. (EBR Post). Hearing about what happened really bothered me. Like, a lot. At the end of my short rant, I said I'd pre-ordered the book and would be following up with a review of it. Well, the book that got hijacked was the second book in the series. So, I bought the first as well, and this is the review for that one. The next is still in the works though and will be coming soon.
Read the rest of this review »
Review
Summerland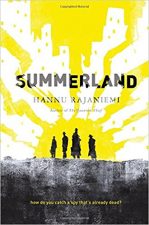 Mr. Rajaniemi has been on my watch list for a while now. Although I missed reading his Jean le Flambeur series (EBR Archive), I did read a collection of his short stories (EBR Review) back in 2015 and LOVED it. Then I didn't hear from him for a long time. Not even a phone call, you know? 😉 But as soon as I saw this book in our pile, I was all over it. Didn't want to pass up a read like I expected this one to be.
Read the rest of this review »
Review
City of Lies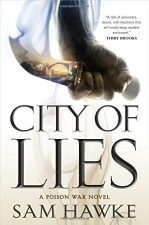 "I was seven years old the first time my uncle poisoned me" (p. 1). So begins Sam Hawke's debut novel, CITY OF LIES (Amazon). It's a good start, with a fun premise that deepens as the story goes. The story follows the dual POVs of Jovan and Kalina, siblings from one of the most powerful families in the prosperous city-state of Silasta. Jovan and Kalina are close friends with the heir to the city, Tain. However, Jovan is more than Tain's friend; he has spent his entire life preparing to be Tain's 'proofer,' or food taster. Jovan and Kalina's Uncle Etan, known in Silastan culture as their tashi, currently serves as city Chancellor's proofer.
Read the rest of this review »
Review
Brief Cases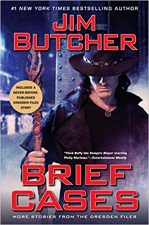 I was a late comer to this series, and I have to thank my boss Steve for pushing me to read past the second book in this series much like he pushed me to read past the second Malazan Book of the Fallen novel. So it was, that I found little moments, mostly nights and weekends (whenever I found a spare "extra" reading opportunity) to creep through the main sequence of books as quickly as I could. Jim Butcher has done an amazing job of this series. Guy knows his stuff. Thus it was, about six months ago, that I finally finished reading Skin Game and went looking for the next entry of one of my favorite addictions: Harry Dresden stories. At last update, Jim is still working on "Peace Talks" (Book 16), but until we get that one (can't wait can't wait can't wait can't wait) there is some new short fiction to be had, and it is absolutely brilliant.
Read the rest of this review »
Review
Armistice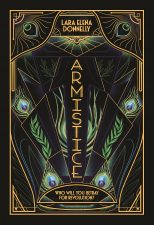 ARMISTICE (Amazon) picks just long enough after AMBERLOUGH (EBR Review) to have the intervening events thoroughly demoralize our protagonists. The glitter and stage lights are gone, leaving behind heartache and fatigue. And only some of the survivors are back.
Read the rest of this review »
Interview with Lara Donnelly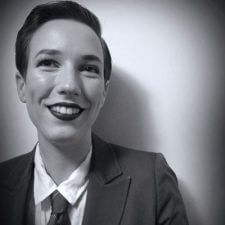 If you've read our review of AMBERLOUGH then you already know that we enjoyed Lara Elena Donnelly's unconventional mix of spy/thriller/cabaret fantasy. While originally published as a standalone, Donnelly's first novel was followed by ARMISTICE, which we also thought was well worth reading. After enjoying the first two books we knew we would love to ask Lara some questions and she was gracious enough to share her thoughts with us!
***
Elitist Book Reviews: Thanks for the opportunity for this interview. We want to start out by giving you a chance to introduce yourself, and tell our readers why they should be reading your stuff.
Lara Donnelly: Hi! I'm Lara. And while I clearly think you should be reading my stuff so that I earn out my advance, I also think you should read it because it is lush and sexy and will probably make you cry. Also, I want publishers to grok there's a market for the weird stuff. Fantasy with no magic. Fantasy set any time […]Read the rest of this post »
Review
Tales of Ruma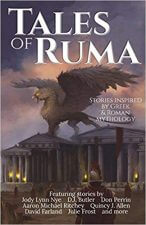 RPGs are for nerds.
You know it. I know it. They know it. Erm… well, I guess technically I should say "we" know it, because there ain't no way I'm gonna skirt the issue on this one: we're pretty much ALL nerds here at EBR. 🙂 And you know what? I think if more "non-nerdy" people would put their petty pride aside for one freaking minute and let themselves get lost in the imagination, adventure, and sheer brilliance of some of the good RPGs out there, the ranks of the RPGers would quickly swell. Because RPGs aren't just a story; though indeed they are that. And they're not just a game; though indeed they are that as well. They're imagination and spontaneity and characterization in a form that you just can't find anywhere else.
So don't let anyone sway you from standing up for the oft-berated RPGs and RPGers alike. For it's from those very annals that Steven Erikson gave us the Malazan Book of the Fallen. And Misters Abraham and Franck gave us the wide tapestry of The Expanse. And for all of you "non-nerdy" people: is there any way you're going to nay-say the awesome goodness of Stranger Things?
<<crickets>>
I didn't think so.
Read the rest of this review »
Review
The Calculating Stars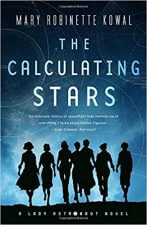 Did you read Mary Robinette Kowal's 2014 Hugo-winning novelette "The Lady Astronaut of Mars"? If not, you can read it here on the Tor.com website, or for time's sake my reaction to it at the bottom of this EBR Review post. In short, it was the obvious standout winner. The main character, Elma, is a 60-something former pilot/astronaut who must make the ultimate sacrifice. But after reading that, one wonders, how did history change to make it possible for 1950s Earth to colonize Mars?
Wonder no more!
Read the rest of this review »
Review
Purple and Black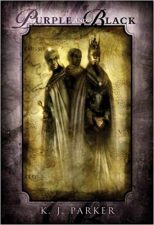 So I'm in the middle of updating all of our old reviews and disentangling the hard-coded links to the old blog. Not particularly a lot of fun. But it has been cool to be reminded of all those old reviews, and see how far the site has come since the early days. While doing so, I realized something that really bothered me: we didn't have a review up for this book.
And I just couldn't let that pass.
Read the rest of this review »