Review
Empire of Sand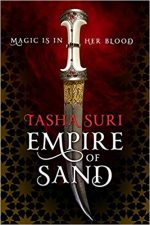 Mehr is the illegitimate daughter of the local provincial governor, her father the official representative of the Emperor and the Emperor's spiritual equal the Maha. While her father is powerful, her mother's heritage, the Amrithi, are not only outcasts, but are hunted down by the Maha and his mystics. The best thing for Mehr to do is lay low and be the obedient daughter. But she isn't yet ready to give up the dances and rites that worship the faith of her mother's people.
Mehr and her family, including a beloved younger sister and a hostile stepmother, live near the desert where her mother's people originate. The desert is also where the gods of this world sleep and dream, their dreams heralded by the sandstorms that blow through the city where she lives.
There is magic in those storms, and Mehr can hear it calling in her blood. When she inadvertently uses that magic for the first time, she attracts the attention of the Maha, who sends a delegation of mystics–among them a new husband.Read the rest of this review »
Review
Damsel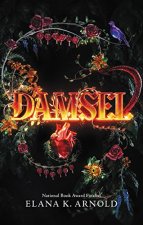 Considering the sometimes tortuous path of traditional publishing, DAMSEL by Elana K. Arnold debuts precisely as the narratives we tell about sexuality and power have come under close examination.
DAMSEL exposes the undercurrents of violence/power/sexuality in established narratives while (mostly) avoiding feeling too heavy-handed. Particularly considering this is a YA novel, DAMSEL may be the first time that many readers have come across this topic in a way that isn't explicitly didactic while still providing teens with a way to grapple with the discomforting questions that fairy tales elicit. Read the rest of this review »
Review
Off Armageddon Reef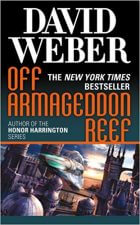 So, we don't normally do reviews for books that were written so long ago (first published in 2007). Especially for books that weren't just awesome-sauce fantastic. In fact, we generally frown on writing reviews for books this old as a general rule, unless they're considered a "Classic". There are a few extenuating circumstances, however, that made just such a review feel justified in my mind. One: this is the first book in an ongoing series that has not yet been completed. Two, the next book in the series (#10: THROUGH FIERY TRIALS — Amazon) has a release date of January 2019. So, at least the series is current. Three, I've come across several references in my time from individuals that like this series very much. And there are soon going to be ten books in the series. So, this whole situation got me to thinking. If someone were to see the release of this newest book, and then decide that it sounded like something worth checking out, and then went on to find this, the first book in the series: how would their experience be?
And giving opinions on this exact situation just happens to be our specialty here at EBR. So I dove in, hoping for some goodness.
Read the rest of this review »
Review
Strange Practice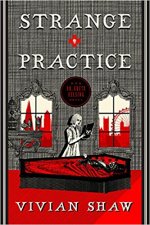 With Halloween just around the corner, STRANGE PRACTICE by Vivian Shaw seemed like just the novel to review–with a plot full of vampires, ghouls, and creepy cultists, it's a fun (and seasonally appropriate) read.
Like many doctors, Greta Helsing (her family having quietly dropped the 'van') works hard to keep her solo medical practice afloat. However, as one of the only doctors in England who caters to the supernatural community, Greta deals with an additional set of stressors including anything from keeping her patients' identities safe to hand-carving new bones for disintegrating mummies.
When Greta's good friend (and vampire) Lord Ruthven calls with an account of a mysterious assault, Greta's life only gets more complicated. The victim is Sir Francis Varney (also a vampire) who was assaulted by a group of men dressed like monks. Their weapon of choice was a strangely shaped dagger smeared with poison that appears designed to target a wide-spectrum of supernatural […]Read the rest of this review »
Review
Foundryside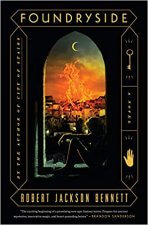 So my first whiff of this book came last February while I was sitting in a group of friends at LTUE, which is a writer's conference that meets in Utah every year, and Brian McClellan (EBR Archive) casually said that he was reading Robert Jackson Bennett's new book and that it was really good. I was immediately jealous and began wondering how I might be able to find my way into Mr. Bennett's in-group. To say the least, I was excited to hear that the next book from this great author was coming along smashingly. After sailing my way through his Divine Cities series (EBR Archive), I was really looking forward to some more goodness from his direction.
Read the rest of this review »
Review
The Fated Sky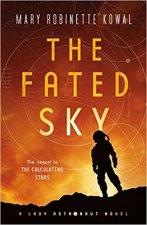 In THE CALCULATING STARS you got to know Elma York, the brilliant mathematician who becomes one of the first lady astronauts on an Earth that must take to the stars to survive.
Now it looks like she'll be one of the first women to Mars.Read the rest of this review »
Review
Dive Smack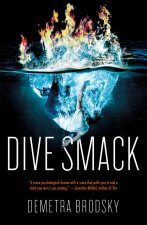 DIVE SMACK , Demetra Brodsky's debut YA novel, is a fast-paced mystery that conveys both the exhilaration and exhaustion of teen life with a supernatural twist. In diving parlance, a 'dive smack' occurs when a diver mis-judges their entry and hits the water painfully instead of smoothly. It also describes the situation of Theo Mackey, who's the captain of the dive team and has a good shot at a scholarship to Stanford–if he can keep the rest of his life from spiraling out of control.
When Theo is assigned a family history project at school he freaks out. Theo has a good reason though–hewas playing with matches the night his house burned down, killing his mother. He blames himself her death as well as his father's, which followed three years later. So when Theo is assigned a family history project at school he…freaks out. The bad news is that the only way Theo can find out about his family history is by asking his alcoholic grandfather, or his Uncle Phil, […]Read the rest of this review »
Review
The Last Unicorn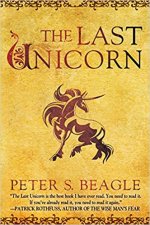 Patrick Rothfuss called this "the best book I've ever read." His love for THE LAST UNICORN explains the tone and texture of his THE SLOW REGARD OF SILENT THINGS EBR Review, which I loved, and it was Rothfuss's endorsement that prompted me to get in the Way Back Machine and read this classic. I'm glad I did.
This breezy gem-of-a-book is hard to describe. I find myself at a loss because anything I write will be so inferior to it and I'd like to do THE LAST UNICORN justice. There is poetry on every page. To say I identified with the characters and that they were sympathetic is like saying that a quiet cloud drifting past a shining, amber harvest moon is beautiful. (If you hated that, then skip this; you will not enjoy 1960s era whimsical fantasy.)
There are no cardboard figures, no noble savages, this being near the beginning of the anti-hero era in literature and cinema. The nuance we hope for is present throughout, so even the really-bad bad guy is […]Read the rest of this post »
Review
Mystic Dragon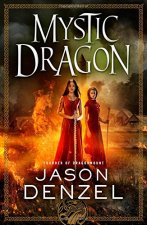 I love traditional heroic fantasy. My best friend's family took me camping in Big Sur, CA, long ago and we read THE LORD OF THE RINGS for the very first time together. Unforgettable, of course. So it was with bated breath and a slightly elevated heart rate that I opened Jason Denzel's sophomore effort MYSTIC DRAGON. But first…
Tor created a lovely booklet-sized prologue to the entire Mystic series called THE NAMELESS SAINT and I was fortunate to obtain a copy. It is a nearly perfect essay-length gem and the stunning cover art continues to impress. Unfortunately, these are only available at MYSTIC DRAGON book signings. (I bet Jason might send you a signed copy if you ask nicely.)
Read the rest of this review »
Review
Priest of Bones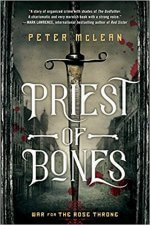 I'm always leery about books that tout themselves as dark and gritty. "I'm dark! Read me!" they yell. "And I'm gritty! Read me!" But what is "dark" and what is "gritty"? So many authors, and even publishers, get it dead wrong all the time. You don't become dark and gritty by including profanity; though such stories usually do contain a bundle of profanity. And stories aren't dark and gritty because there's a lot of violence in them either; although they typically contain a lot of the bloody hack-and-slash as well. And yet, there are constantly those that will try to throw a bunch of violence and profanity into a book and call it "dark and gritty", and then try sliding it in under the noses of you wonderful readers.
<<eye roll>>
When will they ever learn?
Read the rest of this review »
Like Us On Facebook
Review Tags