Dune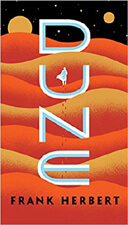 A timeless classic is a term that should be uttered rarely. Timeless implies you could pick it up today, read it in ten years, and still come away with a new perspective, a new rage at a book that challenges you politically, socially, and spiritually. DUNE, the grandfather of modern science-fantasy, in my opinion, of course, is the black sheep of the pulp Science Fiction family that ran away from a raygun shooting, fish bowl shaped, space helmet wearing universe of tomorrow. Instead, it is a morality play in line with Shakespeare, a political examination of tyranny, prophecy, good intentions, and how a tiny, insignificant planet holds the real-politik resource to create or destroy galactic dynasties with a simple drop of an atomic bomb. Even if its vision of the future is a wrong-way mirror compared to the projections of today, it cannot be overstated how vital, how genre-changing it was to the language, the imagery, and the soul of Science Fiction. DUNE deserves all its accolades both in terms of story, theme, character, and its sprawling, fully realized false future that never came to be.
DUNE, the first in a long series of novels by Frank Herbert, tells the story of humanity millennia in the future. Certain technology is suspect, due to dark atrocities brought about by atomics (atomic bombs and other atomic-powered technology) and robotic uprisings, in the vein of contemporaries like Arthur C. Clarke. The universe is ruled by a galactic emperor who divides planets into the stewardship of noble houses. Within this viper's nest of nobles clashing against each other, there are monastic orders like the Bene Gesserit, an all female order of psionically gifted matrons manipulating a genetic conspiracy for millennia, who vie for influence and control within the Galactic Padishah Empire.
Read the rest of this review »
Iron Gold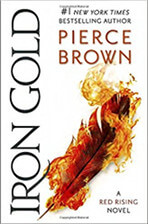 I remember picking up Golden Son for the first time and being surprised at where the author started the story. Red Rising had finished in such a way that, given the thousands of other books I'd read, I fully expected Golden Son to be about Battle School. If any other author had written it, that book just might have been about Battle School instead of starting at the end of those two vicious years of Darrow's training. And that single fact made not only that book, but the entire series, rise up above so many of those others and give a mighty shout that it would be heard. Thus, it was no surprise to me to learn that after writing three solid books about Darrow's rise to power, that Mr. Brown should choose to begin the next book in his series after ten years of hard-fought war later. Ten. Years. From what I can tell, Pierce Brown is not only asking himself "What is the next story in this world that I could tell?" when he sits down to write the next book, but "What is the most brilliant next story in this world that I could tell?". And people, when an author does that for their readers — when he goes all out to deliver a knockout punch every single time — THAT is the kind of author that you want to pay attention to. THAT is the kind of author that you want to give you money to. Because THAT author deserves his coveted title. The title of "Favorite Author".
Read the rest of this review »
Children of the Fleet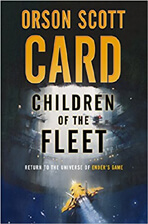 I first learned the term "bottle episode" while watching "Community" (thank you, Abed). One episode of Season 2 takes place entirely in a locked room as the characters search for a missing pen. While the premise is absurd, trapping everyone in the same room allows for hilarity, as well as serious revelations about their relationships, to ensue. Not only are 'bottle episodes' cheap to shoot, relying on one set instead of several, they are also light on plot, allowing writers to spend more time focusing on character development. In his newest addition to the Enderverse, CHILDREN OF THE FLEET, Card immerses his readers once again in a world of precocious children, absent but watchful adults, and a life or death mission. While it's not exactly a bottle episode, Card's narrative shares a similar intense focus on depth, not breadth. By limiting himself to a relatively simple plot and using the already familiar setting of Battle Fleet School, Card can fully explore the emotional journey of Dabeet Ochoa.
Set in the aftermath of Ender's victory in the Third Formic war, CHILDREN OF THE FLEET begins after Battle School has been converted to Fleet School, a place to train future leaders for humanity's colonization efforts. Dabeet Ochoa is a preternaturally intelligent child who is convinced that he belongs in Fleet School, not stuck on Earth.Read the rest of this review »
Annihilation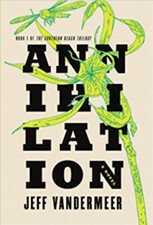 I really like the trend I'm seeing of speculative fiction comprising a larger portion of the movies and tv (streaming?) shows in production today. In fact, the whole reason I picked this book up was because someone was making a movie out of it, and the trailer totally pulled me in. Got another book in my stack right now with a review waiting to be posted, that I picked up because of the same kind of media inspiration. Netflix has just been upping the game. If I'm honest with myself, most of the new movie/tv speculative goodness seems to be coming from, or associated with, them. Granted, not everything. But lots of it, yeah? Have you been keeping up on your "Coming Soon" trailers and news buzz? Might just be time that you did that. After you read this, of course. What were you thinking?
Read the rest of this review »
Contest Reboot: Yay Results!

First off we'd like to thank all those who entered our contest to become the next EBR reviewer. All sorts of people entered. It's really fascinating to us how different reviews can be–even on the same book. We appreciate the time and effort y'all spent and it gives us warm fuzzies to know you guys like us enough to become one of us. We chose books that were written by well-known authors but that also weren't perfect, because we wanted to make sure incoming reviewers could see flaws and analyze the stories and characters in a way that our EBR readers would appreciate.
The submissions were great, but there were two "winners" who really impressed us:
Jane Funk – She sent us two reviews, one for ELANTRIS and one for CHILDREN OF THE FLEET, and both were great (I quote Dan, "serious writing Read the rest of this post »
Seriously Hexed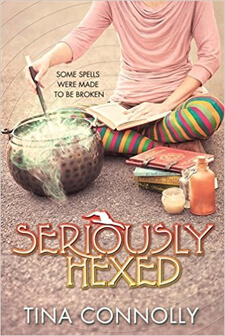 Cam is your typical teenager. She's got friends, wonders how her awesome boyfriend could like such an awkward girl as her, and is frantically studying for her American History test. The only exception is that she's a witch. However, it's that extra complication that makes her high school years less than typical.
For example, most teenagers don't have to deal with their mother disappearing during a coven meeting.Read the rest of this review »
Burn Bright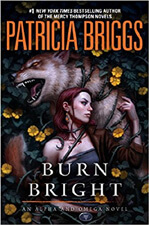 Bran is out of town, leaving Charles in charge of the Marrok's pack. But the situation is a little strange because he isn't answering his phone when Charles calls. And he mentioned visiting Africa? Charles and Anna aren't sure what's going on, but they're doing their best to hold down the fort until Bran decides to return…whenever that will be.
But they get a call from the mate of one of the "wildings"–which are unstable (usually old or traumatized) wolves that live in the Marrok's territory, but are removed enough physically for the safety of the rest of the pack. Jonesy's cryptic call leaves Charles concerned and confused, and with Anna decides to investigate.
They discover something much more than they expected.
Contest Reboot: Reviewers Wanted

Updated 3/1/18: Thanks for the love. We have the best readers! Dan and Vanessa are busy reading the entries and will post results as soon as we are in agreement.
So you want to be an EBR reviewer? You're in luck! We've decided that we could use a few good readers who also happen to be able to write coherently about their opinions.
The last time we had to do this was seven years ago. Since then, several of our reviewers have moved on to bigger and better things in the publishing world–including publishing their own stories or working for places where writing reviews here would create a conflict of interest. All the better for you, if you think you're good enough to help us out. The perks include more free books than you can read, association with handsome and clever people, and exposure to publishers and writers.
Here is what would be required of you to become one of our reviewers:
Be a U.S. resident if you plan to receive physical books. You can be a non-U.S. resident if you're willing to only read ebooks or purchase your own books, but plan to adhere to the U.S. release schedule.
Read and review at least one book (optimally two) every month. If you read and review more, that's great. At times, we may very well direct you on what books to read. Other times, we will leave it up to you.
We do send you (free) books we receive from publishers as well as ebooks (if you have a Kindle/app, even better). We even get audio books every now and then. It also helps to become friends with your local library and Amazon Prime.
Your reviews will follow our established format and you will avoid profanity in the review itself. We will read and edit your reviews before they're posted. No leeway on this.
Make sense? Good.
This is a serious offer for those who want to make a serious effort. We take pride in our work and we are also control freaks. We want your work to be high quality and we want it to be reliable. If you don't think you can be reliable, don't bother entering our contest. We're not looking to populate a slush pile.Read the rest of this post »
Elysium Fire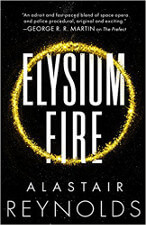 Negative boring parts. If you're not familiar with that term, you should likely go and read my review of THE PREFECT, which was one of those Alastair Reynolds books that I just hadn't gotten to when the release date for this sequel showed up in my email. I mean, yeah, I could just stop reading anything else altogether and go read all of his stuff that I haven't been able to yet, and it would be awesome. But then EBR would suffer, and I just can't justify that. Although, I don't have to plan on catching up on anything before his next novel comes out. Of course, this means that I'll remember that fact perfectly well the next time I have a hankering for some science fiction goodness instead of forgetting about it until it's too late. The reason I won't have to catch up on anything, is because his next two books are going to be direct follow-ups to REVENGER. But until those are available, there's lots of currently-available goodness to be had from this author. This novel being a prime example.
Read the rest of this review »
Silence Fallen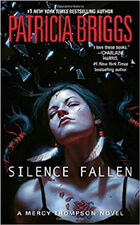 A master vampire of Europe, Iacopo Bonarata, is told that Mercy is the most powerful person in the territory protected by the Columbia Basin Pack.
So, of course, he kidnaps her.