Review
Season of Storms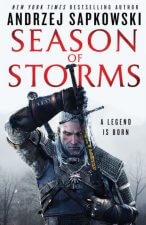 Some series have a definite end while others linger on, bringing joy to their long-time readers and fans. For me, and those who enjoy the seminal series, THE WITCHER, SEASON OF STORMS is both a return to Andrzej Sapkowski's original 1980s short stories, and at the same time, it is a eulogy for the series, in a certain sense.
SEASON OF STORMS is set, for hardcore fans, after the events of THE LAST WISH, with Geralt broken up with Yennefer (in a long series of makeups and breakups in their legendary relationship…) but before the contract that made him truly famous throughout the world of THE WITCHER.
Read the rest of this review »
Giveaway: Kill the Farm Boy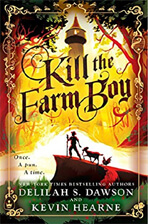 Update 7/20/18: This giveaway is closed! Our winner is Corey from Springville. Congrats! Your book will be on its way soon!
The publishers of KILL THE FARM BOY (by Delilah S. Dawson and Kevin Hearne) have sent us an extra hardback copy, so we'd like to send it to one of our lucky and loyal readers. To enter this giveaway:
1. Email us at elitistbookreviews@gmail.com
2. Include the following on the subject line: KILL THE FARM BOY GIVEAWAY
3. In the body of the email include your name and mailing address. This giveaway is only available to U.S. addresses.
Read the rest of this post »
Review
Freeze Frame Revolution
Author Peter Watts' newest offering, FREEZE FRAME REVOLUTION exists somewhere in the squishy space between a novella and a novel (according to the 'Afterword' it's 1,000 words over the length of a standard novella, but who's counting?). Watts is of the opinion that he has written a novella and I think that the story he tells is well-served at this length, which allows him to explore a single incident in-depth and with a focus that wouldn't be well-served by irksome sub-plots or other novel-length narrative features.
Read the rest of this review »
Review
Kill the Farm Boy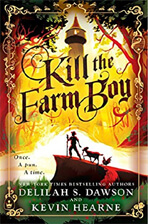 Take every fantasy trope, every dungeon crawl, every fairytale stereotype and put them in a bag, smash the bag with a hammer, then dump out the pieces and you get KILL THE FARM BOY. It's a romp of a book, with clever turns of phrase, goofy characters, a quest they don't realize they're on, all while poking fun at every fantasy book you've ever read. Terry Pratchett would be proud.
Read the rest of this review »
Review
Black Goat Blues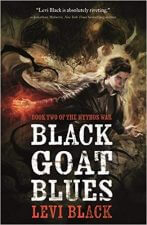 There was a part of me that was really kinda pumped to get this book in the mail for my TBR pile. Granted, it was the dark, twisted, macabre and grotesque side of me, but a side of me, nonetheless. Levi Black's first book, RED RIGHT HAND (EBR Review) caught me at a very opportune moment, and as I dove into the next offering from this author that so brazenly takes his mythos from that containing Cthulhu, I found myself digging through my music downloads to find that song by Metallica that had hit just the right spot the first time around. It was a good way to start my week.
And finishing this book was a great way to end it.
Read the rest of this review »
Review
Medusa Uploaded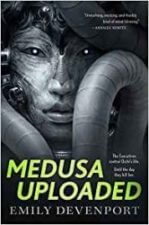 Real politics, the actual grind and wear of backdoor committees, debates, and miles-long legislation is a snore. Unless you enjoy reading obscure case law or an inane housing clause that forbids people from living in a "den of iniquity," you're likely not going to enjoy any political fiction.
Luckily for you, and me, I enjoy reading such dry-as-wall-paint material.
Read the rest of this review »
Review
Amberlough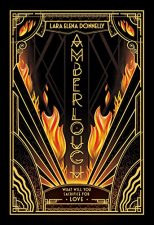 AMBERLOUGH is the kind of novel that makes you want to throw adjectives at it. Sleek! Provocative! Captivating! This is due in large part to Lara Elena Donnelly's prose, which gives the alternate world setting an immediate and richly textured sense of place. AMBERLOUGH (Amazon) is a remarkably self-assured debut, as Donnelly carves an unique space for herself in the fantasy world.
Read the rest of this review »
Review
Writers of the Future, Volume 34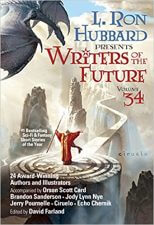 I find it somewhat unsettling how quickly I tend to look past the art associated with this annual anthology. Well, if I'm being truthful, I tend to naturally look past most of what is offered in these anthologies other than the stories from the winners. Because it's those stories that most have the chance of speaking to my soul, as an aspiring author myself. And yet, this time around, I've made it a goal to give special attention to those "extras". After all, it's the winners of the "Illustrators of the Future" that will be penning the future covers that will catch my attention enough to get me to pick up books and give the first handful of written pages a chance at catching my mind afire. As well, it is the extra writings–the essays and sometimes stories from the judges of the contest–that represent what they admire and enjoy in fiction. There is indeed much more to this anthology than just a simple collection of stories by a bunch of newbie, but not always unskilled, writers of fantastical fiction.
Read the rest of this review »
Review
Terror Is Our Business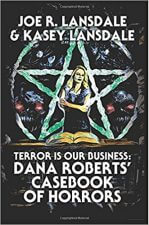 I have a confession to make. I've never read any Lansdale before. I know, I know. Withhold the tomatoes. I blame Steve for always taking them when I was a newbie here at EBR. Now I realize what I was missing and will quickly remedy this failing.
Because if you love horror, mysteries, thrillers…. heck, anything well written, you should be reading Lansdale.
Read the rest of this review »
The Grey Bastards says "Self-Pubbed no more!"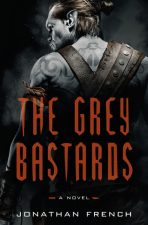 So, most of you will probably remember The Great Self-Published Fantasy Blog Off by Mark Lawrence that we participated in a while ago. That contest has been one of the great ones for getting exposure to the best of the self-published best. The first year we were part of it, the winner, The Thief Who Pulled On Trouble's Braids (EBR Review) got picked up for traditional publication, for all intents and purposes, as a result of that contest.
We can now add another title to that prestigious list.
Read the rest of this post »