Review
The Shadow Saint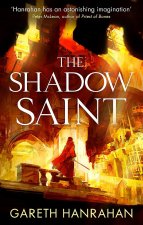 Potential. Potential. Potential.
This was my mantra after having read the first book in this series, THE GUTTER PRAYER. In what ended up being the most influential ways, that single repeated word kept me from picking up this second book in the series for quite some time. Then I came across a picture of Rob J. Hayes (EBR Archive) on Twitter where he was reading a copy of this book… and for some reason, I couldn't get the freaking thing out of my head. Something about the way he was looking at its open pages almost haunted my reader brain. Thus, when I came across an announcement that the third in the series had an upcoming release date (yesterday, as it happens), I bit the bullet and bought all three. I just couldn't help myself.
And, man, am I glad I did.
Read the rest of this review »
Review
Stormblood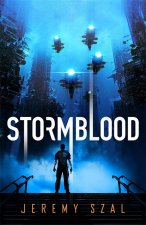 I came across this book in an interesting way. Responded to a tweet that Pierce Brown had made, and afterward realized that he'd just been responding to another guy. The initial tweet had been something along the lines of "I don't need to read anything from [list of golden age SF authors here] and anyone saying that I should is absolutely insane". Afterward, it only took a little investigation to find out that this other guy just happened to have recently released his first, traditionally published novel through Gollancz. So, of course he was taking the opportunity to get on his soapbox to try and cast a little shade where he could.
Sigh.
Still, I thought that the introduction made for a relatively interesting case study. I mean, if the guy was able to sit down and write a killer story, then maybe he was right, and he *didn't* need to read that older SF. Maybe he'd be perfectly fine as a science fiction author by just reading the current stuff.
So, I bought his novel. And thus, the game was afoot.
Read the rest of this review »
Review
The Sword of Kaigen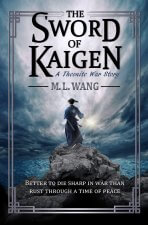 Golly-gee willikers, I really miss being part of the Self-Published Fantasy Blog-Off. 🙂 🙁 Every time I see the now annual contest come round, I think to myself, "Maybe this year…", but then I decide to stop lying to myself. The fact of the matter is that, these days, we just don't have the staff to participate and still keep up any kind of regular reviews for traditionally published books. So, as much as I'd love to dive back into the trenches with our book-review bretheren and sisteren, I've come to some kind of peace (Perhaps even, a troubled one? Sorry. Bad time for a pun…) with the way the chips have landed here. Still, this doesn't preclude my ability to, at the very least, pick up the winner for each year, and see what rose to the top of the pile. Which leaves us with a single glaring omission…
Read the rest of this review »
Review
Nophek Gloss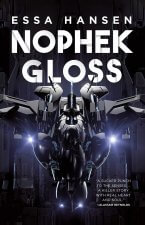 Alastair Reynolds is one of my favorite authors, especially when it comes to Science Fiction. So, the fact that he gave this book a blurb held a lot of weight for me. Then, shortly after hearing about the book, the author participated in an online chat that I got to listen to. That experience left me well-enough intrigued to go find the book and put it up fairly high in my EBR-TBR queue. While intriguing though it was, the read left me with a poor impression and more frustration than I'd hoped for, given the fairly impressive introduction I'd been given.
Grumble.
Read the rest of this review »
Review
How to Rule An Empire and Get Away With It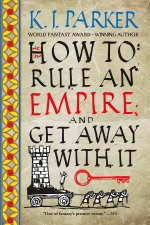 I remember, as a kid, finding out that Ronald Reagan was an actor before he became President of the United States. That really took me for a loop at the time. Mainly because I had this overwhelmingly positive impression of what he'd been able to accomplish as President, and the guy hadn't even been a politician beforehand? Obviously I'd been missing some of the details of his life between his time acting and when he became President. The story in this book though, is about just such an instance, with no details-missing, where an actor is pulled–almost from the very stage where he made his living–and forced to play the part of the leader of the Robur Empire.
And is this actor able to succeed in not only playing that part true, but leaving a positive impression upon his people as well?
The title of the book might give you the clue.
Read the rest of this review »
Review
We Ride the Storm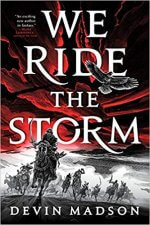 Book titles are crafted to sell the book. They try to strike the right note of alerting readers to the genre while pulling new readers in. There are book title fads (remember when every book title was one word long?) and trends and they are not (as I used to assume) whatever the author thought was the best title for the book.
Devin Madson's epic fantasy, WE RIDE THE STORM , is an exception. The first installment in the The Reborn Empire series, this book was originally self-published, and Madson kept her original title. It's a great title for the novel, where the three POV characters are thrust into the metaphorical storm of war, each of them desperately trying to use newly slippery, shifting allegiances to their advantage.
A fragile peace exists between the kingdoms of Kisia and Chiltae. Miko is a princess of the Kisian empire. The current emperor delays naming either her or her twin brother as his heir, because they are not his true children. Determined not be […]Read the rest of this review »
Review
The Assassination of Brangwain Spurge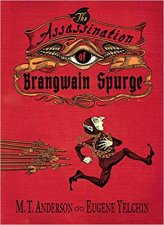 It's nothing too new to say that fantasy worlds often fall into the trap of assigning entire races bad motivations and ill intent. Orcs? No good. Goblins? Sneaky little guys. From Tolkien to Gygax, we get a lot of one-dimensional portrayals of whole societies. THE ASSASSINATION OF BRANGWAIN SPURGE takes one of the oldest fantasy rivalries–elves versus goblins–and shows the trouble that comes from a colonizing spirit and rampant cultural misunderstanding.
Written by M.T. Anderson and illustrated by Eugene Yelchin, the creators of THE ASSASSINATION OF BRANGWAIN SPURGE were inspired by the long history of travelogues. Unlike existing travelogues where the only perspective is that of the 'brave explorer', in this novel, the culture under scrutiny is given a voice: a gentle, hopeful, unfailingly polite voice in the form of the goblin archivist Werfel.
Werfel has been chosen to show Brangwain Spurge, elfin emissary, all of the wonders of the goblin kingdom Tennebrion. He […]Read the rest of this review »
Review
The Bone Shard Daughter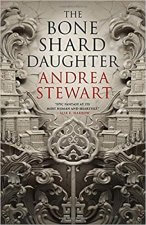 Lin doesn't remember much before the day she woke in the room with the chrysanthemum ceiling. Her father–the emperor–said her amnesia is the result of an illness that stole her memories. She doesn't remember her mother (long since dead), her childhood, or the bond shard magic lessons she's supposedly been learning from her father the years previous. Instead, her current life is full of competition with Bayan, a young man who is also learning the bone shard magic and may take her place as emperor if he learns it better than her. But Lin will do whatever it takes to get ahead, even if it means sneaking around the palace to get the information she needs.
You see, bone shard magic is what the emperor uses to protect his people from the ancient race that used to enslave the population. Bone shards power the golem-like constructs that act as guards, spies, and warriors. But, of course, there is a price. Bone shards come from each child as they come of age. […]Read the rest of this review »
Review
The Trouble with Peace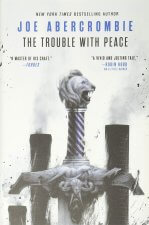 I've been in a real funk lately. I know. Join the club, right? It seems like no matter which direction I turn, there's always some new disappointment waiting to greet me. Hello, 2020. If I had any choice in the matter, and I could pick a single thing that this year might have left alone, it would have been my books. Yes, I know this is ludicrous. There's no need to remind me of the fact that books published this year have long been completed, and that 2020 did nothing to affect them in the slightest. And yet. After reading this book, I'm seriously beginning to think that some part of me has been broken. It just doesn't seem possible that my impressions of the story contained therein might be valid. Like in the slightest. But in the end, they are at least consistent in their nature, and for that I'm still holding onto the hope (barely) that something more will come of my current epic disappointment with The Age of Madness.
Read the rest of this review »
Review
Kitty's Mix Tape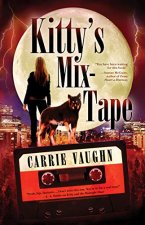 First thing you should know is that KITTY'S MIX TAPE can be read without having read any of the books in the series (we've reviewed a few of them HERE). BUT, if you read this book before reading any of the books there will be a few spoilers. However, if you want a taste of the world of Kitty Norville and the werewolves, vampires, and witches that inhabit it without diving wholesale into the 14-book series, you wouldn't be disappointed.
Read the rest of this review »