Review
The Hod King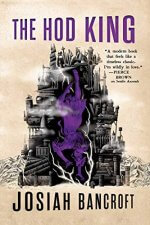 It certainly seems like it's been a considerable period of time since I read the first two Books of Babel. Thanks to the words of Mark Lawrence during the 2016-round of his Self-Published Fantasy Blog-off, I was made aware of this brilliant series that had yet to be picked up by a traditional publication house. In point of fact, it's been a little less than 18 months since I closed the pages of THE ARM OF THE SPHINX (EBR Review) and began my wait for this next book. Would it be the last? Or just the next? Would it be as good? Bah, how could it not be? Tom finally knows where his wife is, and he's bound to get to her! I had a difficult time believing that anyone that had read the previous two books (that you? hmmmmm?) wouldn't be just as ecstatic to get into this story as I.
Read the rest of this review »
Review
Shadow Captain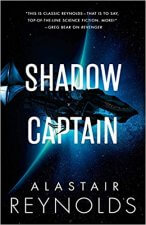 It's always an interesting ride, I think, when an author that typically writes for readers within a particular age range ventures outside their normal boundaries. Age ranges being groups like Children, Middle Grade, Young Adult, blah, blah, blah. In this, I'm thinking Abercrombie's Shattered Sea (EBR Archive) or Rowling's Casual Vacancy are decent examples of this jump in readership. Sometimes they work; other times, not so much. I've never tried any of Rowling's non-Potter books, but of the three YA books that Abercrombie gave us, I thought the first and third not quite as good as what I was used to getting from him, but the second, in my estimation, was possibly the best book he's ever written. And while Revenger wasn't necessarily my favorite book from Mr. Reynolds, and I'd likely be more interested in getting another in the Prefect Dreyfus series, I was still super excited to get another anything from him, as he's easily one of my favorite science fiction authors these days.
Read the rest of this review »
EBR Archive
Best of 2018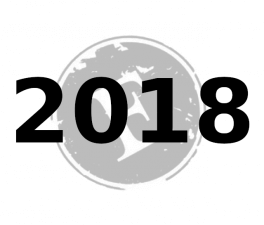 2018 was a bit of a crazy year for us here at EBR. We started by throwing off the shackles and supremely annoying ads of Wordpress.com, leaving behind a website that was doing essentially nothing for us with regards to helping us find more readers.
The new site has been a labor of love, and a copious number of hours have been spent by the team in hacking and slashing the reviews we've posted over the last ten years (yeah, ten years people!) and trying to figure out how best to restructure the site to make both our readers and search engines (Google) love us ever more.
We held a contest for and opened our doors to a couple new reviewers — Yea, new reviewers! — and have loved what they've been able to add to the site. We've tackled in earnest the social media sphere and have picked up a growing number of followers there on multiple different platforms. From the look of things, most of the rocky is done and over, and the future is looking up, up, up from here.
Read the rest of this page »
Review
Skyward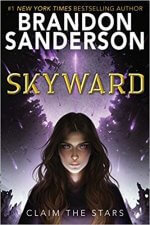 Spensa has always dreamed of being a pilot. When she was a child her father was a pilot for the DDF, the military force that protects the planet Detritus from alien Krell incursions. But one fateful day during a defining battle against the Krell, her father ran from the battle, died, and was labeled a coward. As a result, Spensa and her mother and grandmother live on the fringes of society. But now that Spensa has come of age, she can test for pilot training and prove to everyone that cowardice doesn't run in the family.
But the DDF doesn't make it easy for her.Read the rest of this review »
Review
Scourged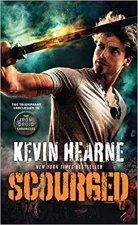 SCOURGED is the final book in The Iron Druid Chronicles and we get it all: war (Ragnarok!), character growth, teamwork, comeuppance (multiple instances), and even a little romance. But how does Hearne deliver?Read the rest of this review »
Review
The Ember Blade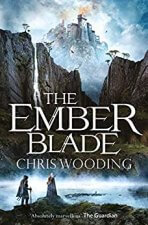 This book was on my radar for a while, but I didn't think that I'd be able to get to it. Then, I forgot to cancel my Audible membership after going through that mess with THE SIGNAL, and suddenly I found myself with another book credit and no direction to run with it. After a quick perusal of my options, I found that the audiobook for Chris Wooding's next book was only 10 days away from publication. Trust me, with our history of loving the books lobbed at us by him (EBR Archive), I quickly made my decision and started into it.
Read the rest of this review »
Merry Christmas from Jim Butcher… and EBR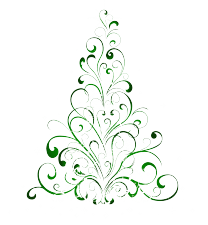 First, MERRY CHRISTMAS from EBR!
Second, most of you should have already found this, but for those of you that haven't, Jim Butcher has put up a new Christmas-related short story in the Dresden Universe, and it is bang-up fantastalicious. Before you go running off to read it though, you should know that it contains MASSIVE spoilers for the events in Changes and Cold Days. If you haven't read those yet, what are you thinking? Go read all of them right now (EBR Archive).
For the rest of you, you should probably be told that this story happens after PEACE TALKS, which you might immediately realize hasn't been released yet. Rest assured that Jim doesn't spoil anything about a book that he hasn't released yet. Please. However, he did tease us for what is going to happen and quite masterfully at that.
Also, you might notice that the link to the story (which I still haven't given you — heh, heh, heh…) automagically forwards you […]Read the rest of this post »
Review
The Final Six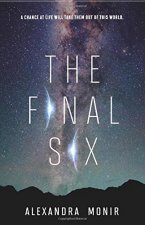 It's the end of the world as we know it. The effects of global warming are claiming city after city and millions of lives have been lost. Nope, it's not the front page of the newspaper. It's the plot of THE FINAL SIX (Amazon) by Alexandra Monir.
Looking to escape an increasingly devastated earth, the international community selects Europa as a site for future colonization. And who better to colonize a distant moon and save humanity than six teenagers?
Read the rest of this review »
Review
Kill All Angels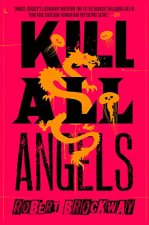 I think I can safely admit that I wasn't even planning on reading this book when it first showed up in the mail. I hadn't been particularly enamored with either the first or second books in the series, I had no idea where this third book might go that could possibly change that opinion, and the cover was so blaringly pink that the thing gave me a headache every time I looked at it. But it was a quick read (which I needed), and the cover was removable (thankfully), and… my experience with its pages was exactly what I expected it to be: a jumbled conglomeration of "What in the world did I just read?" Ever had one of those? For your sake, I hope not. Still, as the saying goes, "In for a penny, in for a pound," and so I decided to finish this series off with one last monumental push.
Read the rest of this review »
EBR Archive
Vanessa's Top Ten
Posting my Top Ten cuz people have asked and, yes, they are listed in a particular order (however they're subject to change should something better come along)–my favorite is listed first, because I'm not mean. I'm also not going to claim that any of these are The Best Books Anyone Should Read, but if you agree with my reviews, you would probably enjoy these, too.
Like EBR On Facebook
Keep Up With EBR on Instagram
Review Tags