Review: The 7 1/2 Deaths of Evelyn Hardcastle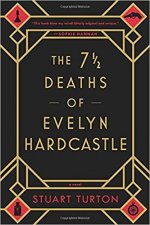 Amazon
Bookshop
From the very first chapter, you realize that any notions you may have about this being a standard mystery story are going to be turned on their heads. Our main character wakes up in the middle of the woods with amnesia, and believes that he hears a murder being committed. From that point on, we are plunged into a story that unfolds piece by piece from the POV of seven characters–who are actually one character. His name is Aiden Bishop and he wakes up in the body of seven different guests at Blackheath Manor each morning, and he has one day to solve the mystery of the death of Evelyn Hardcastle.

As Stuart Turton pulls us through the story, clue by clue, we spend the novel with a single question in the back of our minds: what is really going on here? Why is Aiden re-living the lives of these seven guests? Why does he have to solve the mystery? So in reality, there are two mysteries going on at the same time that we, as readers, have to unravel. Fortunately, Turton does it in an engaging way.
On the surface, this murder mystery is set to solve the death of Evelyn Hardcastle, and since we start the story seven times in the morning for seven characters we actually get to see her alive throughout most of the day and witness her choices and behaviors. Evelyn is a complex character who takes us the entire book to get to know. And the story isn't just about her death, a lot of it has to do with her relationship with her family, her relationship with the guests at the manor, and all the events that have led up to her death.
But not only is it a murder mystery, it is a time traveling/body-swap story with not just Aiden's POV, but also with how the bodies of the people he possesses influence his mind. For example, the first person he possesses is a Dr. Sebastian Bell who has questionable medical ethics and is a bit of a coward. Compare that to the obese Lord Ravencourt, who is set to marry Evelyn, whose body betrays him, yet whose mind is quick and facile. One by one, Aiden uses these particular abilities of each of these characters as he struggles to solve Evelyn's murder. The big catch is that he doesn't experience the body swaps one by one, now he experiences them in the order that will best solve the mystery. You really have to experience the story in order to understand what I mean.
The setting is what I consider an Agatha Christie-style collection of characters with complicated motivations. Blackheath Manor is a rundown house in gloomy England, surrounded by woods and wreathed in a tragic backstory. It's easy to imagine these characters as they move through the house, through the woods, and through the course of the day.
While the story moves forward steadily, there are places that move slower than others, so it sometimes lags. At first the assortment of characters is a little overwhelming, and it can be hard to keep track of them, but this becomes easier as time goes on. As I read, I had so many questions, and it was a little frustrating to not have them answered right away. But they were, as time went on. Despite the slower parts, it was the story's complexity that kept me engaged, as well as the development of Aiden's character. Is the book overly complicated? Maybe a little. But I don't mind that much when stories are over-the-top.
This murder mystery/time/travel/body-swap mashup is over-complicated at times, but is engaging and entertaining and worth a read
But why, you ask, is this book being reviewed on a science fiction and fantasy website? I promise there is a good reason, but I don't want to ruin it for you. It's been several months since I finished this book, and I still think about its themes of redemption, fate versus free will, and injustice.
Even if the standard mystery books aren't for you, perhaps try this one. Just for fun.
Recommended Age:

13+

Language:

Some

Violence:

Many deaths, descriptions of deaths, and some blood

Sex:

Referenced