Review: The Book of Lost Things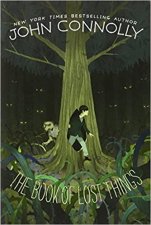 Amazon
Bookshop
Once upon a time, there was a boy named David, and he did everything to keep his mother alive. So begins THE BOOK OF LOST THINGS by John Connelly, the story of a 12-year-old boy who tries to escape a life of trauma and disappointment only to discover that fairytales aren't all they're cracked up to be.

Early on in the book David loses his mother, his father remarries, and has a child with his new wife, Rose. David doesn't like these changes and hides himself away in his bedroom. There the books have begun to whisper to him, and his imagination begins to take on a realism of its own. One day David discovers an intruder in his house, but no one believes him. He calls this sinister character The Crooked Man and is wary of his motivations. One fateful night, David inadvertently finds a doorway to an alternate world, where fairytales are grim, dark, and deadly. There he meets The Crooked Man face-to-face.
The story follows David's adventures as he works his way through this fairytale realm, meeting a woodsman, big bad wolves, knights on horseback, and a plethora of vivid and terrifying characters. He must find his way to the king and the book of lost things in order to find his way home. But the odds of David surviving the journey are pretty low.
The story moves at a consistent pace, despite a great deal of worldbuilding as David moves through this alternate universe. The majority of the book takes place in a forest, filled with cursed creatures, villagers whose lives are threatened, and monsters that could eat David for breakfast. It felt like the world full of dark corners and very little that was bright and happy. Connelly does a middling job explaining what things are and why they are–it would've been nice to know a little more because I was left with a lot of questions throughout the book. These aren't the kinds of things that will trip up most middle grade readers, who are the target audience. The storyline is super basic, I pretty much told you what the plot is already–sorry if that's a spoiler, but there's not much I can do about that–a kid running from peril to peril on his journey to the king. The author, John Connolly, is Irish and that flavors his writing style and prose. I found the prose a little clunky and lacking subtlety but again, most 12-year-olds won't care.
THE BOOK OF LOST THINGS is about young David, whose journey to a grim fairytale land becomes the adventure of a lifetime.
It's the characters that really move the story along more than the setting and storyline. David's character arc is realistic and pretty gratifying by the end–it's for the most part believable. Some of the other characters that he meets such as the woodsman and the knight are important guides as he moves from event to event and place to place. The Crooked Man as our villain was a little contrived, but he still worked decently for the story.
If your middle grade reader likes horror novels like THE SCREAMING STAIRCASE (EBR Review), then they will probably like this book. However, I'm providing thorough warning for parents of tenderhearted tweens, because this will very likely give them nightmares. I am an adult, and I found it very grim reading. The fairytales are indeed quite dark and warped. It might be, in fact, more suitable for older teens, even though the main character is twelve years old. Fortunately the themes of familial love, sacrifice, courage, and forgiveness are what redeems the pitfalls of this story.
Recommended Age:

11+ but is not recommended for the tender-hearted

Language:

None

Violence:

Death, animal cruelty, lots of fighting and peril

Sex:

A same-sex relationship