Review: The Last Graduate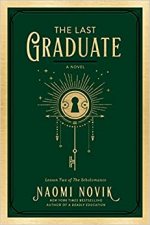 Amazon
Bookshop
In A DEADLY EDUCATION, we met Galadriel–better known as El–our heroine with an affinity for destructive magic. As a young witch, she's a senior attending the Scholomance, a school of magic that is meant to prepare children for a world of deadly monsters. Unfortunately, over the years, the deadly monsters have decided that the Scholomance is the best hunting ground for tasty snacks (i.e.: the students). El, along with her allies and newfound friend Orion, have decided that this is the last year of the Scholomance and make a plan so over-the-top only El could have come up with it: make it so everyone can graduate. And they mean everyone.

El doesn't do anything halfway, and this plan is huge. It has a lot of moving parts and requires a skill-set beyond something an single person can provide. In fact, it will require the help of the entire school to make it work. Unfortunately, El doesn't like group projects, but maybe this is the one time she'll put up with it. She is, after all, determined to save everyone. And not just one at a time, like Orion.
Perhaps part of this drive of hers comes from the tragic story of her parents who were Scholomance students. During graduation, her father died in order to save El's pregnant mother from an indestructible mawmouth. After having lived a life without a father, and being rejected by her father's family (because of her grandmother's prophecy that she'll destroy the enclaves that protect the wizarding world), El wants to keep the inevitable deaths from happening to anyone else. And hopes that in the process she can change her own fate.
THE LAST GRADUATE has a lot of moving parts. Not only are we in for a ride of planning and student-filled chaos, but we also learn a little bit more about the questions that arose in A DEADLY EDUCATION, like:
El's philosophy is "go big or go home" and in THE LAST GRADUATE by Naomi Novik, she wants to save EVERYONE, not just the seniors.
Why does the school exist?
Where did it come from?
How is the wizarding world ok with how it runs and how children die in it?
Wouldn't it be better to change how things work?
Everything that we learned in book 1 is a building block for all of the things that happen here. And it just grows more awesome as the chapters progress.
I particularly enjoyed El's progression as a character. Since it's from her POV we get the flavor of her personality, her frustrations, and her realization that maybe, after
all, she is likable. El comes into her own as someone who people can trust and look up to. Even if her grouchy demeanor doesn't really change a whole lot. The characters around her are recognizable and engaging and play an important role in her character progression, and the story as a whole.
What's great about THE LAST GRADUATE versus A DEADLY EDUCATION is that it doesn't suffer from middle-book syndrome. Instead it builds, and the ending is even better than the first book; the middle doesn't get bogged down quite as much as did book 1. It's fun to watch the progression, not only of the characters and the storyline, but also of the setting as we learn more about how this world works.
But be ready with book 3, THE GOLDEN ENCLAVES, in-hand, because THE LAST GRADUATE ends with a cliffhanger that will absolutely grab you by the throat.
Recommended Age:

13+

Language:

A handful

Violence:

Peril and the death of creatures that will eat you

Sex:

One scene without detail