Book Author ::
Naomi Novik
Review
Uprooted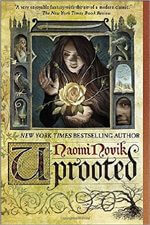 Have you ever read a book that is just magical? I don't mean a book with magic in it. There's a million of those out there (and I like quite a few of them), but a book that is magical. There's a difference to it, isn't there? Books that are magical have a different feel to them. It's beyond a compelling story (although again, I love that).  It's just a feeling you get when you read it. I think it's kind of like wrapping up in a warm blanket, or sitting by a fire and letting the warmth diffuse through you. That is what UPROOTED by Naomi Novik was like for me. I would sit and read and a warmth would just spread through me. This book is magical.
I've read some of Naomi Novik's work before and I've enjoyed her Temaraire books. I saw UPROOTED when it came out and it looked kind of fun, but I had a lot on my plate and I never got around to it. Then it was nominated for a Hugo award. Then it won the Nebula award.  By this point I'm thinking, "Ok, let's give it a shot." I'm so glad I did.
Read the rest of this review »
Review
Crucible of Gold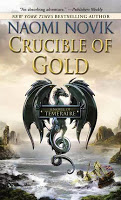 After the disappointment of the so-so TONGUES OF SERPENTS (EBR Review), it was a relief to see Naomi Novik back in form with CRUCIBLE OF GOLD (Amazon). I'm beginning to see the longer-range purpose of Novik's series, and with several exciting scenes and more serious characterization, I have hope for the future.
Read the rest of this review »
Review
Tongues of Serpents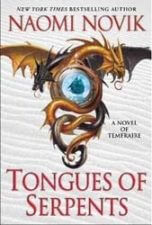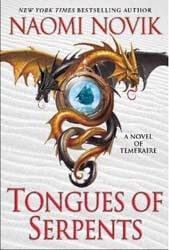 If you haven't read any Naomi Novik you're a little behind the times, but that's okay, because I can give you a quick run-down on the series thus far. We first meet Captain Laurence and his dragon Temeraire in HIS MAJESTY'S DRAGON (Amazon), which is set during the Napoleonic Wars, where battles aren't only fought on land and sea, they're also fought in the air with dragons. However, these aren't your run-of-the-mill dragons, most of them are huge and have their own aerial crew with captain, lieutenant, riflemen, bombers, and etc.
Captain Laurence, who became Temeraire's rider by happenstance, has spent his military career playing by the book; but Temeraire, unlike most dragons of the British Air Corps, is very intelligent and has his own ideas about how things should be done. This combination makes for some fine adventures that take place from France to Africa clear to Temeraire's country of origin, China. Novik follows the Napoleonic Wars pretty faithfully in the first books, but then the series veers from history when Napoleon attempts to invade England.
Read the rest of this review »