Review: Moon Called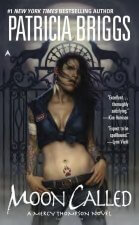 Amazon
Bookshop
I mentioned in a previous review (HERE) that after thoroughly enjoying a short story by Patricia Briggs in that anthology, I was going to load myself up with her books and just read, read, read. Found a bundle of the first six in this series. Go me. Helps that we don't have reviews up for the first four. Also chatted with V a little bit about it before writing up this review. Apparently she'd reviewed it a while ago (in her early years of doing so on another, now dead, site), and she was kind enough to send me a copy of it. So, this review will be somewhat of an amalgam of both our thoughts on the matter. But regardless, you should know that we both absolutely loved this thing.

MOON CALLED is the first of the Mercy Thompson series about the titular character's life in the Tri-Cities area of Washington state. She's a half white, half Blackfeet American Indian woman that's all about being your average, everyday twenty-something auto mechanic. She lives in a small trailer with her cat, has relatively few close friends, and likes to stay out of trouble.
Of course, she also works alongside a crusty Gremlin (not the car), lives next-door to the local Alpha werewolf, and is herself a coyote shape-shifter. So not everything about Mercedes Thompson is exactly what you'd call "average".
Story starts with Mercy in her garage, wrastlin a new transmission into an old VW Jetta, when a young man walks up off the street. He's looking for some work. Payment under the table. Says he's strong, has a little experience with cars, but is a fast learner. She can immediately tell something is off. The kid isn't dressed for the cold weather, looks like he's missed more than a few meals, and smells like just as many showers. He's also got the scent and look of a werewolf. Despite some reservations, she decides to give him a chance, and opens up the door to a whole mess of problems that she simply had not been looking for when she got out of bed that morning.
The relative ease with which this story starts and then slides into the tale at large is downright criminal. Chapter one hits all the right buttons: character, introduction of change, little bit of the everyday, some interesting world-building, and then a top-off of character. By the time that chapter is done, we know Mercy, her life, her world, some part of her varied past, and it's obvious that this is going to be a great ride.
This is very much a character-driven story impacted by events that slowly reveal the larger plot. At the beginning, Mercy (and thus we) know very little about what is going on, or why things are happening. And although there is a decent sense of mystery, the level and threat of repeated violence are high enough that the unknown motivations of the people around her at the beginning of the tale take a very secondary seat. Granted, eventually they do come to bear, and the way it all plays out was very engaging.
MOON CALLED begins Mercy Thompson's urban fantasy tale of the weird and worrisome in the Pacific Northwest. Awesome character and story, both
Along the way, the fantastical world is revealed in subsequent layers. First the werewolves. Then the vampires. Then we meet a witch. There's the Gremlin that Mercy works with, and talk of the other myriad Fae. As Mercy is driven first in one direction and then another, each of these layers is peeled back and we learn a little more about how Mercy's world is different than ours.
For the most part, the fantastical aspects of this world have been hidden from the general public, but in recent years, keeping things that way have become progressively more difficult. Leaders of the Fae, the Grey Lords, have recently exposed the world to their presence, including lots of the lesser magical community. Outright exposure of the werewolf and vampire and witch communities have yet to follow. Each is segregated and led from within, and as with *any* community of size, there are variations within each. The political and cultural aspects of each community the author has built, and the differences between each, were particularly interesting.
With each step of world-building though, we learn more about Mercy and who she is, where she came from, and what this all means for her. Each step that she takes is important to her, and is driven by her choices. She is very much the lens through which the story is told. She handles the crises into which she finds herself in her own way. Are her choices always the "best" ones? Nope. But they're hers, and we understand why she's making them. As we're exposed to her past life, there is history and complication, friends and lovers, and every single piece of that history builds this tale into something that feels full and whole, both from within her sphere of influence and without.
I went into this read wanting to find something great. My limited experience with the author had my expectations set high, and this read satisfied every single one of those. Never once did I hit that "fatigue" level that I so often do when reading Urban Fantasy (with few exceptions). Can't wait to get into the next book, and see what Mercy gets up to next.
If you enjoy Urban Fantasy and haven't read anything from this author yet, fix that problem by picking this book up NOW. There's so much to enjoy here.
Recommended Age:

15+

Language:

Relatively little, two truncated F-words but otherwise not strong

Violence:

Some, but not much. A few deaths. Nothing too grisly, but fairly intense at times.

Sex:

Threat of rape of a minor, some innuendo