Review: Night Broken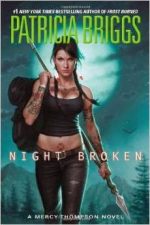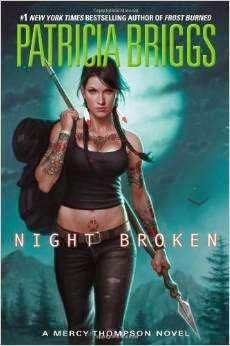 Amazon
The latest in Patricia Brigg's Mercy Thompson series has her heroine face her most terrifying adversary yet. This opponent is tougher than the river devil that almost killed her; more cunning than the local vampire queen; and a better baker than Mercy herself: Adam's ex-wife Christy.

Christy comes running to the Tri-Cities werewolf pack for a reason. She's being stalked by a dangerous playboy she met in Vegas who won't take "No" for an answer, who's knocked Christy around, and who may have been the one to kill her boyfriend. Unfortunately he turns out to be more than your run-of-the-mill psycho guy, and it's Mercy and the pack who must deal with the fallout.
Seriously, this series only gets better and better. In NIGHT BROKEN (Amazon) Briggs isn't afraid to shake things up for Mercy, who despite being a confident woman experiences some self-doubt when faced with the near-perfection that is Christy. Many of the pack feel protective over their alpha's ex-wife, her skills of manipulation and victimhood even messes with Mercy's head. It's been no mystery that some of the pack don't like Mercy and feel that a coyote shifter doesn't belong in the hierarchy. Will Christy successfully worm her way back into Adam's good graces and cause havoc with Mercy's standing in the pack?
Then, of course there's the mystery surrounding Christy's stalker. Where did he come from? Who is he really? And why is is so focused on Christy? Is he somehow related to the killings the local police want to pin on the werewolves? The clues begin to stack up and when Christy's stalker visits Mercy at her garage she discovers that he's more than he seems… a lot more, and it's scary enough that she wonders if they will ever be able to solve Christy's problem.
NIGHT BROKEN has Marcy Thompson face her most terrifying adversary yet. Tougher than the river devil that almost killed her: Adam's ex-wife Christy.
We get to see old friends and meet a few new ones. Other than the pack regulars, we get to see Stephan back in form, Tad returns as cool as ever, and even Coyote has to be called for help when a Grey Lord comes asking for the fae walking stick that used to follow Mercy around.
I enjoyed watching Mercy as she moved through the story, reacted to events, interacted with friends and enemies, and then proceeded to do what she does best: doing whatever it takes to keep her family safe. If you're a fan of the series then NIGHT BROKEN is a must read.
Recommended Age:

14+

Language:

None

Violence:

A couple of scenes, one kind of gruesome

Sex:

Referenced