Review: Fire Touched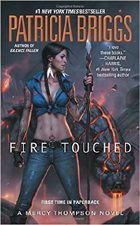 Amazon
The Fae have a chip on their collective shoulder. They've attempted to integrate into society, but it's had mixed results since some Fae integrate with humans better than others (those who have a hard time are, for example, the ones who like to eat humans). Several years ago they "came out," allowing their existence to become public knowledge. That didn't go so well, so since then they've retreated to the Fae reservation in Washington state, near the Columbia Basin Pack's territory. Now the Fae are downright testy. They've tortured Mercy's friend Zee, let loose trolls to sew chaos in Tri-Cities Washington, and now want back a changeling who's escaped Underhill.
And of course it's up to Mercy to figure out how best to protect her own.

This series is easily one of the best today in Urban Fantasy. Patricia Briggs's writing is consistent across the series, with great stories, excellent characterization, and continual world building. She doesn't let her readers down.
Mercy is her usual awesome self (there isn't a lot of character arc for us to watch here, but we do see a side of her we haven't seen much of before). It's also nice to see Mercy and Adam's relationship as it evolves across the series, how they're a team who work together and do their best to be good for each other–despite their foibles. I enjoyed watching Jesse hold her own, Tad (Zee's half-human son) really show his stuff (he's awesome), and new kid Aiden whose years in Underhill has warped his transition from child to adult. These aren't stereotyped, cardboard characters, and I especially enjoy their interaction.
In FIRE TOUCHED it's up to Mercy to protect her friends from the machinations of the Fae. Another in one of the best Urban Fantasys being written today.
Briggs gets better with plotting and pacing with each book, and FIRE TOUCHED has a little more action than usual, which I really enjoyed. We watch as the pack works together to take down the bridge troll (with Mercy's usual witty observations), as they decide what needs to be done to deal with the Fae, and how Aiden fits into it all. These books are simply over too soon, I enjoy reading as Mercy and company overcome their difficulties in clever and resourceful ways.
In FIRE TOUCHED we learn more about the Fae, their relationship with Underhill, and all the shenanigans involved there. It's some serious messed-up stuff, and you can't blame Aiden for being afraid of having to go back, which is why he asks for the pack's protection in the first place. But who knew that Aiden's simple request would have such far-reaching consequences? The fallout may prove to be a serious problem for the pack–and it looks like we'll see some of the fallout in the sequel SILENCE FALLEN. I can't wait.
Recommended Age:

14+

Language:

Minimal

Violence:

A few fight scenes

Sex:

Referenced