Review: Brief Cases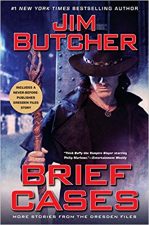 Amazon
I was a late comer to this series, and I have to thank my boss Steve for pushing me to read past the second book in this series much like he pushed me to read past the second Malazan Book of the Fallen novel. So it was, that I found little moments, mostly nights and weekends (whenever I found a spare "extra" reading opportunity) to creep through the main sequence of books as quickly as I could. Jim Butcher has done an amazing job of this series. Guy knows his stuff. Thus it was, about six months ago, that I finally finished reading Skin Game and went looking for the next entry of one of my favorite addictions: Harry Dresden stories. At last update, Jim is still working on "Peace Talks" (Book 16), but until we get that one (can't wait can't wait can't wait can't wait) there is some new short fiction to be had, and it is absolutely brilliant.

So, I may or may not be completely biased and blinded to any weaknesses that Jim Butcher has as a writer. I've been known to do such, on occasion. If you've been around the site for a while, you probably know which other author I have a voluntary blindness for. That being said, BRIEF CASES (Amazon) is one of the best collections of short stories that I've read in a good long time. I'm thinking Joe Abercrombie's SHARP ENDS (EBR Review) and before that SWORDS & DARK MAGIC (EBR Review) are on par with the goodness of this bunch. Short fiction doesn't often come packed up in a bundle quite so amazing-tastic as these have.
Each of the 12 stories in this collection is prefaced with a brief explanation as to what led to it being written. I really liked those. This may be the author-hopeful side of me, enjoying those inspiration moments much as I enjoy my own. Those bursts of revelation that come as the idea hits and your mind takes it and starts to run. Having these little blurbs made each of these stories, while completely awesome in their own right, just that little bit more personal.
FAIR WARNING: If you haven't read the entire Dresden Files series, seriously do not read this review and do not read this book. Just don't. Do yourself a HUGE favor, go pick up the series (EBR Reviews) — wherever you happen to be — and finish it all.
If you haven't read this series, shame on you. Your inner story-lovin-you has probably withered and nearly died because of lack of proper nourishment. Go read the first three books (they're all relatively short) starting with STORM FRONT (Amazon) and you'll be well on your way to understanding exactly what all of us here at EBR know:
Jim Butcher belongs to the pantheon of fiction-writing gods and you should devour anything and everything he offers in the order that he offers it and as soon as he offers it.
Now that everyone else is on board for some Dresden goodness, my array of ratings for the stories in this collection:
Loved: 12
Liked: 0
Like and Hate: 0
Mediocre: 0
Didn't Like: 0
Hated: 0
I'm serious now. I told you that I had some blindness for Jim's stuff. Now granted, I didn't love every story the same. There were some minor gradations… but not much. Here are some of my favorites of the stack:
A Fistful of Warlocks — Anastasia Luccio is the POV for this story. She's tracking a warlock across the Wild West and follows him to a small town. She interacts with a well-known character from American Wild West history, which was really cool, and ends up in a fight with a necromancer that comes into play in the main series. Honestly, this one felt kind of fast. I think it could easily have been half again as long and I would have loved it even more. Such good stuff.
Cold Case — The POV of this story is Molly Carpenter, and it's one that I had actually read before in SHADOWED SOULS (EBR Review). This is Molly's first job as the Winter Lady, and she is asked to collect a tribute from a people living in the cold reaches of Alaska. She runs into an emissary of the White Council, and learns A LOT about her mantle, her job, and herself. Sheer awesomeness. And it's great how I can re-read stories like this and love it just as much this time around as I did the first time.
Zoo Day — From what I understand, this was the single story that was brand new and hadn't been published anywhere before. Harry, his daughter Maggie, and Mouse, all go to the zoo for a daddy-daughter day. The story is told in three parts, each from the perspective of one of these three characters, as they each fight their own battles and more of the world and future threats reveal themselves. Made me uber excited to read the next main-sequence book. Ahhhh!
Day One — Waldo Butters. This guy totally grew on me while reading the series, and he is ridiculously awesome. This story is about what happens during the first day that he is called to perform his duties as a Knight of the Cross. SO good, people. SOOOO GOOD!
AAAA Wizardry — Despite the fact that I loved all of the other stories, this one hit me harder than a Mack truck. Harry is teaching a bunch of newbie wizards. He teaches them about finding and eliminating a threat, and how one of the times in his past when he got the bad guy but made a bad mistake along the way. The way that Butcher structured this story, jumping back and forth between the classroom and his past was utter perfection for me.
BRIEF CASES is a brillant collection of Dresden short stories that will excite fans of Butcher's popular series. Just don't expect it to be spoiler free.
I could probably have put them all down here. Narrowing my favorites to this short list was torture enough as it was. Of the 12 stories, only seven had Harry as the main POV, and the fact that three of my top five favorites were non-Harry POVs shows that it's not only writing Harry that Butcher is good at, it's writing everything that he's good at.
If you're a fan of this series (and if you've read it I can't see how that could not be the case), this is another brilliant offering of Harry Dresden strength-of-story, strength-of-character, and quite simply a bloody good time. Even if you've read them all in the various different locations that they've been published, this is a book not to miss.
BUY ALL THE THINGS FROM BUTCHER. YOU WILL NOT BE DISAPPOINTED.
Recommended Age:

16+

Language:

Pretty representative of the series. Strong at times, but not especially frequently.

Violence:

Gets pretty dicey in parts. Again, not frequently, but it gets up there at times.

Sex:

The White Court of Vampires works into things, and as usual, it gets pretty racy, but lacks the play-by-play of romance novels.