Review: Sharp Ends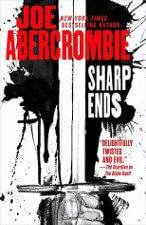 Amazon
It is unsurprising and yet somewhat telling that when I received this book in the mail from Amazon, I was completely surprised not only by the fact that it was a small book but also that it was a collection of short stories. When I'd found out about "Abercrombie's next book" I instantly pre-ordered the thing and eagerly anticipated the date of its arrival. Unphased in the slightest (though slightly disappointed, if I'm being honest, by the fact that it wasn't a full novel) I dove into it's pages and lost myself in the world of the First Law.

SHARP ENDS (Amazon) is an Abercrombie book. I mean, what more do I need to tell you before you go buy the thing? Actually, you should already have it sitting on your book shelf, post-digestion, and be reading this review only to remember with great bloody fondness what a brilliant read it was. If, however, by some ridiculously unlucky stroke of fate, you aren't finding yourself in such a state of zen, you'll want to take care of what ails you. Pronto. I've even left you a couple of links to help you out. Here's another one (Amazon). What a nice me I am.
Thirteen stories make up this collection, and I loved all but one of them. That being said, there was one of those remaining twelve that completely made up for that single oddity. The collection is split between stories about characters we've already seen in Abercrombie's other First Law books and those about a pair of characters named Javre and Shev. The latter are the author's spin on the iconic duo of Fafhrd and the Gray Mouser, and kind of form a backbone for the collection as they are spread throughout the book.
This collection is a perfect example of Abercrombie doing what he does and making it look easy. With his typical flare, he portrays character and emotion, violence and honor, love and battle, which rage across each of these many pages. I really enjoyed the stories about Shev and Javre. Shev is a retired thief that gets pulled back into the game against her will, and it is her decision to show a little kindness to someone in need that leads to her pairing up with Javre, the Lioness of Hoskopp. The latter is a giant of a woman, tough as steel, who carries around a seemingly-magical sword made from a star fallen from heaven and is doing her best to avoid those she once called friends and family and their murderous intentions for her. The situations that these two get tied up in were a lot of fun to read, and I also really enjoyed seeing Whirrun of Bligh in one of their stories. That is a character I would love to read more of.
There are plenty of other sightings of characters we know and love from the other books in this world: Colonel Sand dan Glokta and Lieutenant Collem West, Curnden Craw, Temple. I really enjoyed the two stories about Bremer dan Gorst, a main character from The Heroes, one of my favorite books from Abercrombie's. Each of these characters carries with them a piece of the prototypical Abercrombie star: they're all either complete bastards or they find themselves somewhere along the spectrum of wanting to do good in an evil world and understanding the world in which they live. No real surprises about any of them here, but they're all really well done.
SHARP ENDS is a perfect example of Abercrombie writing at his best. With typical flare, he portrays character, emotion, violence, honor, love and battle.
The one story I didn't care for much was the one ostensibly about Nicomo Cosca. Guess I really just didn't get into it, but it was short so I can't complain too much. And then there was the story that made up for it.
So often when reading short story collections, I find that they'll start out with a bang-up job of a story and then tail off as they move toward the end. This entire collection though was one solid story after another. And then the last one was the most brilliant of them all.
"Made a Monster" is the story of Bethod, King of the North, as he is trying to sue for peace against those which he has fought for so long. He's getting old and wants the family life. Wants to be with those he loves instead of constantly killing and in danger of being killed himself. But ultimately, the choice is not his, because there is a tool that he has honed over these many years that has become more than a man, more than a legend. More than a king can control.
Logen Ninefingers. The Bloody-Nine. And no one will make choices for that one but himself.
This last story absolutely knocked it out of the park for me, and there's no place that this story deserved better to belong than at the very end. A genius ending to a genius collection of short stories. Abercrombie proves again that he's a master of what he does: telling captivating story, evoking solid character, and wildly entertaining his readers. Loads of fun to read, and I'd highly recommend it to anyone that digs on Abercrombie's stories or even just those of the grimdark.
Recommended Age:

18+, mostly for violence and profanity

Language:

Quite strong

Violence:

You did see that there's a story about Logen Ninefingers in this one, yeah?

Sex:

A large number of references and a couple scenes between secondary characters