Review: Rise of the Automated Aristocrats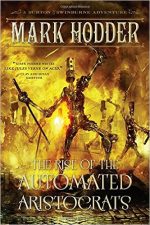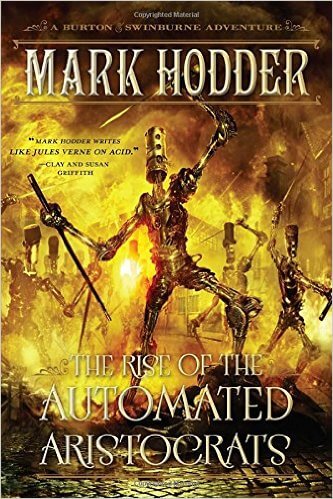 Amazon
It was with a high level of excitement and healthy dose of trepidation that I dove into this book. Another Burton and Swinburne novel for me! But alas, it was the last of its kind. I couldn't believe my eyes when I first read that this would be the end of this amazing series. I've had so much fun reading this one, with each story building upon the previous one, and taking me further into the brilliantly detailed chaos of Hodder's genius. The back of the book promised an explosive conclusion to the Spring-Heeled Jack series, and although I only wanted more! more! more! I still found myself curious how the tale I began a scant five years ago would resolve itself in the end.

THE RISE OF THE AUTOMATED ARISTOCRATS (Amazon) begins quickly after the completion of book five of the series, THE RETURN OF THE DISCONTINUED MAN (EBR review). At that time, Burton and company were on their way home after chasing an incarnation of Spring-Heeled Jack into the far-flung future. Although, the story doesn't begin with THAT Burton. It begins with another. And although I was perhaps used to the idea that other versions of Burton would be woven into this story (as I'd seen them in prior books), I thought it an interesting way to begin the final novel in the series.
This new version of Burton is one from an alternate reality where he married his beloved Isabel and grew into his old age, and was just about to pass into the grave when he is snatched into the timeline with which we have been involved. He's not the only member of the club to be so rudely taken from death's clutches, however, and we spend the first several chapters getting the gang back together, although none of them know each other particularly well. They only have a resounding sense that they should. These chapters only heightened my sense of excitement. All the character connections I'd come to love were still there and the story was waiting to begin.
Even at this stage of the game, I don't really know what the story was supposed to be about. There was very little to do at all with Spring-Heeled Jack, that's for certain. There also wasn't anywhere near the level of inventiveness and imagination this time around. In fact, I can only recall a handful of instances when ideas introduced in previous novels were referenced, and none of them expanded upon them or introduced anything new. The pacing of the novel also lagged considerably. Burton spends chapters and chapters sitting in leisurely meetings talking about "what is going on" in the world and most specifically in England. And then he spends lots of chapters in a prison camp of sorts, biding his time. And then he spends lots of chapters in a posh jail cell reading books. Oh, the joy. Yeesh. Something it also didn't have was any added characterization. Any level of characterization I felt seemed like carry-over from previous novels.
It did have a few new things to add to the series though. A villain that wasn't Spring-Heeled Jack for one. (Did I mention that this was the "explosive conclusion" to the Spring-Heeled Jack saga? Oh, I did? Funny that…) It also had torture scenes and grisly death sequences.  It also pointedly ignored the instance of Spring-Heeled Jack that was still around (sitting in the frozen, metallic body of Isambard Kingdom Brunel). Ah, and it had automated aristocrats, which were decidedly disappointing in literally every respect.
If the author's name hadn't been printed on the spine, I'd have said RISE OF THE AUTOMATED ARISTOCRATS couldn't possibly have been written by him.
I read this book immediately after reading HALF A WAR (EBR review), which, if you remember, was also a massive disappointment in my opinion. This one even more so. Still, two books that I was fabulously excited about that ended up being nowhere near what I'd hoped for. Nearly did me in. I was depressed for something like a week and a half after finishing the two of them.
My official stance on this book is that if the author's name hadn't been printed in huge letters on nearly every external surface of the cover, I would swear that it couldn't possibly have been written by him. It just wasn't anywhere near where the others in the series were. Final verdict: skip this book. Read the series through book five and call it good. The ending of that one was decent enough to warrant doing so, and this one was was bad enough that you'll thank yourself for avoiding it.
It just wasn't an ending in any way shape or form. It was painful. Plain and simple. Long and boring and painful. Sorry, Mark. Hope things go better next time around, because I know you can do so much better than this.
Recommended Age:

16+

Language:

Very little, as per the usual

Violence:

Fairly strong. Torture and violent death detailed.

Sex:

A reference to Swinburne's proclivities, a conversation in a brothel