Review: The Strange Affair of Spring Heeled Jack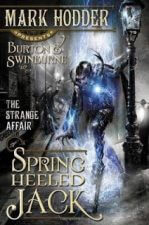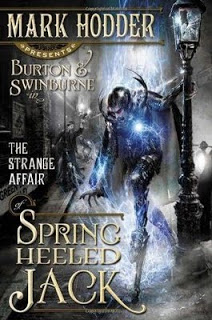 Amazon
Anyone else just LOVE the movie Mary Poppins? Yes, the one put out by Disney. Of all the movies I watched as a child, this is one of the few that I really remember enjoying every time I watched it. As I read this novel, my mind ran back to those days: I kept seeing that view over London when Dick Van Dyke took the group across the rooftops, I kept tapping my foot to Step in Time, and at random moments I would begin to whistle Feed the Birds. The atmosphere of this book was just… ah, well, I get ahead of myself.

THE STRANGE AFFAIR OF SPRING HEELED JACK (Amazon), from all accounts, is Mark Hodder's debut novel, the first of the Burton and Swinburne series, and quite the offering to genre fiction as such. Alternate historical fiction with a load of twists, this story takes us on a vigorous romp through Victorian England like nothing I've ever before read. Steampunk at a glance with coal-driven bicycles and helicopter/easy-chair mishmashes, but there are also mega-lithic horses, greyhound post runners, message-delivering parakeets with a penchant to adlib insults, and werewolves as well. The world Hodder has developed here is everything we expect from the foggy, gritty streets of London, but filled with oh so much more for the taking as part of the bargain. At times, some of this stuff almost had the flavor of Mieville. Almost.
Sir Richard Francis Burton is a cornucopia of a man–a known explorer, scholar, and swordsman–but recently his reputation has been brought into question by a former friend and accomplice, John Speke. But then, alas, the decrier shoots himself, and Burton is devastated. This is the tipping point for Burton. From there it isn't long before the focus of our tale comes into play, Spring Heeled Jack, to tell him that John Speke has shot himself three years too early (time travel!) By the way, if you didn't catch how utterly awesome Jack looks, go take a minute and drool over Pyr's cover, because it seriously deserves your attention.
Finished? Good.
Unfortunately, the first several chapters were very tough to get through. Several mid-scene jumps through various character's heads made things difficult to follow, and there was little to no characterization, information dumps galore, and a multitude of flashbacks. In short, it was fairly painful. After fifty or so pages though, Jack shows up and things finally get moving. Burton quickly garners a job from the crown, and the story turns toward the crux of the movement: the mystery of Jack.
Hodder's prose here is excellent. Great descriptions, his pacing methodical and quick, as I started to mention above the atmosphere is just great, and the few characters that the story revolves around become well-developed as we spend time with them. Happily, the mystery of the lightning-ridden purveyor of violence is slowly meted out as Burton follows one clue to the next, bringing him ever closer to the truth. I loved this portion of the book. Every chance I had to get into its pages, I took with relish. The interaction between the various political thought-groups was grand, the introductions of science's new products were comic and thought-provoking, and even the star-crossed love story caught my interest.
In the end, everything about the story came together. The holes were filled in. The tale was complete, and for the most part I was a satisfied reader and liked THE STRANGE AFFAIR OF SPRING HEELED JACK.
Then part two came along, and I was left in a fog of disappointment.
The book is split into three parts. The first focuses on Burton, and introduces his pal Swinburne in small measure, focusing mostly on the main story. The second part is entitled: Being the true history of Spring Heeled Jack. As I read this, I remember thinking, "But I don't want the 'true history of Spring Heeled Jack'. Can't I just have Burton's story ?" This section is exactly what it says it is: a history of Spring Heeled Jack–where he came from, why he was there, and his motivations behind everything he's done. In this, we see in detail everything he's been through, and thus replay once more a large portion of the scenes from Part 1, only this time from Jack's perspective. I found that reading this part of the book completely took the steam out of everything (no pun intended…okay, maybe just a small one). The mystery was gone, and I now knew everything. For a while, I was hoping that I would be able to just encourage you readers to skip Part 2 and come back afterward to read it, had you the desire, (kind of like an appendix of the non-fleshy variety, though every bit as optional), but that didn't end up working out because without part 2, Part 3 wouldn't make any sense. Grumble, grumble.
In the end, everything about the story came together. The holes were filled in. The tale was complete, and for the most part I was a satisfied reader and considered that I had liked the book. More than anything though, I wish that it had continued in the vein within which it spent two-thirds of its pages. It's too bad that this was not to be the case, and I have to cry "disappointing execution". I'll most definitely be reading his next book though. This is, after all, his debut, and he can only get better from here.
Just don't take the easy route next time, Mr. Hodder. Please. Give us more stuff like Part 1. More story. Less appendix. Story is what we love. Character is what we crave. We believe in you. Now go write some more.
Recommended Age:

16+, for violence and mature themes

Language:

A decent amount, though infrequent

Violence:

One fairly gruesome scene, general description of wolf-ravaged carnage, some sword fights

Sex:

Addresses the concept of sexual assault upon a minor