Review: Half a War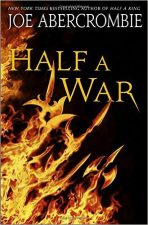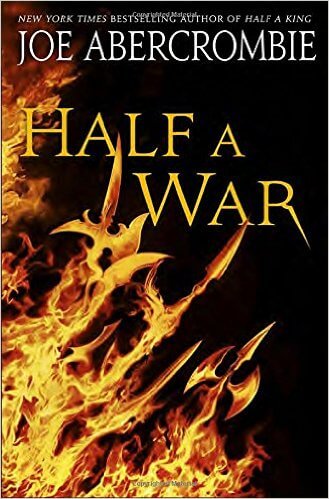 Amazon
When I first heard that Joe Abercrombie was going to write a YA series, I was a little skeptical. My impression of his books at that time hadn't exactly meshed with the ideals that YA raised in my mind. On the flip side, I was also kind of excited because sometimes the sheer mountain of content that came buried within each Abercrombie novel was frequently a major aspect of its own. Keeping within the relative boundaries of the YA genre, however, could give him a chance to really focus on the two aspects of writing that he really does best: character and story. The story thus far has been one that I've enjoyed. Based on what I'd seen in the first two, some aspects I thought were good but others not so much, I was cautiously optimistic when beginning this final novel that it'd all turn out amazing. I wish I could say that it had.

HALF A WAR (Amazon) is the final novel in the Shattered Sea trilogy that had begun with the betrayal of Yarvi in HALF A KING (EBR Review) and continued with the banishment of Thorn Bathu in HALF THE WORLD (EBR Review). I was expecting three distinct things going into this book. The first, that Yarvi's revenge would be accomplished. The second, that Thorn Bathu's single-minded goal would come to fruition. The third, that the peoples I had come to know thus far would finally have their meeting with the High King and, assumedly, prevail.
Thus, I was somewhat surprised by the list of POV characters I found in the first three chapters. Although, after having two brand new characters in WORLD, it really shouldn't have surprised me to find three new ones in WAR.
Skara, a princess of Throvenland, is thrown into adulthood quicker than she expected with the continuing treachery of the High King. Her quest is simple: get her kingdom back by whatever means possible. Problem is she's a young girl and the kings of Gettland and Vansterland aren't exactly meek, little men.
Raith is the sword bearer of Grom-gil-Gorm, king of Vansterland, and has been bred to dish out violence upon violence. Quickly, he's given to Skara to be a protector in this time of death and despair. This doesn't initially go over too well, but she's soon affecting him in ways that he's not come to expect from the world.
Koll, apprentice to the inimitable Father Yarvi and participant from the voyage in WORLD, has fallen for Brand's younger sister Rin and is torn between his upcoming oaths to the priesthood and his love for this daughter of Gettland.
These three characters were painted with strokes very familiar of Abercrombie's work: failure and limitation, violence and world-learning. Of the three, Skara was probably my favorite, but then again I didn't much care for any of them. In ways, Skara was easily the most shallow character of the bunch. Meaning that she didn't have any of the depth that I've come to expect. She felt very surface-thin as compared to any of the other characters in the series. Even the secondary ones. Raith, though interesting in a Logen-Ninefingers-in-training sort of way, never really became more than that. His story never felt significant. To either him or the story at large. Koll was much the same, though perhaps even more so. His internal struggle of choice seemed the only conflict for him, and otherwise the story found him being in opportune places at opportune times to portray certain aspects of the story that were necessary. As compared to the characters in the previous books, none of the new ones could even hold a candle to the old. The secondary characters were easily the most interesting in KING, and Thorn Bathu took every single cake imaginable as the brilliant main character in WORLD. None of the new ones seemed to do anything for me though. Main or secondary. And I certainly didn't expect that.
The violence and sex levels have also risen above the level of what I would traditionally lump into the YA category with this book. This was not all that surprising, as the main characters are a few years older this time around, are now approaching traditional adulthood in their society, and are living in a world that is mean and tough and forces you to grow up fast. Whereas most of this content was downplayed in the previous two books, fewer punches were withheld this time around. It was more on par with what I've come to expect from an Abercrombie book, but I had still been harboring some hope that there would be content levels on par with the previous two books to finish things off. Not so much.
I was cautiously optimistic when beginning this final novel, HALF A WAR, that it'd all turn out amazing. I wish I could say that it had.
Of my three expectations, I felt let down in regard to all three. One of them was incredibly disappointing in its execution. Another was completely ignored. And the remaining one just wasn't very interesting. In the end, I was left scratching my head, wondering if something had gone horribly wrong inside my psyche and that was the reason why this last book had failed to deliver for me. It was well-written, as Abercrombie's books always are. His world-building was deep and far-reaching, as expected. His humor, though dark, never fails to deliver the laughs. So many of the important aspects of any book were there.
Just the important ones seemed to be missing for me.
A relatively satisfying ending to the series. Just not the one I, as a reader and avid fan of Abercrombie's work, had hoped for.
Recommended Age:

17+

Language:

Not much. About on par with the previous books and what I'd expect from YA

Violence:

Strong. Abercrombie really turned up the heat on this one. Considerably more than I was expecting. Violence, death, gore, beheadings. The works, and plenty of it.

Sex:

Several scenes that get quite detailed. Again, considerably more than I expected from YA.