Review: The Dragon Factory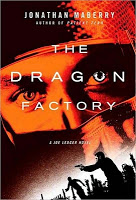 Amazon
Joe Ledger is back! After battling zombies in PATIENT ZERO (EBR Review), our hero gets no rest. In Jonathan Maberry's THE DRAGON FACTORY (Amazon) the stakes are even higher, and Joe is thrown in the midst of political, genocidal, and transgenic turmoil.
The story starts by introducing a couple of guys as the greatest mass murderers in the history of the world, an "Extinction Clock," and then a couple jerk-face NSA dudes attempting to bring Joe Ledger in. Sucks to be them.

The plot of this newest Joe Ledger novel mainly follows the exploits of Echo Team. Also focal points of the book are two groups of genetic researchers and scientists, all at odds with each other, and both doing unspeakable, craptastic things to the world, including unleashing big crazy dudes named Berserkers and releasing weaponized versions of icky diseases.
THE DRAGON FACTORY is just as fun as it's predecessor. It is 496 pages and we ripped through it at breakneck speed. It keeps up the pacing and the interest almost the whole way. There weren't any dull moments, which says something for the novel since it jumps PoVs SO MANY TIMES (sometimes for just a page or two before the character bites it). There was a bit of PoV breaking during chapters, which, if you have been reading our blog, you know is a pet peeve of ours. It wasn't terrible though.
The ending was superb. Endings are the bane of books like this. A lot of suspense and pressure being built up, but in the climax they usually are a let down. Not so with THE DRAGON FACTORY. The climax is intense and the final pages leave us wishing next year would come quicker so that we could see where a damaged and jaded Joe Ledger takes the story.
Speaking of the condition in which Maberry leaves Joe, we love the fact that this is not only action-packed, filled with science-geek stuff and great characters, with an interesting story, but it has a ton of heart. By the end of PATIENT ZERO, we thought the characters were pretty rad. By the end of THE DRAGON FACTORY, we LOVED the characters.
The whole time while reading this book we both kept thinking, "Tom Clancy, we wish you had a time machine so you could learn how to do these stories right from Jonathan and go back and fix your mockery of a career." Same goes for OSC's Empire and Hidden Empire.
Joe Ledger is back! After battling zombies in PATIENT ZERO, our hero gets no rest in THE DRAGON FACTORY where the stakes are higher.
Do yourselves a favor and pick up THE DRAGON FACTORY, and if you haven't already, PATIENT ZERO (Amazon) as well.
We seriously can't wait for THE KING OF PLAGUES, the follow up and concluding novel in the Joe Ledger Trilogy.
Recommended Age:

18+

Language:

Yeah. We have military people, ex-military people, and crazy people. Expect foul language.

Violence:

See above. There is quite a bit of violence going on here, and it is brutal!

Sex:

A few acts. Mentions of acts. Two of the main characters have and record multiple threesomes with a bunch of random "victims," though it isn't shown.