Review: Assassin's Code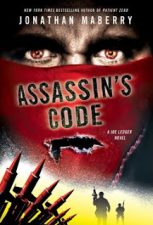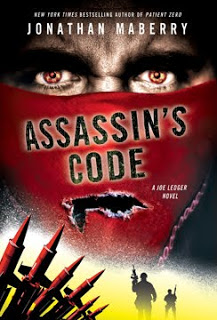 Amazon
"What are you still doing at that house?" she bellowed.
"Trading Pokémon cards with the vampire hunters."
Oh, Joe Ledger, how I love you.
Ever since reading PATIENT ZERO (EBR Review), one of the things I've looked forward to the most every year is a new Joe Ledger novel by Jonathan Maberry.  The series has tons of action, humor and monsters.  Even more that that, the series is full of terrific characters that compliment Joe Ledger.

ASSASSIN'S CODE (Amazon) is the fourth Joe Ledger novel, and I'll admit to feeling a bit nervous when starting it.  You see, when an author continually puts out fantastic novels like Maberry does… well, let's just say you start wondering if he can maintain that level of excellence.  The ending to THE KING OF PLAGUES (EBR Review) was huge, and I wondered how Ledger–and indeed the entire DMS–would be dealing with it.
After the first few chapters all my worries were gone.
ASSASSIN'S CODE is about Ledger and the DMS frantically searching for several nukes that are poised to send the world into a virtual Hell.  We get the familiar PoVs from Ledger and the other DMS operatives, but we also get new PoVs from a female going by the name Violin–easily the best character introduced since the first novel.  Additionally, Ledger is faced with an ancient order of killers that claim to be vampires… but vampires couldn't possibly exist in nature, right?
This novel, to put it simply, was amazing. Revelation after revelation involving Vox, vampires, The Seven Kings, Church and Joe hit you chapter after chapter.  The story is absolutely relentless in its action and the mad scramble for the nukes.  The fantastic part is how Maberry takes this pacing and uses it to wear down Ledger.  Ledger as had a rough go of things since THE DRAGON FACTORY (EBR Review), and he is still reeling from it. What many people don't seem to realize is that the entire series of Joe Ledger books has only taken place over the span of about a year. It really drives home the emotional and psychological toll on the characters. You'd think that Joe couldn't get any more beat down, but ASSASSIN'S CODE shows that things can always get worse.  They can always get harder.
When I read a series, one of the main things I look for is character progression.  Do the characters–major and minor alike–move forward? Are they affected by the past, and do they actively try to move forward?  A strength of Maberry's is his ability to show the past damage and how a character is trying to overcome it.  ASSASSIN'S CODE illustrates perfectly how Ledger is still screwed up from THE DRAGON FACTORY, but how he is struggling to move on.
One of the differences between Horror and Urban Fantasy is that in Urban Fantasy, even when the characters fail, they succeed.  In Horror it is the opposite. Even when you succeed, you fail. ASSASSIN'S CODE, more than any book I've read recently, really follows that observation.  This is a Horror novel, and it has the darkest ending of any Ledger book to date.
And it's absolutely perfect.
ASSASSIN'S CODE isn't just the best Joe Ledger novel, it's the best novel Maberry has written so far. If you're in for horror, do not miss this series!
ASSASSIN'S CODE isn't just the best Joe Ledger novel, it's the best novel Maberry has written so far.  The ending is one of the best I've read in series fiction, and it is one that I've thought about daily since finishing the novel.  I am completely blown away by the quality of this story, and how effortless Maberry makes it seem.
Thus far, ASSASSIN'S CODE is my favorite 2012 release.  Easily.
Recommended Age:

18+

Language:

Tons

Violence:

This one is the most violent since the first novel.  Scenes are often brutal and messy.

Sex:

One detailed scene, plus references to women being raped