Review: Spinning Silver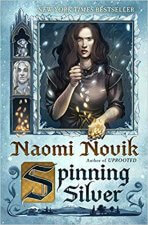 Amazon
I loved Naomi Novik's Temeraire series (even during the trudging years), but when she departed from the dragons and wrote UPROOTED (EBR Review) I admit I didn't jump on board as quickly as I ought to have. When I did finally read it, I loved it and recommend it to anyone who would listen. I went into SPINNING SILVER with the hope it was just as good, bought it, and carved out holiday me time so I could focus on the anticipated deliciousness–even though it's been released for over a year (my bad).
It was everything I hoped it would be and more.

Miryem is the headstrong daughter of a small-town moneylender. When her father finds himself unsuited to the task of collecting client payments, she reaches a crisis point when their living conditions are so dire she takes on her father's responsibilities. She quickly discovers she's good at it and soon their circumstances turn around for the better. Wanda's father owes Miryem's father money, but as a drunk he often finds himself short of funds. Miryem hires Wanda to work for her family as payment–and this simple act changes her life forever. Irina is the neglected daughter of a duke's first wife, who unexpectedly finds herself attracting the attention of the young and unmarried tsar.
SPINNING SILVER revolves around the stories of these three women, and how their fates are intertwined. Miryem's ability to make silver into gold (via her moneylending and trading) attracts the attention of a fae lord–a king who is desperate to save his people and needs gold to do it. Wanda can't help but compare her abused home life with Miryem and her loving parents, but the confidence she gains working for them changes who she is. Irina may be mousey on the outside, but inside she's willing to fight a demon to save her life and the lives of those she loves. These women are brave but must use their wits–and help each other–in order to survive the ordeal ahead.
Novik's worldbuilding in SPINNING SILVER is as good as anything she's done before. Set in a fiction world with Russian flavor, we learn about winter and how the fae are affecting it, we learn about demons and sorcerers, about the magic of silver and gold, and the strength of family bonds. The fae lord is a Staryk, and his frozen kingdom is in trouble until he finds Miryem. Novik's depiction of the Staryk land and their culture on the outside seems familiar, but is just enough confusing and foreign to begin to see that Miryem's predicament may lead to a tragic outcome unless she can out-think the Staryk lord. Irina finds a similar predicament when her new tsar husband reveals a dangerous secret.
Naomi Novik does it again with her re-telling of the Rumplestilskin story in SPINNING SILVER--with three memorable heroines.
But interspersed between all that grand story of lords, tsars, and demons is knitting, taking care of goats, banking, silversmithing…all the things that would seem mundane on the outside but are actually part of a greater whole. This is what makes her worldbuilding great. All of this and a set of characters who are able to show you the world they live in. Characters who in some ways are similar, but their life experiences flavor their choices, and who are able to show their mettle when the time comes. It's hard not to admire the quick-thinking of Miryem and Irina, because they're willing to see their plans through, even when things get hard. My only complaint is that the point-of-view switching wasn't telegraphed as soon in each chapter as it could have been, so there were a few confusing spots, but this is so minor as to be petty.
Novik builds a story from the ground up: at first the simple dilemmas of a simple people, but then tosses them into a fire so hot I could not see how these women would save themselves from their problems, much less have a happy ending. I squirmed as these girls were dumped into impossible situations, who plotted to free themselves only to see everything go sideways. This story was unpredictable, intertwined, and oh so delicious. It ended better than I would have predicted.
If you love complicated, clever, and dire fairytales like I do, then SPINNING SILVER is for you.
Recommended Age:

12+

Language:

None

Violence:

Fighting and some death, but with little detail

Sex:

Vauge references