Review: Uprooted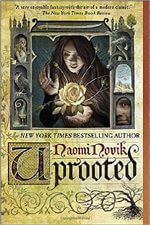 Amazon
Have you ever read a book that is just magical? I don't mean a book with magic in it. There's a million of those out there (and I like quite a few of them), but a book that is magical. There's a difference to it, isn't there? Books that are magical have a different feel to them. It's beyond a compelling story (although again, I love that).  It's just a feeling you get when you read it. I think it's kind of like wrapping up in a warm blanket, or sitting by a fire and letting the warmth diffuse through you. That is what UPROOTED by Naomi Novik was like for me. I would sit and read and a warmth would just spread through me. This book is magical.
I've read some of Naomi Novik's work before and I've enjoyed her Temaraire books. I saw UPROOTED when it came out and it looked kind of fun, but I had a lot on my plate and I never got around to it. Then it was nominated for a Hugo award. Then it won the Nebula award.  By this point I'm thinking, "Ok, let's give it a shot." I'm so glad I did.

"Our Dragon doesn't eat the girls he takes, no matter what stories they tell outside our valley. We hear them sometimes, from travelers passing through. They talk as though we were doing human sacrifice, and he were a real dragon. Of course that's not true: he may be a wizard and immortal, but he's still a man, and our fathers would band together and kill him if he wanted to eat one of us every ten years. He protects us against the Wood, and we're grateful, but not that grateful."
This is how the book starts and it is delightful. What a way to begin. We've all heard the story of the town sacrificing a girl to appease the dragon before. Novik turns it on its head right from page one. There's a dark wood just beyond the edge of the town. A wood that people vanish into or are sometimes taken into by dark forces. There are wizards and potions, towers and knights, but not like you've seen them before. This fairy tale is raw and fresh. I think that's what I liked most about this book. It felt real and authentic. Novik grew up on Polish fairy tales and stories of the Baba Yaga, and you can tell as you read it. The main character is named Agniezka (Ag-Nee-Esh-Ka, how beautiful is that?) and even though you know that Niezka will be the girl taken by the dragon from page one, it's still a delight. It's comfortable and still surprising at times. It's familiar with a twist of different. Do you remember watching Disney movies as a kid and then hearing the real Grimm fairy tales years later and seeing what the real story was? That is what UPROOTED is like.
If you like fairy tales, you'll like UPROOTED. If you want to feel that there is a bit of real magic in the world, you should read this book.
I don't want to give away any of it.  Suffice it to say that if you like fairy tales, you'll like this. If you want to feel that there is a bit of real magic in the world, you should read this. If you want a good read that leaves you smiling and happy as you read it (which isn't to say all good things happen to all characters, cause that's certainly untrue), then you should read this book. Or you should just read it, cause, well it's magical!
P.S. My dad and brother listened to the book on audible and they said that the reader was GREAT! If listening is your cup of tea then you should give this book a shot.
Recommended Age:

15+

Language:

A few words, nothing to be upset about

Violence:

Again a bit, but it didn't feel too bad

Sex:

One full sex scene and an almost sex scene that is fairly graphic, which is upsetting to me personally because the rest is so great