Review: Tongues of Serpents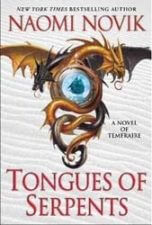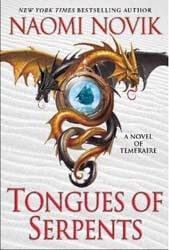 Amazon
If you haven't read any Naomi Novik you're a little behind the times, but that's okay, because I can give you a quick run-down on the series thus far. We first meet Captain Laurence and his dragon Temeraire in HIS MAJESTY'S DRAGON (Amazon), which is set during the Napoleonic Wars, where battles aren't only fought on land and sea, they're also fought in the air with dragons. However, these aren't your run-of-the-mill dragons, most of them are huge and have their own aerial crew with captain, lieutenant, riflemen, bombers, and etc.
Captain Laurence, who became Temeraire's rider by happenstance, has spent his military career playing by the book; but Temeraire, unlike most dragons of the British Air Corps, is very intelligent and has his own ideas about how things should be done. This combination makes for some fine adventures that take place from France to Africa clear to Temeraire's country of origin, China. Novik follows the Napoleonic Wars pretty faithfully in the first books, but then the series veers from history when Napoleon attempts to invade England.

At the end of book five, A VICTORY OF EAGLES (Amazon), Temeraire and Laurence are sent to Australia as punishment for treason, the prison colony the only alternative to execution for their crimes. Which is frustrating for their fans, because the pair have been nothing if not loyal to the British Empire–even if doing the right thing doesn't always mean following orders. Despite being treated as traitors, they obey king and country and head for the land down under with three eggs and England's only fire-breathing dragon in tow to start a new covert, where at least they can stay out of trouble. As TONGUES OF SERPENTS (Amazon) begins they hope to gain the good graces of the Australian royal governor and eventually be pardoned.
However, what they find on arrival is Captain Bligh, the infamous former captain of the Bounty, whose leadership of the Australian colony has been taken from him. This leaves Laurence in a pickle while waiting for official word from England: he could give himself over to Bligh who's the legitimate governor of the colony and use Temeraire as a blunt force object to wrest back control, but estrange himself from everyone else in Sydney as a result. The other option is even worse: help the current governors, who appear to have been justified, but leave a permanent scar on Laurence's record for helping those who went against orders. Either solution will only dig his traitorous hole deeper. What's a dragon rider to do?
Why, cook up a plan to wander across Australia and avoid the problem altogether, of course.
The main characters, Temeraire and Laurence must struggle through a foreign climate, difficult people, and a nebulous future. Unfortunately, with no rank Laurence seems to fade into the background, making him wishy-washy for a good three-quarters of the novel. It's Temeraire who shines the most in SERPENTS, as he experiences disappointment and the consequences of making hard decisions–and matures in the process. Despite efforts to protect the three eggs in his charge, nothing goes as planned, and the duo and their friends struggle to solve their problems as they cross an unfriendly landscape.
As ever, the mysterious Tharkay continues to be a favorite, and is often the voice of reason. We're also revisited by the snobbish Captain Rankin, whose dragon died of neglect in the first book. He's slated to take captaincy of one of the eggs brought to Australia and lead up the covert there. His presence is an interesting complication of frustration and comeuppance. During SERPENTS we don't get to make many new friends–and most of those are dragons–but instead get to know a few old ones a little better.
The best thing about Novik's books is her prose, which feels authentic for the time period, pulling readers right in to the story. She tells her stories with a minimum of fuss, so the pacing is usually fast, making her novels quick reads. And fortunate for us, Novik has been consistent across the series with pacing, prose, characterization, and flow, and it continues into SERPENTS, making the series reliably solid.
But if I'm being completely honest, when I found out that the sixth book was coming out in July I was feeling a little 'meh', even with the big cliffhanger at the end of VICTORY. The books feel almost episodic, but even episodic series will have a slow buildup of tension from an overarching issue. Sure you could call the war the big tension, but now with Temeraire and Laurence out of the action, it was hard for me to be excited about where the series is headed. SERPENTS didn't completely dispel my worry, but I know that Novik does have a grand plan for Temeraire and Laurence, and she won't leave us unsatisfied.
Temeraire and Laurence continue their adventures in TONGUE OF SERPENTS where they are banished to Australia.
If I were to compare SERPENTS with any other in the series, it's most like the third book BLACK POWDER WAR (Amazon), in which Temeraire and Laurence trudge across the route from China to Istanbul. Both books are lulls in the series, serving as transitions while responsibilities and opportunities shift for our heroic duo, building up storyline for what's to happen next. Although with another 'trekking across a foreign land' episode, I'm beginning to wonder if this series is less about the Napoleonic War than it is getting a picture of what the entire world was like during that time period.
If you want to start Temeraire and Laurence's adventures, don't begin with TONGUES OF SERPENTS, as it won't have the same appeal like it does to those of us who've read the previous books and as a result are deeply invested in the characters and their plight. Instead begin with HIS MAJESTY'S DRAGON. You won't regret it.
Recommended Age:

14+

Language:

A handful of words, but otherwise minor

Violence:

Even though it takes place during the Napoleonic War, there's not a whole lot in this one, mostly a small battle at the end.

Sex:

Implied, and even then there's very little