Review: Armistice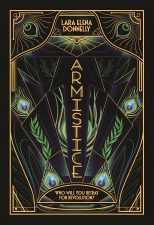 Amazon
ARMISTICE (Amazon) picks just long enough after AMBERLOUGH (EBR Review) to have the intervening events thoroughly demoralize our protagonists. The glitter and stage lights are gone, leaving behind heartache and fatigue. And only some of the survivors are back.

Cordelia Lehane, former stripper, now leads the Amberlinian resistance against the Ospies' fascist regime–or at least she did, until things at home got too hot. Scarred and scared, she escapes Amberlough for the matriarchal country of Porachis, where she runs into her old cabaret colleague, Aristide Makricosta.
Aristide is currently directing movies for the thriving Porachin film industry–a cushier lifestyle than Cordelia's–but he too carries scars from the Ospie invasion. He is grayer, more petulant, and spiraling into alcoholism; shutting himself off from the world now that he believes his lover Cyril is dead.
Aristide's complacent equilibrium suffers a series of blows, first from Cordelia's unexpected arrival, and then in a real tear-your-heart-out moment when he runs into Lillian DePaul, Cyril's sister. These events shake him enough that he finally begins to question the largesse of his hostess in Porachis, and realizes that despite his attempts to escape the intrigue of his old life, he is currently living on the edges of a conspiracy with too many consequences to ignore.
Like her brother Cyril, Lillian has swallowed the bitter pill of working for a fascist regime to protect someone she loves. In this case, she is working to protect her son Stephen, who is currently away at school in Amberlough. Lillian has worked most of her adult life in Porachis, making her an ideal tool for the Ospies, who begin to use her for covert work, entangling her the same conspiracy that will change Aristide and Cordelia's lives.
Lara Elena Donnelly's writing and world are richly textured. She is acutely aware of the physical situations of her characters, such as the ache of a back or the grit of sand on feet. Far from feeling precious or over-thought, her attention to detail grounds her characters, giving them a rich specificity.
ARMISTICE picks just long enough after AMBERLOUGH (Book One) to have the intervening events thoroughly demoralize our protagonists.
The advantages of Donnelly's deliberate prose are apparent in her worldbuilding. Instead of long 'info dumps' or having characters monologue about the unique characteristics of their world, Donnelly builds the culture of Porachis in careful strokes, from the type of trouser fabric Aristide wears to which kind of people are out a disreputable hookah bars late at night. It's careful and deliberate, and ultimately more satisfying than a lot of exposition because it feels so natural.
The newest POV character, Lillian DePaul, is a nicely fleshed-out character with plenty of strengths and flaws. Her capable and calculating nature make her good at her job; however, her character contains a good measure of unpredictability because of her devotion to son Stephen and her reluctant but growing realization that she still loves Stephen's father, Jinadh. Jinadh is a widower and thus forbidden by societal taboo from re-marrying or having children, meaning that he and Lillian have kept their relationship, and Stephen's parentage, secret for years. Donnelly excels at complicated relationships, which provide her characters with real pathos as readers watch them struggle against society and their own expectations.
If ARMISTICE suffers from anything, it is from simply being a second book. The entertaining, glittery characters from the first book are still present, but now we come to them scarred and remorseful, jumping at shadows and reluctant to take risks. To move these characters from a place of fear to action takes time, as does setting in motion the pieces of a scheme that will bring them together.
The scheming and timidity takes up the first half of the book, and while it feels necessary for character development, it also entails juggling a number of plot threads. This is not to say that nothing happens in the first half–connections are made, relationships shift, alliances are forged. And the second half of the book plays out those promises well, which left me excited for the third book but also wishing perhaps the second book had covered more ground.
ARMISTICE starts slowly but the careful build-up of tension pays off with action in the end. The characters and world building continue to excel, and I left feeling satisfied and looking forward to the third book, which seems like it will be quite an adventure.
Recommended Age:

14+

Language:

Colorful

Violence:

A fistfight, torture is mentioned

Sex:

Some, moderate detail