Review: Elysium Fire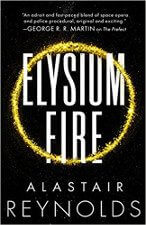 Amazon
Negative boring parts. If you're not familiar with that term, you should likely go and read my review of THE PREFECT (EBR Review), which was one of those Alastair Reynolds books that I just hadn't gotten to when the release date for this sequel showed up in my email. I mean, yeah, I could just stop reading anything else altogether and go read all of his stuff that I haven't been able to yet, and it would be awesome. But then EBR would suffer, and I just can't justify that. Although, I don't have to plan on catching up on anything before his next novel comes out. Of course, this means that I'll remember that fact perfectly well the next time I have a hankering for some science fiction goodness instead of forgetting about it until it's too late. The reason I won't have to catch up on anything, is because his next two books are going to be direct follow-ups to REVENGER (EBR Review). But until those are available, there's lots of currently-available goodness to be had from this author. This novel being a prime example.

ELYSIUM FIRE (Amazon) is the second book in the Prefect Dreyfus Emergency series written by one of my favorite science fiction authors, Alastair Reynolds. For anyone picking this book up off the shelf, let me first give a suggestion. The first two pages you'll find in the book contain a summary of what happened in THE PREFECT, just in case you aren't familiar with the story. Here's my advice: don't read these page. Instead, go read the actual book. It is so good. 🙂
This book's characters are mostly all those from the first book in the series, although the main players are a bit more focused with respect to POV time that we get. These include: Senior Prefect Tom Dreyfus, Field Prefect Thalia Ng, Supreme Prefect Jane Aumonier, and Julius Devon Garlin Voi, a young boy of a noble house.
The three Prefects of Panoply are in the middle of crisis, and not sure how to handle it. Across the expanse of the ten thousand habitats of the Glitter Band, random citizens are dying. Going about their lives, nothing out of the ordinary, when suddenly the neural implants with their heads rapidly overheat and fry their brains like so much meat. These "melters", as they are unofficially referred to by the prefects, are few and far-enough between that the prefects have essentially no chance of catching one in medias res, let alone before the people are completely cooked. The bad news is that the cases are increasing in frequency, and Panoply has no idea where to even start to solve this mystery.
At the same time, Panoply is also dealing with the fallout of their decisions that occurred in THE PREFECT. Their citizens are not happy with the outcome, regardless of the supposed lack of choices Panoply had available when deciding how to deal with the emergency, to the point that several habitats have begun to secede from the Glitter Band and thus Panoply authority, as is their right. One voice in particular stands out in protest against the powers that Panoply has had to use in the recent past: Julius Devon Garlin Voi. But he's not just another voice. He seems to know a lot. Too much, in fact. And neither Jane Aumonier nor Tom Dreyfus are particularly happy about that.
This timeline alternates with one when Julius Voi is a young boy, growing up with his brother and parents on their estate near Chasm City. As they grow, they are being trained for something important. In association with this, they are given access to certain "mental powers" that aren't available to all. The ability to change the shape of quickmatter to their liking. The ability to affect the field of view of another. The two young boys use these powers to their benefit, enjoyment, and learning. But all is not as it seems, and we become privy to more and more of their secrets as the story proceeds.
Yeesh. Never ceases to amaze me just how long my "simplified synopsis" of nearly every Alastair Reynolds book is. And yet, literally, I haven't told you anything here that you don't find out about in the first 25 pages or so. Seriously crazy-busy stories from this guy.
ELYSIUM FIRE is character-driven science fiction with amazing storytelling and worldbuilding. If you aren't reading Reynolds you're missing out.
The book starts out with its feet on the ground and running hard. I was kind of surprised at just HOW quickly it started into action and movement. And yet, I wouldn't have it any other way. I was totally there with Thalia as she catches the call to drop everything and proceed to a given location within the habitat whereupon she has to remove a man's head from his body and place it into a carrying case meant exactly (unbeknownst to her) for that purpose. Caught my attention uber quick. I was also caught up in Dreyfus's storyline as he's the one that interfaces with Julius Voi the most. The guy's a prig and has no basis to stand on, and yet he's in the limelight and therefore has everyone's ear. Dreyfus hates him and I did too. Completely sympathetic. Even the time spent with Julius as a young boy, although it sounds as if it could be slow and boring, was intriguing and insightful as he interacts with his older, stronger, and mentally-superior brother, Caleb.
Throughout the book, a high level of tension, and frustration, and almost anger permeated the pages. Everyone seemed to be getting on everyone else's nerves, and that lent itself to keeping me wondering just what was going to happen next. So, as I mentioned before (twice, in fact) there was no point in the entirety of this novel where I found myself wanting to put the book down. In fact, I ended up coming back to work late from lunch multiple times because I needed to read just those few more pages, squeeze em in, and oh my goodness maybe just one or two more, so where is the next chapter/section break again?
And, as is the case with most Alastair Reynolds's stories, his characterization and attention to character detail was point on. Jane deals with the strain of the choices she has to make and deciding to only color within the lines. Thalia deals with issues of friendship and loyalty and finding out that sticking your nose where it doesn't belong can sometimes lead to being hit with more than you can handle. Dreyfus continues his conflict when dealing with beta-level intelligences (which they collect in droves in this novel, what with all the corpses that are piling up), and his interactions with his wife now that's he's aware of her once more. The guy just knows character. He sees how important it is, and I can't emphasize that enough.
Just read this guy people. If you love the stuff we love, you'll love the stuff he writes. Plain and simple. There's so much more I could say about this book, but let's keep it that way instead as well: plain and simple. Well, relatively.
Recommended Age:

15+

Language:

Quite little, but strong

Violence:

Gets a little dicey in a couple chapters, and there's some medical gore

Sex:

None
***As an added bonus, I just found out that Gollancz posted a Prefect Dreyfus short story relatively recently that takes place shortly after the close of THE PREFECT. If you're interested, head over there and check it out. Bound to be some more goodness in that one.