Review: The Hod King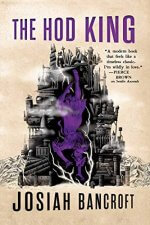 Amazon
It certainly seems like it's been a considerable period of time since I read the first two Books of Babel. Thanks to the words of Mark Lawrence during the 2016-round of his Self-Published Fantasy Blog-off, I was made aware of this brilliant series that had yet to be picked up by a traditional publication house. In point of fact, it's been a little less than 18 months since I closed the pages of THE ARM OF THE SPHINX (EBR Review) and began my wait for this next book. Would it be the last? Or just the next? Would it be as good? Bah, how could it not be? Tom finally knows where his wife is, and he's bound to get to her! I had a difficult time believing that anyone that had read the previous two books (that you? hmmmmm?) wouldn't be just as ecstatic to get into this story as I.

THE HOD KING (Amazon) is the third of the Books of Babel and… wait for it… NOT the last book in the series. Woo-hoo! What can I say? I'm a fan. Also, I have to put a plug in for the book covers. I was extremely happy to see not only that the new publications kept the cover from the self-published version of the first book, but that the covers for the next two books were a perfect extension of those that have come before. I love the simplicity and meaning within each of these covers. Props to Ian Leino for his genius work on these.
The story starts pretty quickly after the end of SPHINX. Senlin is in the city of Pelphia, a place that is instantly unique and engaging, and for Senlin, completely dreadful. The Sphinx of the tower has sent him to Pelphia with a dual purpose. First, to find out what stirrings of rebellion might be rising from the hods and their leader, Luc Marat. Second, to scope the playing field, so to speak, regarding his wife and her location within the city. This last is more important, of course, in Tom's view. Even more so to find if indeed she is happy with her new life and her new husband, as all of the newspapers and media of the city seem to suggest.
But Tom is not alone. Not by a long shot. His preliminary work to find his wife, and reporting back to the Sphinx, is to inform his shipmates — Captain Edith Winters, Byron, Voleta, and Iren — so they might aid in her rescue. They will infiltrate the stuffy hierarchies of society with the name and power of the Sphinx behind them, approach Marya amidst her roles as an accomplished pianist, singer, and wife of a duke, and then steal her out from under the noses of every Pelphian in the city. A simple plan. Unless, of course, you instantly realize as I did (because I KNOW these characters) that Tom could never keep himself from his wife once he knows her whereabouts, that Voleta might just not be able to conduct herself as a lady for more than five consecutive minutes, or that Iren might not be able to present herself as anything close to the governess at which she is playing. It's a recipe for disaster, and I was in from the word go.
It was so easy to fall into the pages of Bancroft's writing. Felt like sitting down with an old friend. This was especially the case because of the three sections this book is broken into, the first deals exclusively with Tom. Tom is still Tom, and we are reminded of that over and over here. We see his goodness, his humanity, his intelligence, and more than anything his undying love for his wife Marya. He wants for nothing more than to find her and give her what she wants. No matter how his own future might work into that equation. While there are brief spurts of an omniscient narrator, and minor spats of POVs from external characters, the story in the main is told from Tom's POV. I absolutely loved that. My one concern for this book was that the spread of POV time and head-jumping might get larger instead of smaller. I hoped for the latter.
And indeed that is what I found, for the most part. There is still some head-jumping. Not enough that it really bothered me, because the story was just that good, but there was enough that I think the story lost some of it's potential emotional impact because of it. Regardless, this story still packed a veritable punch. This was helped by the focus and drive of the story. The second section of the book comes through the eyes of Tom's team of friends, "mostly" from Voleta and Iren, as they prepare for, and then infiltrate the high society of Pelphia.
The end of the first section of the book had me concerned. The end of the second section had me actively worried. I spent the entirety of the third section, which is told "mostly" through the POV of Captain Edith Winters, on the edge of my seat. The climax of the book was seriously awesome and had me both crowing and still fearing for the worst that might yet come from the fallout. There is real impact and power that comes through this story that you just don't find in other fantasy novels. There is character and soul.
Tom Senlin, along with his team of friends, continues the no-holds-barred mission to find Tom's wife and save her from the wicked tower and its occupants.
There is a serious number of awesome books on my horizon this year. We might have mentioned them somewhere (EBR Best of 2018). The point is that after reading this book, after enjoying only three paltry weeks of this new year… I'm seriously questioning whether I'll read another book in 2019 that I'll enjoy as much as this one.
This series is one-of-a-kind brilliance and not to be missed. If you are a reader of fantasy, even in the most loosely defined sense of the word, and haven't yet read this series, you are missing out on some of the best fantasy that is being written today. Josiah Bancroft has sculpted a masterpiece here. IS sculpting a masterpiece here. Because it is not yet done. There's at least one more of the Books of Babel on the docket. And I'm already itching for the chance to read it.
Recommended Age:

15+

Language:

Very mild and very infrequent

Violence:

Somewhat gory and violent for a short period of time

Sex:

A few handfuls of mild comments and references, mostly used for humor