Review: Shadows of Self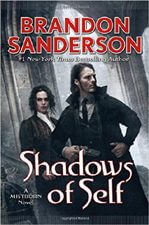 Amazon
That Brandon Sanderson guy keeps pumping out books. Like, a lot of books. MISTBORN (Amazon) was, in a large sense, the book series that put Sanderson on the map, and it remains some of his best work. Sanderson is an author known for his epic fantasy, and since finishing the Wheel of Time series, increasingly known for large books like THE STORMLIGHT ARCHIVES (EBR Review). However, the Mistborn books remain smaller (clocking in around 300 to 500 pages), and this book is no exception.
SHADOWS OF SELF (Amazon) continues the story set forth in ALLOY OF LAW, following Wax, Wayne, Marasi, and Steris as they continue hunting down criminals and the darker conspiracy hinted at at the end of ALLOY OF LAW (EBR review). Unlike the first book, the second book is filled with flashbacks to Wax's origins as a lawman out in the Roughs, and we get to see some of the supporting characters and backstory that formed the character he is.

The Good:
Sanderson has grown increasingly talented at handling his female characters, and some of his best writing in this book revolves around Marasi. His prose remains sharp and descriptive like readers have come to expect from him; the heroes are heroes and the baddies are baddies. Sanderson doesn't do "grimdark" and with good reason: that's not the writer he is. He's filled this book with characters who embody archetypes, and then filled them out into full, excellent, intriguing characters. The pace in this book is good, and since it's a shorter book, it moves along at a brisk pace.
The Bad:
Sanderson has a proclivity towards writing a lot of his characters and dialogue in a way that invokes witticism. It's a little straining to read page after page of dialogue that comes across as witty and funny, and either all the witty people in the Mistborn world hang out together, or everyone is witty. The book also suffers from "middle of the trilogy" syndrome. There's a lot of explanation and set up for the final book, and while this story is self-contained, it also serves as a vehicle for the denouement.
SHADOWS OF SELF follows Wax, Wayne, Marasi, and Steris as they continue hunting down criminals and the dark conspiracy we learned about in the last book.
The Ugly:
Nothing really. If you like Sanderson, and you liked ALLOY OF LAW, you'll feel the same about this book. It's almost exactly that level of quality. Sanderson has become a prolific enough writer, he's got his craft approaching rote now. Which is really the biggest complaint. The environment and magic are the most important characters in this book, and eventually that starts to wear. The third book on this series will really determine if Sanderson is content to continue with what he has, or if he's willing to shake things up and evolve as a writer.
Recommended Age:

13+

Language:

In-universe cursing.

Violence:

Lots of gunplay, and there is some detailed violence. I'm not sure I'd call it graphic, but someone's head gets shot off. So there's that.

Sex:

Nope. Sanderson keeps it clean.