Review: The Way of Kings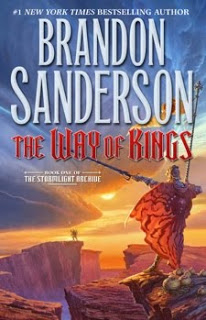 Amazon
From the very beginning you know THE WAY OF KINGS (Amazon) is a novel by Brandon Sanderson — you would know it even if his name wasn't imposed over a Michael Whelan cover. Sanderson has made a name for himself through his imaginative magic systems, and TWoK is no different.
He starts with the pacing set at a sprint. Following a series prelude (yeah, there is a prelude, then a prologue), we are put right into the action of things with a mysterious assassin, Szeth. Right from the onset of the novel we get hints of political intrigue, and of shadowy organizations pulling strings like puppeteers. What it seems to us is that Brandon is trying to start faster than his previous novels. His habit has been the slow burn in pacing followed by an explosion of craziness. Not so much here. Is this a good thing, or a bad thing? Really it will depend on your personal taste.
Ah but we get ahead of ourselves.

TWoK is a hard book to summarize. The worlds that Brandon creates are always well envisioned. Effort is made to make them stand-out. That said, there is usually a bit of familiar in them. The best way to describe the world in TWoK is to say it feels like a rich sea floor…but without the sea. Huge storms ravage the surface of the world of Roshar regularly, and that surface has adapted to them. Plants and animals retreat into hardened shells for protection. Cities themselves are built only where there is a measure of safety. There is a very alien feel to it all, and for the most part, Brandon makes it vivid and easy to visualize. It also helps that there are some seriously incredible sketches of the various creatures of the world come to life. We love interior art work.
As for the plot itself, we'll give you the basics without spoiling the details. War. Lots of wars and battles that are treated almost as competitions, and an excuse for personal gain. For greed. It becomes quickly apparent the level of stagnation that pervades the armies through these motivations. Brandon does seem torn throughout the course of the novel. At times the story is purely setting based, and yet at others it focuses exclusively on the characters. A smoother blend may have been nice, but really this is just a quibble.
Characters. We know Brandon, and we know how much effort he puts into making characters unique and likable. While not quite as good as his MISTBORN trilogy (Amazon) — yet, the characters in TWoK are pretty solid. Kaladin is a promising general on the rise who ends up a slave. Dalinar is a commander of one of the various armies fighting for honor and riches, but he has begin questioning the motivation behind it all while suffering vivid dream-visions of the past. Shallan is an artist whose goal is the theft of a priceless magical conduit. All-in-all, they are great characters. Except…
Look, we like shades of gray. There is none of that with the main characters. They are all good guys, regardless of some of their misleading attitudes and actions. We just wish there were less black-and-white characters in his novels. This isn't really a major criticism, just more of an observation. Brandon's characters in TWoK tend to go pretty emo as well (if we are honest, it caused some facepalm moments). Either that, or they are tough as nails. There isn't a lot of in-between. Most people won't have issue with this, but we felt we should bring it up. We ARE honest after all. It's our third best quality.
As we mentioned earlier, the pacing starts out at full-speed. It serves its purpose in hooking the reader—and it does that extremely well. Things are crazy early on. We get assassinations, epic battles, solitary heroic feats, dramatic failures, terrifying situations and awesome magic. We get all of this FAST. There is a full book's worth of awesomeness in the first third of the novel (which we guess is the actual size of a normal novel…TWoK is a 1000+ page behemoth). The issue with this? The middle third of the novel. When you start the novel with a peak, and end it with one as well, there is bound to be a valley in the middle. That middle 400 pages, while extremely interesting, can drag for less-than-patient readers…especially when that first part is so fast and breathtaking.
As we mentioned, this is the first book in a series. A BIG series. Ten books big. As a result, there is a lot of set-up here. It is done as well as can be, but it is very noticeable that we are embarking on a long, long trip. Our personal hope? That it is broken up a bit like Adrian Tchaikovsky's Shadows of the Apt series. What we mean is that the first few books become effectively a trilogy or quadrilogy. Then two more sets of three. Reading a straight ten book series feels daunting. Not knowing the end until at least 2020? Yikes! Again, just being honest.
We don't want to make it seem like we are bashing TWoK. We aren't. These issues are pretty small-time, and won't matter a bit to the very large majority. So we'll end with what we DO like. We love the learning curve. This has a much steeper one than any of Sanderson's prior novels. We like authors in the fantasy genre to challenge us, and to make us think for ourselves. Now this isn't quite at the Erikson Learning Curve level, but it is still fairly high. We can't stress how happy we are that Brandon is doing this. We've been begging him since ELANTRIS (Amazon) was released to go this route.
THE WAY OF KINGS, Book One of the Stormlight Archive, is a fantastic opening entry in a truly epic (in every sense of the word) fantasy series.
TWoK is also better than his previous novel, WARBREAKER (EBR Review). The writing is better, the story is better, and the characters are better. In our opinions, of course. Which are fact. Really, we liked this better than ELANTRIS too. TWoK is right there with his Mistborn Trilogy. We haven't read a Brandon Sanderson novel we didn't like (a trend unlikely to change over the next decade or two), and the Mistborn trilogy is high on our list of GREAT books. So when we say TWoK is almost (juuuuuuuust below really) as good as MISTBORN, it is a compliment. High praise indeed. And this was just the first book. This series has a HUGE amount of potential. This could very well turn into one of our favorite fantasy series ever by the time it finishes.
Brandon's chapter leads, though always great, are freaking awesome in TWoK. Once you get to the end of the novel, suddenly they take on a whole different meaning. This is how chapter leads should be done. We're not sure where they have been done better. Ever.
We love the clarity of the action sequences. The Bridge Crew scenes (especially the first few) are gripping, chaotic, and terrifying. The Shardblade duels and battles are artistic and flashy. Everything truly has its own unique flavor. While the very end seems like it is a little less than it could have been, the final section of the book (originally conceived as a series of epilogues, but now its own section in the novel) is fantastic. It really is a moment where, as the reader, you say, "Oh crap. Everyone is soooooooo screwed!" Love it (in truth, it may have been Steve's favorite part…other than the Szeth scenes).
THE WAY OF KINGS, Book One of the Stormlight Archive, is a fantastic opening entry in a truly epic (in every sense of the word) fantasy series. Every reader of the fantasy genre should buy this book immediately. Fans old and new will enjoy all 1000+ pages, and will be anxiously awaiting the sequel. We sure are. Of course, we've already been waiting for the sequel for a year now… 'cause you know, we did read this last year. As Nick is fond of saying, "Neener neener."
Recommended Age:

15+

Language:

Not really. Made-up oaths and such.

Violence:

YES!! Have we mentioned how much we love Brandon's action sequences?

Sex:

Noppers