Review: The Dragon Lantern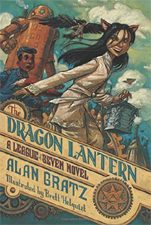 Amazon
In THE LEAGUE OF SEVEN (EBR Review), our young heroes Archie, Hachi, and Fergus (along with Archie's trusty Tik Tok man Mr. Rivets) worked together to stop the Mangleborn monster from the Florida swamps. They discovered that these creatures are buried all over the Earth, waiting for the day when they will be freed from their prisons and can take over humanity. It is only a new League of Seven–a tinker, a law-bringer, a scientist, a trickster, a warrior, a strongman, and a hero–who can stop them.
Now, in THE DRAGON LANTERN (Amazon), with the first three members of new League discovered, they are sent on a quest by the Septemberist Society and Mrs. Moffitt to recover the Dragon Lantern. She believes this was the artifact that transformed Archie and may hold the answers to his past.
But immediately upon recovering the lantern it's stolen.

At the same time Hachi receives news about a lead that could uncover the mystery behind her father's death. Despite Archie's doubts about breaking up the newly formed League they part ways: Hachi and Fergus to New Orleans and Archie westward to reclaim the lantern. As a result the novel is pulled in two directions as we follow both storylines, which don't really intersect. While I found it somewhat frustrating to have two completely different storylines, it's essential for our young heroes to learn from hard experience that trying to do everything on your own makes it that much harder to find success.
One complaint I had with LEAGUE was that Archie turned whiney at the end. In DRAGON while he still suffers from self-doubt and struggles with his shadow self, he becomes (somewhat) less self-pitying and more action-oriented as he works to recover the lantern. He learns that he doesn't have it as bad as other people and that he can use his abilities for good. His travels lead to Clyde, the young man who works on Captain Custer's giant traveling robot used to police the wild west. Despite the difficulties they face, Clyde's upbeat attitude buoys Archie. Archie comes to admire Clyde's natural-born leadership and begins to wonder if perhaps his new friend could be the League's hero. Another fun character added in DRAGON is the fox girl, the lantern's thief–she can create mirages to fool her pursuers, an ability that throws off Archie more than once.
Meanwhile, Hachi struggles with her desire for revenge when she discovers the evil Madam Blavatksy's role in her father's death. But Hachi can't kill the woman until she tells about the events surrounding not only his death but the 99 other men of their tribe. But New Orleans is unstable: the queen has been hoodwinked by Blavatsky, zombie police the city, dead spirits can ride living people, and a Mangleborn lies sleeping under Lake Pontchartrain… until Blavatsky wakes it. It's all a big mess. Fortunately, Hachi and Fergus find help from Marie Laveau, a Septemberist. Hachi is pretty single-minded, but Fergus proves himself to be a stabilizing influence over the hot-headed girl. Their blossoming romance is sweet as they navigate the complications of working together in dangerous situations and their growing feelings for each other.
THE DRAGON LANTERN is strong on plot but has more character growth than it's predecessor. So many exciting events happen clear up to the end of the book.
Gratz continues to expand on the world we were introduced to in LEAGUE. In DRAGON we explore a floating city, a city that moves with the railroad that's under construction, Native Americans traveling in strange conveyances across the plains. In New Orleans they discover voodoo magic, zombies, loa. And of course, there seems to be Mangleborn everywhere they go. Only each Mangleborn has different abilities and is imprisoned in different ways. How can these kids ever hope to conquer such powerful creatures?
Like the first book, DRAGON is strong on plot, but this time around we see more character growth–however slow. So many exciting events happen clear up to the end of the book. Unlike the more fantastical Gideon Smith series (EBR Review — Book 1; EBR Review — Book 2; which while not Middle Grade they are steampunk with similar themes/setting), the League's action sequences feel more like an authentic result of events. Along the way in DRAGON the Leaguers discover new members and learn some answers about Hachi's father and Archie's origins. I'm looking forward to book 3.
Recommended Age:

8+ but darker themes may bother more sensitive children

Language:

None

Violence:

Yes, they must fight monsters who want to kill them

Sex:

Some kissing