Book Series ::
League of Seven
League of Seven — #1
The League of Seven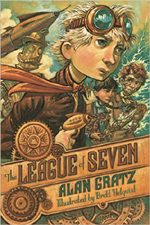 Archie Dent's parents are members of a secret society that knows about the giant monsters who want to enslave humanity. He's always known about the Mangleborn who were buried by past League of Seven members, aided by the Septemberist Society. The League is always seven: a tinker, a law-bringer, a scientist, a trickster, a warrior, a strongman, and a hero. And now that the Mangleborn are attempting to escape again, a new League will form.
But all Archie knows right now is that his parents have been brainwashed by Manglespawn and in order to save them, he needs help. Along the way he meets Hachi, a Seminole girl with impressive skills with a knife; Fergus, a Yankee with an aptitude for machines; and there's the Tik Tok machine man named Mr. Rivets, owned by Archie's parents and tasked to keep his young charge safe.
But it's only by working together that they can stop Edison from waking the Mangleborn buried in the swamps of Florida.
Read the rest of this review »
League of Seven — #2
The Dragon Lantern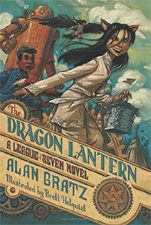 In THE LEAGUE OF SEVEN (EBR Review), our young heroes Archie, Hachi, and Fergus (along with Archie's trusty Tik Tok man Mr. Rivets) worked together to stop the Mangleborn monster from the Florida swamps. They discovered that these creatures are buried all over the Earth, waiting for the day when they will be freed from their prisons and can take over humanity. It is only a new League of Seven–a tinker, a law-bringer, a scientist, a trickster, a warrior, a strongman, and a hero–who can stop them.
Now, in THE DRAGON LANTERN (Amazon), with the first three members of new League discovered, they are sent on a quest by the Septemberist Society and Mrs. Moffitt to recover the Dragon Lantern. She believes this was the artifact that transformed Archie and may hold the answers to his past.
But immediately upon recovering the lantern it's stolen.
Read the rest of this review »