Review: Hunted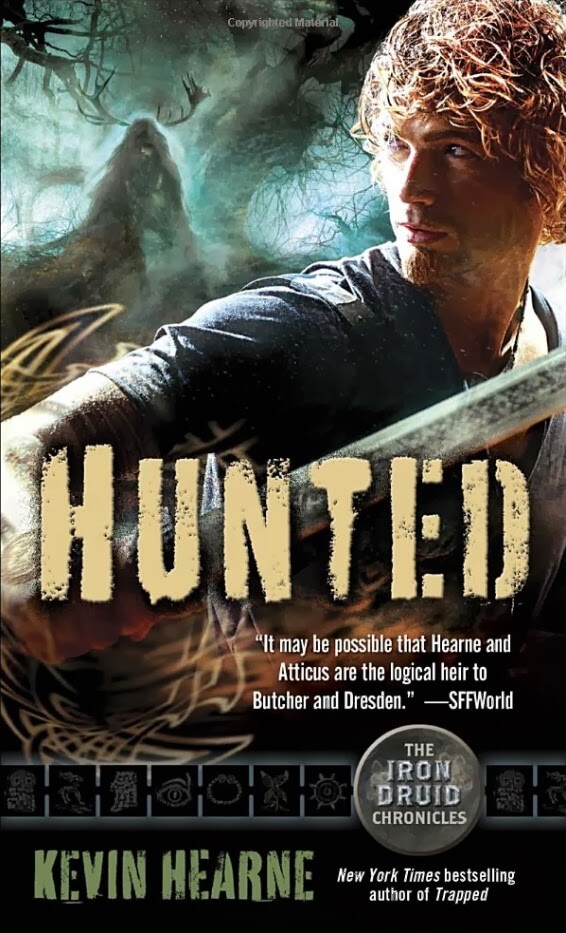 Amazon
Atticus and Granuille are in trouble. Of course. But the stakes are higher than usual. The Norse god of mischief, Loki, is on the loose and needs to kill Atticus before he can start the Apocalypse. At the same time our favorite Druids are being tracked by the goddesses of the hunt themselves–Artemis and Diana–in retaliation for giving Dionysus grief in TRAPPED (Amazon). The only safe place for them is in the world of the Tuatha De Danann, but the only way they can get there is to find a gateway on English soil, and they must run fast across Europe if they want to live.

Hearne's prose is a delight to read. His metaphors are clever and hilarious, and he tells the story with enough detail to help readers understand what's going on, all without cluttering the narrative. The previous books are told from Atticus' PoV, but in HUNTED (Amazon) we get some of Granuille's PoV–also in first person. Atticus' narration continues as entertaining and insightful as in previous books; and surprises even himself that after living 2100+ years he still has a few things to learn. Granuille's prose style threw me off, it felt too old-fashioned for a 21st Century chick, but having her viewpoint was important to the story.
I like Atticus and Granuille. And I also found the various gods and mythological creatures as entertaining as the main characters. Hearne portrays the gods with all their unique quirks and specific abilities, and how that would affect behavior. I find particularly fascinating the way he portrays the Morrigan and her relationship with Atticus, how her powers are limited to who and what she is. Oberon, Atticus' wolfhound pet, continues to play the role as the comic relief, even if it often feels repetitive.
HUNTED is mostly a transitional story as clues to the big picture are discovered and loose ends are tied up before the Big Event coming in following books. However, that doesn't mean this book needlessly suffers from middle book syndrome. The hunt is exciting, the roadblocks interesting and grounded in events that happened in previous books. The ending is important and big and messy and awesome.
Atticus and Granuille are in trouble in HUNTED. Of course. But the stakes are higher than usual because Loki is on the loose. Entertaining and imaginative.
Here we see what Atticus can really do, and the difference between druid-newb Granuille and her arch-druid is staggering–there's a long way for Granuille to go before she has Atticus' skill with magic, knowledge of his surroundings, and even understanding his own limitations. But she's smart enough to know that there's still lots to learn, and has the determination to do it–she only has to live through all the problems Atticus seems to attract.
A while back I read and reviewed Hearne's debut novel HOUNDED (EBR Review). His Iron Druid Chronicles (of which there are 6 books so far) has gotten mixed reviews–more favorable than not, but still some people are bothered by Hearne's style and the way he tells the story. Because it's not perfect. Or the way they would write it. Or whatever.
I say take this series at face value: as entertaining and imaginative. Sure it could be more serious or more strict with the mythology. And maybe you have trouble with the main character's age yet relative immaturity. If so then maybe this series would be a waste of your time. That's ok, there are plenty of other people who will enjoy Hearne's storytelling.
Recommended Age:

16+

Language:

A handful or two

Violence:

A fair amount, and sometimes detailed and unpleasant

Sex:

Referenced fairly frequently, sometimes crass (and deserving of an eye-roll)
Note: At the end of book six HUNTED the publishers include Hearne's novella "Two Ravens and One Crow" which should be read before reading book five TRAPPED. It's not mandatory, but it helps with plot issues that would otherwise annoy.