Review: 21st Century Dead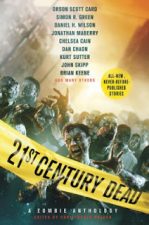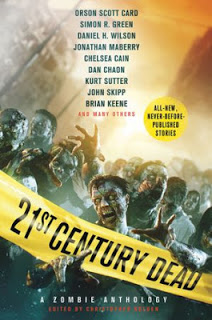 Amazon
One of the anthologies that renewed my faith in short fiction was THE NEW DEAD (EBR Review), edited by Christopher Golden. There were just so many fantastic stories that after I closed the cover, I just sat back and said, "Wow!" Since then I've been more than happy to tackle any collection of short fiction, and I've read a lot of absolutely stellar work. With all that said, it shouldn't be too difficult a stretch of the imagination to say that my expectations of 21ST CENTURY DEAD (Amazon) were extremely high. Unfairly so, even.

21ST CENTURY DEAD is edited by Christopher Golden, and should appeal directly to the shambling masses that loved Golden's first collection. It contains stories from Jonathan Maberry, Orson Scott Card, Simon R. Green, Brian Keene, and tons more. While THE NEW DEAD was solid pretty much from start to finish, 21ST CENTURY DEAD is far more uneven.
I'll start with the good:
"Jack and Jill" by Jonathan Maberry
This story actually takes place concurrently with his novel DEAD OF NIGHT (EBR Review). It follows a brother and sister (Jack & Jill) and their family as a massive superstorm hits their town. Everything about this story is fantastic, and it serves as a perfect alternate PoV from the novel. It also follows perfectly the hopeless theme of the novel, with I completely loved. For me, this was the best story in the anthology.
"Ghost Dog & Pup: Stay" by Thomas E. Sniegoiski
A radically different story, and one that I didn't think would work at the onset. See, part of the story is told from the PoV of a phantom dog. Yeah. In all, it is a very cool story about the faithfulness of a dog even after death has separated it from the boy it wants to protect. This was the most surprisingly good story in the collection.
"Biters" by Mark Morris
This is the lead story of the collection, and gets it off to a mostly good start. It starts off shocking and crazy, just the way a zombie anthology should. Without getting too much into it and spoiling it for you, I'll just say that part of the tale revolves around kids who are charged with taking care of zom-babies. There was some mild disappointment when one part of the horror just gets glossed over, but this story actually has a "happy" ending. Pretty good overall.
"Tender as Teeth" by Stephanie Crawford and Duane Swierczynski
Such a different story. It's about a girl that has an infamous moment as a zombie, then gets "better".  I'm not gonna say much about this one other than it was one of my favorites.
"Antiparallelogram" by Amber Benson
This story had, bar none, the best ideas. People can take vials of fluid that turn them into whatever they want. Addiction factors into it all, and then there is a vial that can turn you permanently into, say, a zombie. This story could have done with being a bit longer to flesh out the world more, but I really, REALLY liked that Benson didn't play it safe.
"Couch Potato" by Brian Keene
Keene's story was short, sweet, and complete. No fluff. It was equal parts sad and funny the way Jerry Springer is. For me, this was the guilty pleasure story of the collection. It did exactly what it was supposed to do, and I just loved it.
21ST CENTURY DEAD has some great stories...and some mediocre ones. But there are enough in this anthology that are worth looking at.
As for the rest? Many of the stories had good parts in them, specifically good beginnings… and then they just fell apart. The prime example of this was Orson Scott Card's story. It had such an awesome beginning. Such stellar ideas. But then the ending was terrible. It's a story that went on too far, too long, and just unraveled. Ken Bruen's "The Dead of Dromore" and Kurt Sutter's "Tic Boom: A Slice of Love" had weird formatting styles that did not work for me at all. They became a chore to read.
Here is my main issue: very few of the stories satisfied me completely. So many of the stories were stunningly mediocre. Were my expectations too high? Maybe. I loved the prior anthology, and I just expected that every story in 21ST CENTURY DEAD would be killer. There were enough stories here that saved the entire collection from becoming mediocre, but so many "meh" ones to keep it from being great.
Should you read it? I think it's worth a try, especially if you feel the need for a short-fiction fix.
Recommended Age:

18+

Language:

TONS

Violence:

Quite a bit, seeing as this is a zombie anthology

Sex:

Talk about it, but nothing super explicit