Review: The Crimson Pact, Volume 1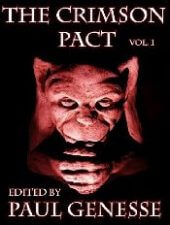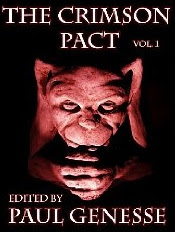 Amazon
Short stories. Seems I've been getting through my fair share of them lately, between the NEBULA AWARDS SHOWCASE (EBR Review), the Hugo nominees (EBR Review), the most recent Writers of the Future anthology, and more. The hard part with anthologies of short stories is that it's usually such a mixed bag. There will be some that'll knock your socks off and others that make you feel like someone's licking the butter between your toes. It isn't often we get an anthology that stands really high overall, though sometimes you can find em. Most end up just left or right of middle.

THE CRIMSON PACT, VOL 1 (Amazon), was edited by Paul Genesse and based on a framework short story written by Patrick Tracy–it is the lead story of the anthology, "The Failed Crusade". The basic premise revolves around a set of knights pledged to fight against a horde of demons that has decimated their world. They are The Crimson Pact. The tone of the piece is grim, and though the story itself felt more like the portrayal of several journal entries than a complete story, it sets the stage really well for the short stories collected in this anthology.
Each of the pieces purportedly addresses these demons after they've entered some kind of interdimensional portal and been sprayed across the multiverse to wreak their havoc. Some of the stories deal with the knights directly, others only with unconnected persons and their interactions with the demons. With twenty-five stories in all (twenty six, if you count the premise), the anthology hosts a wide range of pieces. There's fantasy and science fiction. There's urban. There's flash fiction. There's epic. There's a lot of great writing, and a few where it's pretty poor. Mobsters and private investigators and fairies and machine guns and yeah. Just a bundle of stuff to enjoy.
There were four stories in particular that I really liked.
"Solitary Life" by Donald J. Bingle was about a king's new head jailer who finds documentation of a prisoner that has been neglected for so long that he expects the man is dead and those servicing his cell to be hoarding the supplies for themselves. When he commands that the cell be broken open, however, he finds much more than he anticipated. This was the perfect opener for the anthology.
"Hidden Collection" by Sarah Kanning is about the exploits of a new library intern and some of the trouble that she gets into by sticking her nose into closets and sealed crates that she shouldn't be. This one was fun and terrifying at turns. When the demon makes his entrance (and no that's not a spoiler. Demon anthology, people) it seriously creeped me out.
"Bull King" by Larry Correia is essentially a chapter ripped out of his new book, HARD MAGIC (Amazon). There are gangster types and dames up against a group of baddies that just happen to be able to summon a big mother-killin' demon to fight for them. Although the story took a bit to get into because of all the characters thrown at me, this one was loads of fun. Fast-paced, funny, intense. Weapons out the yang, both magical and mundane. Getting a taste of Larry's stuff in this way should totally make readers want to go out and buy some of his books. Especially the one that this came from.
"Of the Breaking of Stars" by Chris Pierson deals with a scientist living in a world where the stars are exploding when some fascinating technology falls into his hands and the Eater of Worlds is rapidly approaching. Smart and engaging, this one was a great ending for the anthology.
Of course, there were some that just didn't agree with me, and one or two more that were really tough to get through. For the most part though, I really enjoyed them. There were two things in particular that I think would have helped the anthology immensely.
The first was an understanding that some of the stories are only partials. Although the editor points this fact out in a note at the end of the anthology, I had no clue that there were several stories that would have continuations in Volume 2. There were more than a handful of times where I got to the end of a story and said to myself, "So where's the rest of it?" I was a bit annoyed, honestly, but it's good to know now that some of those stories do continue. Also, some kind of notification at the end of the stories that will continue in a subsequent volume would have been nice.
The second issue I had was that there were another handful of stories that really didn't seem to have any kind of direct connection to The Crimson Pact at all. I can see how including stories with a wide range of demons would open up the pool of possible entries, but I would have liked to see something that wasn't just another collection of demon stories. Even if the connection is really faint, like the way a particular demon looks or what a given demon is trying to accomplish, would have made me more interested in the anthology as a whole. In that way, the stories would be populating a universe, instead of just being one-offs.
THE CRIMSON PACT: VOLUME 1 is huge with more more than twenty stories and more than 140,000 words in length. For $5, this is a great deal.
On the whole, I liked THE CRIMSON PACT, VOL 1 quite a bit, and I think you readers will too. Not only am I interested to read some more demon stories in THE CRIMSON PACT, VOL 2 when it is released shortly, but I'm also a tad excited for one of our illustrious overlords who has actually written two short stories that will be in VOL 2.
The collection is huge at more more than twenty stories and more than 140,000 words in length. For $5, this is a great deal. Go grab it.
Recommended Age:

16+

Language:

For the most part, no, though there are a few stories that get kind of vulgar

Violence:

Demon-killing, but nothing very graphic is focused upon

Sex:

Some talk, but no scenes