Review: The Crimson Pact: Volume 4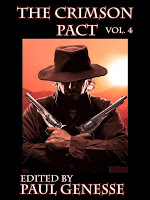 Amazon
Aaaaand here's another round of Crimson Pact stories for the reading masses. I know most of you by now have probably read over my full disclosure of each of the previous anthologies: Vol 1 (EBR Review), Vol 2 (EBR Review), and Vol 3 (EBR Review). So you already know that our boss here at EBR, Steve Diamond, figures prominently in them. And you know that I've promised to stay impartial, like I always try to do, with my reviews. And you know also know that in light of these two facts, I have no qualms whatsoever about reviewing these anthologies. So, I guess I won't have to give you my normal spiel about the ethics of posting a book review that is so closely connected to our own blog, or anything like that, and– Dang. I guess I did just that, didn't I? Oh well. So much for being succinct this time around…

THE CRIMSON PACT:VOLUME 4 (Amazon) is, quite obviously, the fourth anthology in the short story anthology-series of the same name, and (perhaps not so obviously) edited by Paul Genesse. Each of the stories contained in these anthologies revolves around the idea that multitudes of demons have been spun out into the multi-verse through some kind of interdimensional portal and the Crimson Pact (a group of powerful knights) have gone chasing after them.
The anthologies thus far have contained a wide array of stories, varying considerably in genre, perspective, and length. Overall, I've been fairly impressed with the offerings found in these anthologies and have to tip my hat to Mr. Genesse for the genesis of the original story and the work that he's put into this project thus far. Granted, not every story has tickled my fancy, but when has that ever happened in this kind of setting?
Not often I will tell you. Not often.
This fourth volume was one that worked well for me. My ratings were spread on the high range of the scale (vs. number of stories):
Loved: 5
Liked: 3
Mediocre: 6
Didn't Like: 3
I was happy to see this be the case, especially with my impression of Volume 3, and this time I have five stories to highlight:
"Family Reunion" by Kelly Swails – Girl takes her boyfriend home to meet the family as her great-grandmother is approaching death.  Obviously, demon-induced mayhem ensues.  This story is a perfect example of what I think continuing stories in anthologies like this should be (well, it is still lacking the element-connections that I'd love to see between unrelated stories, but…). All the stories are connected (in this case, through family ties), but each of them are separate, distinct, and most of all complete.
"Wild Card" by Sarah Kanning – Lady that's been chosen by an "angel" to do certain things learns more about her curse and starts to rebel.  Moved me from one idea to the next.  Kept me guessing.  Surprised me.  Made me laugh.  Loved it.  Although, people that use the f-word typically don't use the word "crap".  At least not in my universe. Her bio says that she's working on a YA urban fantasy novel.  She can count on my buying that one when it's done.
"Tendril" by Patrick Tracy – Demon in retirement is finally caught by the "good guys".  Introspective and humorous. Good fun.
"The Best Lies" by Steven Diamond – This time around Tombs finds out more about himself.  Silent and brooding and riding the edge of keeping his humanity, we see lots of just what else is coming down the pipes.  If I have to say I missed something in this one, it was more Diego Santos, but seriously great stuff here.
THE CRIMSON PACT VOL 4 is another great entry in this series about those that pledged their lives to stoping the demons spread out across the multi-verse.
"Dogtribe" by Suzzanne Myers – Guy at a listening station in space reviews the 50-year-delayed video feeds originating from two people's lives on a far-away planet.  Very well-told with good writing.  Great way to end the anthology: with a message. "There are more demons coming."
As if we didn't already know that though. 🙂
Another good entry into this series, imnsho (don't forget the "not-so" in the imho!) Just as excited, if not more so this time around, to read the next round in Volume 5. From what I've heard, it should be out later this year.
Recommended Age:

18+

Language:

Across the board: some are profanity heavy, others not so much

Violence:

A few of the stories get kinda gory, and one of the stories includes violence against children (honestly, a tough one for me to finish reading)

Sex:

Not much that I remember