Review: The Nebula Awards Showcase 2011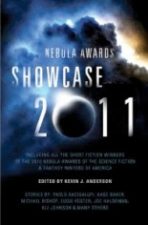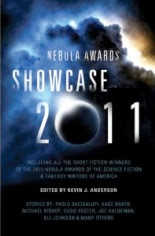 Amazon
Good short stories in my opinion are those that get in, get memorable, and then get out. They're quick, they're sharp, they're efficient. Sometimes you can't help but come out a little dirty. Others catch you with your back turned and give you the once-over of your previously boring life. And then there are the stinkers. Ugh. Let's not talk about those though.

THE NEBULA AWARDS SHOWCASE 2011 (Amazon), edited by Kevin J. Anderson, is a relatively short (under 400 pages) anthology of works nominated for the award by authors wide and various through the Science Fiction and Fantasy Writers of America. Contained within SHOWCASE are all of the short stories and novelettes that were nominated in 2010 (including the winners) and the winning novella, along with a few extras from long-standing authors in the field that were given special honors. As with many compilations of short fiction, there were some stories that worked for me and others that didn't. I'll mention a few of them specifically.
Overall, I was pleasantly surprised by the short stories. Perhaps there's something about the short form and Science Fiction that just works for me. Maybe it's the fact that authors are forced to get to the point instead of wandering around aimlessly with their beautiful prose. Then again, it could be that the short story realm is just so darn ruthless when it comes to those stories that make it and those that don't. Whatever it is, essentially all of the short stories that were nominated here were pretty good.
Saladin Ahmed's "Hooves and the Hovel of Abdel Jameela" is a story about a physician and his interaction with an old man and his not-so-typical wife that totally made me open my eyes and look at this guy for real. This was one of the few Fantasy stories, with great storytelling and twists a-google. He has a book coming out in Feb 2012 that I was pretty meh about before reading SHOWCASE. But no longer, my friends. No longer.
"I Remember the Future" was mostly awesome, only falling short for me because the end took a turn for the cheesy instead of dealing with the real-world issues it had built on concerning family, paternal presence, and the call of a writer's muse. Granted, the story is Science Fiction, but it really shouldn't have been, in my opinion. It could have been so much more.
"Bridescicle" by Will McIntosh was a really interesting take on the post-life dating scene and quite well written. There was a lot in this one that really pushed my buttons.
On the whole, NEBULA 2011 was a decent read, though I've placed it in the mediocre category because the bulk was simply just mediocre Science Fiction.
"Spar", the winner of the Nebula in the short story category, is not for everyone. I should probably repeat myself here. This story is not for everyone. And definitely not for kids. In short, it's an extremely explicit portrayal of a space-faring woman that is captured by an amoeba-like alien. It is disturbing in so many ways, and then just ends with nothing significant to make all the shudder-inducing horror worth the read. Why did this one win? Because it was gritty? Because it pushed the boundaries of what people will read? Honestly, I haven't the first clue, and I'd almost suggest that readers just skip over this one. It's really short, and they aren't going to miss anything worthwhile by not reading it.
Unfortunately, the stories from the novella nominees didn't garner any of the same surprises. In fact, this was the point where everything devolved into what I've come to expect from Science Fiction: bloated prose, wandering plots, and literary pontification. Very well-written all, of course, but really nothing that I cared to read in the slightest. There was, however, one exception.
And it was a big one.
"Divining Light" by Ted Kosmatka should have taken this award home without even a blink being tossed in the direction of any of the other stories nominated. This story was Awesome with a capital A. Intensive science revolving around the particle-wave theory of light but twisted slightly to great effect, simple explanations, and all relayed to readers with a pretty faulted character at its core. I could easily say that this entry alone would make the anthology worth buying…except for the fact that Asimov's has posted it for free on their website. (EDIT: Well, they did. It's gone now.) In fact, I'd suggest going there to read it, because the two small pictures that have been included in his story were inadvertently swapped in the SHOWCASE version. It's stories like these that give me hope that there is still something in Science Fiction to love, and I'm now eagerly anticipating Mr. Kosmatka's debut novel that is coming early next year. If you do nothing else, read this one. It's the goods.
Bringing up the rear was Kage Baker's "The Women of Nell Gwynne's, which was a pretty solid effort. Good prose. Good characters. Interesting premise and humorous development. Kind of like a Victorian-era Charlie's Angels, if the Angels all had a day job in a brothel. The ending did get a bit confusing for me, and felt like it got wrapped up a bit too quickly, but on the whole a good effort by the late author and well-deserving of the award.
On the whole, this was a decent read, though I've placed it in the mediocre category because the bulk was simply just mediocre Science Fiction. It's interesting to see what other authors think is good. The other side of the card, of course, comes from us, the reading public, through the Hugos. Apparently, Mary Robinette Kowal edited a Hugo anthology (Amazon) for the award last year, but it didn't sell well enough to garner a return this year, which mostly just confuses me due to the nature of the award itself. Didn't the readers pick these stories as the good ones? Really? Such is the way of things, I suppose. Although, you do have Shawn presenting all the goods from an EBR perspective of the Hugo nominations this year anyhow. So how can you complain?
Recommended Age:

18+

Language:

Most stories are pretty mild, but there are a few that go overboard ("Spar" being the largest offender)

Violence:

No gore really, but some that hit it hard ("Spar"...again?)

Sex:

Three stories have fairly strong ratings here, and one ("Spar"...surprised? Nah) completely blew the top off the lid
Your link:
The Nebula Awards Showcase 2011

—Amazon