Review: Rot & Ruin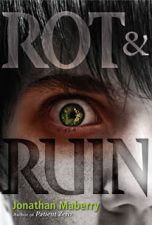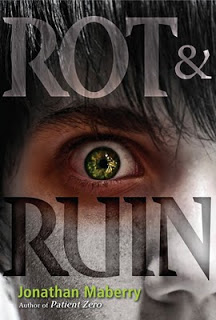 Amazon
A not-so-funny thing happened. We confused the release of this novel with that of another. We feel pretty awful, because Jonathan Maberry is one of our favorite authors. So, we offer our sincere apologies to one of the greats in the Horror genre. With that said, we feel we should mention how completely awesome ROT & RUIN (Amazon) is. It is… uh… completely awesome!

ROT & RUIN is an expansion of the short story "The Family Business" that was found in the anthology, THE NEW DEAD. It ranks as one of our absolute favorite anthologies of the year, and we said so in the review we wrote –> EBR Review. In that anthology, Maberry's YA zombie story was one of our favorites. Maberry then dropped the bomb on us that he was expanding that short story into a full novel. We were hesitantly excited. After all, how much could we enjoy a novel where we already knew most of the story?
YA zombies. YA with no TWILIGHT-esque romances involved. YA with all sorts of awesome violence and a solid coming-of-age story. Hmm. Yeah. Sounds like a recipe for a winner. In case you don't know, this story is about young Benny Imura. His parents were killed on First Night, the day that started the unstoppable zombie apocalypse. Benny's older brother Tom Imura escaped with Benny, and they all now live in a small settlement with other people. Tom Imura is famous as a zombie hunter, but Benny doesn't want to be a part of that legacy. As it turns out, Tom is far more than just a zombie hunter, and he wants Benny to be a part of "the Family Business." The first part of the novel follows pretty closely with the short story, after which it deviates into a huge, detailed and horrific adventure. Then the story goes back to its short story roots to end the way that short story did. Mostly.
As good as the short story was, the novel ROT & RUIN is the definitive edition of the story. Enjoying the short story did absolutely nothing to diminish our enjoyment of the novel. This novel had all the details we felt were missing from the short story. The characters were better, and easier to root for/hate. The emotional impact of what the Family Business really is has been bumped up tremendously in importance.
ROT & RUIN is terrific. Maberry has proven again that he is one of the best horror authors out there.
As most zombie stories go, the idea is the exploration of what it means to be human. ROT & RUIN is one of the strongest examples of this them that we have read. The understanding that Benny comes to is directly linked to his coming-of-age. It seems like people are beginning to tire of zombies, and we don't blame them. But this story succeeds at becoming more than "just" a zombie story due to the focus on characters and and the themes of what it means to lose your history, and perhaps your humanity in the process.
ROT & RUIN is terrific. Maberry has proven again that he is one of the best Horror authors out there. His YA Horror is just as solid as his adult Horror, and each are perfectly pitched to their respective age groups. By now everyone who knows us, or who reads our reviews should know we have a very low level of tolerance for YA. For us to say a YA novel is not only good, but exceptional, is pretty much as good of a compliment as possible from us. ROT & RUIN might very well be our favorite YA novel so far.
Recommended Age:

14+

Language:

A little

Violence:

Zombies. Duh. But it isn't anywhere near as gratuitously awesome as Maberry's Joe Ledger novels.

Sex:

Some disturbing situations are alluded to, but noting is ever shown