Review: Dust & Decay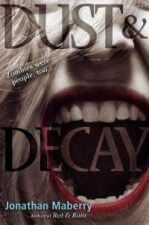 Amazon
One of my favorite books last year was ROT & RUIN (EBR Review) by Jonathan Maberry. It was a great take on the after-effects of the zombie apocalypse from the eyes of a teenager. It was also a great example of YA well-done–a fast paced story with fun dialogue and a setting that mixed horror and humor well.

DUST & DECAY (Amazon) was released last month, and I was extremely excited to get a chance to give it a read. Benny, Tom, Nix and Lilah are getting ready to leave town in search of the jumbo jet they saw flying at the end of the first book. Their training is going well, and everything seems to be on schedule for them to head out into the Rot and Ruin.
But this is a zombie book. More specifically this is a zombie book by Jonathan Maberry. Anything that can go wrong does go wrong. In the case of this novel, things go wrong right from the very beginning.
I think this is Maberry's strength in DUST & DECAY. Through the conflict introduced literally at every little turn in the road, we get to see how the characters have grown and how they cope with the horror surrounding them. It seems like in every novel I read, the characters always react perfectly controlled in terrible situations. It was refreshing to see some characters completely fall apart under the pressure.
What are some of these crazy situations? Oddly enough (or maybe not odd at all) it was the acts of humans that were the most horrible for the characters to witness. The rumors of a new Gameland (where kids are thrown into pits with zombies gladiator style) are floating around. Someone is killing hunters by luring packs of zombies to them. Certain people want revenge on Benny and the gang for the events at the end of the previous novel. The group barely makes it out of town when everything goes wrong.
This is where I'm of two minds about this novel. Part of me is a bit bugged by the lack of actual movement in this novel. Without giving much away, I got the feeling that this was almost an alternate ending to the first book. It's a great ending by itself, and it would have worked really well as the ending of book one. But for book 2? I don't know, the whole thing felt like running in circles.
On the other hand I think this story needed to have this portion to it. The characters–especially Benny–needed to come into their own. Could they have really made the journey to find that jumbo-jet without the events of book 2? Probably not. Are the characters much stronger individuals following the end of DUST & DECAY? 100% without a question.
DUST & DECAY is a zombie book by the best zombie writing author out there--Jonathan Maberry. Don't miss this. Even if you don't like zombies.
So now you see where my internal back-and-forth on this novel comes from.
All of that being said, then ending is pretty great from a character and action standpoint. Again, seeing how terrible people gives the zombies in the novel an added bit of their humanity back… which is one of the major themes of this series, in my opinion.
When the last page of this novel was turned, I really liked it. Did I absolutely love it like I did ROT & RUIN? Not quite. DUST & DECAY is still a great read, and I encourage you to buy and read both of the books in this series.
Recommended Age:

13+

Language:

Not much, if any

Violence:

There are some pretty crazy things going on here, but Maberry does a good job pulling back just a tad considering the target audience of the novel

Sex:

Nope