Book Author ::
Anna Smith Spark
Review
A Woman of the Sword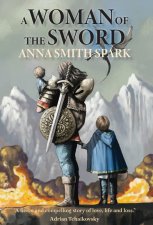 Occasionally, I'll come across a book that just resonates with my inner core. At who I am, way down deep. This was one of those. The first time I saw the announcement–the author, the title, the cover–there just wasn't any question. I was going to buy this book and it would be fabulous. I mean, look at that cover! How can that visual *not* just call to you? Maybe I'm biased by the fact that I'm a father and husband, by how hard I know life can be sometimes. So for me, pre-ordering this one was near instant, unknown publisher or not. Didn't matter. I wanted to get this book into my greedy hands and devour it as soon as humanly possible.
Read the rest of this review »
Review
The Court of Broken Knives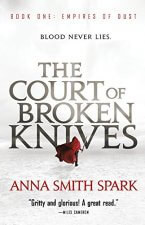 Back during one of my interminable years of college, I was able to take Sanderson's Creative Writing course. This was before things took off for him with the Wheel of Time. Mostly I just took the class because I'd begun to dabble with writing my own stuff–instead of just reading–and the teacher happened to be a local author of some minimal renown. Deal. One of his lectures that semester was about how to use perspective and point of view in our stories, and we talked about all sorts of things, not the least of which was the several options we had to choose from.
I remember one question in particular from our discussion being about mixing first-person and third-person POVs within a single book. My recollection is that he said something along the lines of "being careful" but that you could do it, if you wanted to. That's not something you come across very often though: first- and third-person POVs in the same book. In fact, I can't remember the last time I read a book that did things that way.
Well, not before this one, anyhow.
Read the rest of this review »