Book Author ::
Andrew P. Mayer
Review
Power Under Pressure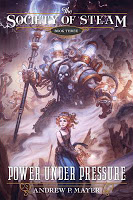 In THE FALLING MACHINE (EBR Review) we were introduced to Sarah Stanton and her father's team of heroes called the Paragons. In the sequel HEARTS OF SMOKE AND STEAM (EBR Review) Sarah's life changes as she learns the difficult truth of what it really means to become a Hero. In Andrew P. Mayer's exciting conclusion, POWER UNDER PRESSURE (Amazon), Sarah must become the hero, or else watch the people and the city she loves fall to the machinations of the villainous Lord Eschaton.
Read the rest of this review »
Review
Hearts of Smoke and Steam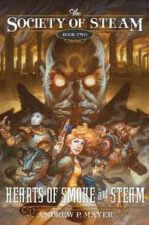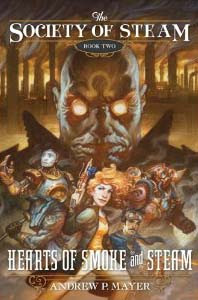 In THE FALLING MACHINE (EBR Review) you were left with a cliffhanger: during the battle with Lord Eschaton, Tom is dismantled and Sarah leaves home after a fight with her father.
The continuation, HEARTS OF SMOKE AND STEAM (Amazon) begins over a month later. Even though Tom was destroyed, Sarah was able to recover his heart in the chaos. Unfortunately it's broken, and she needs to find someone to repair the heart, but doesn't trust the majority of the people in New York who are able to do it. Her search leads her to Emilio Armando, an Italian immigrant and inventor—whose past, if Sarah knew it, would make her think twice about trusting him with Tom's secret.
Read the rest of this review »
Review
The Falling Machine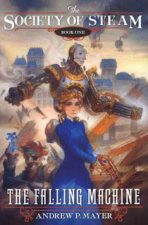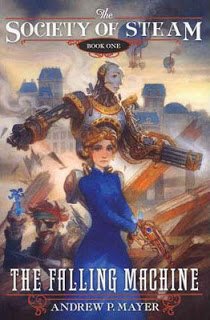 Sarah Stanton is the only child of business magnate Alexander Stanton. She's a woman ahead of her time—her time being New York's 1880s, the Gilded Age of industry and technology, but otherwise behind on women's suffrage.
However, Sarah doesn't let her father or society's strictures slow her down. Sure she has to wear a bustle and corset, and her father wants to marry her off by the end of the season, but that doesn't stop her from trying to find Sir Dennis Darby's killer.
Read the rest of this review »