Review: Power Under Pressure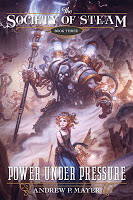 Amazon
In THE FALLING MACHINE (EBR Review) we were introduced to Sarah Stanton and her father's team of heroes called the Paragons. In the sequel HEARTS OF SMOKE AND STEAM (EBR Review) Sarah's life changes as she learns the difficult truth of what it really means to become a Hero. In Andrew P. Mayer's exciting conclusion, POWER UNDER PRESSURE (Amazon), Sarah must become the hero, or else watch the people and the city she loves fall to the machinations of the villainous Lord Eschaton.

Lord Eschaton's plans are coming to fruition. He wants to see the human race realize its glorious potential using his fortified smoke, even if it means making martyrs of New Yorkers in the process. His first experiment is Nathaniel, Sarah's step-brother, captured in the battle for the Hall of Paragons. Meanwhile Sarah and Emilio are trying to rebuild Tom the automaton, because they won't survive Lord Eschaton's plans without him. Unfortunately, Tom is not the same machine he was in FALLING, even making the loyal Sarah question his stability.
Mayer's development of the technology shines in POWER. Lord Eschaton and Emilio's experiments are really what drive the story, and it's interesting to watch the technology develop and evolve. One wouldn't think that a machine could change much over a series, but despite not seeing much of him in book two, Tom's transformation in book three is clever and explores fascinating ideas and possibilities.
If you haven't read the first two books, POWER won't have much appeal–there's too much back story and character development in order for it to make sense. FALLING and HEARTS are both satisfying reads, with an interesting cast of characters, and a well-drawn setting. Sure, as a first-time author, Mayer's books aren't without their flaws, but on the whole the series has been enjoyable. And by book three, Mayer's storytelling should be improving, right?
As a reviewer I try to give new authors leeway as they progress in their writing, because even though they're published, writers are still honing their craft. I remember Brent Weeks' first series, Night Angel, was fun and enthusiastic, but had serious new writer issues. He's since improved considerably. While Mayer has great ideas and fun characters, I didn't see any improvement with POWER; in fact, all the problems from the first two books only got worse in book three. POWER felt like Mayer pounded out everything he had as fast as he could and didn't bother to go back and revise it for plot/consistency/characterization.
An interesting world of heroes that rise from adversity. Unfortunately, POWER UNDER PRESSURE doesn't deliver the conclusion the series deserved
To prevent repeating too many of my complaints about books one and two, I will provide for you a Reader's Digest version of all the books' issues: painfully slow plot buildup, PoV changes in action sequences that overlap chronologically and thereby slow down important events, predictable fights, repetitive and sometimes confusing characterization, clunky prose and trite dialogue.
I got through the first quarter of the book and began to wonder if book three was the end of the series as planned. I got halfway through and began to despair that it wasn't. Where was this plot headed? I couldn't tell. All the new PoVs indicated to me that Mayer was expanding the story, making it head into many other potential directions. Sure the secondary characters are interesting and I like what he did with them (there are too many to explore here in detail in order to explain), but the extra PoVs made the book lose its focus. By the end I'd lost my interest in the main characters, the climax (while exciting) was on the whole unimaginative and predictable, and the resolution left enough loose ends to hint at possible sequels. Not really the best way to wrap up a series.
Despite all the extra information about the cast of characters, we get the opposite problem with the city since the story is limited to a few locales, which is unfortunate. We get a taste of the era, but by this point the setting feels more like repetitive gripes about society's attitude toward women and minorities, and less about what it was like to live in 1880s New York City.
I wanted to like POWER, I really did. Mayer has created an interesting world by exploring  how a new era of heroes rises from adversity and how personal ability and technology makes that happen–all while doing it in a fresh setting. Ultimately, though, Mayer didn't spend the time refining POWER UNDER PRESSURE to give the conclusion the series deserved.
Recommended Age:

16+ (more for the sexual references than for the violence)

Language:

Not really any

Violence:

Fighting, deaths, and torture, but not particularly graphic

Sex:

Referenced