Review: Kitty's Mix Tape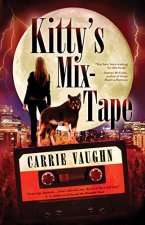 Amazon
Bookshop
First thing you should know is that KITTY'S MIX TAPE can be read without having read any of the books in the series (we've reviewed a few of them HERE). BUT, if you read this book before reading any of the books there will be a few spoilers. However, if you want a taste of the world of Kitty Norville and the werewolves, vampires, and witches that inhabit it without diving wholesale into the 14-book series, you wouldn't be disappointed.

We open with Kitty attending her 10-year high school reunion–and she finds out that she isn't the only one to be touched by the supernatural in the years since graduation. She handles the situation with her usual aplomb.
From there we're launched into a series of entertaining and enlightening short stories. Such as how werewolves are affected by a Full Super Bloodmoon. There's a story about Rick the vampire and an old friend. Jessi Harden, a paranormal detective, and the strange circumstances surrounding half a corpse (I really liked this one). Kitty's husband Ben's wild adventure in Las Vegas with gangsters. Kitty and Cormac find themselves on a wild goose chase. A German youth who is supposed to use his abilities to support the fuhrer, but encounters a witch. A Navy Seal who discovers that his unusual abilities may be explainable, after all, when he discovers his origins. We visit the stories of old friends and a few new.
We watch a new werewolf woman abandoned on an island off the coast the Scotland — but she's not the only one there. How will a rare female werewolve survive an island crawling with male werewolves? The crazy thing, though, is their offer to her.
KITTY'S MIX TAPE is a collection of fun stories from Carrie Vaughn's world of werewolves, vampires, and things that go bump in the night.
There's a story of Dux Bellorum and his use of magic to cause havoc in the past — and how he plans to use it again in KITTY SAVES THE WORLD. (How that was going to work makes so much more sense, now.)
My favorite of the book was "The Arcane Art of Misdirection," where a Las Vegas card dealer named Julie ends up sucked into a mystery with Odysseus Grant, the resident magician. Only his magic is different than she pegged as the typical Vegas magician act. Julie begins to question what is real and what isn't — a question that only seems to grow the deeper she digs into the paranormal.
I read KITTY'S MIX TAPE over the weekend and enjoyed every minute of it. Treat yourself to something fun.
Recommended Age:

12+

Language:

Minor instances

Violence:

A few fights, but not really any blood or gore

Sex:

Vague references to nudity, but not sex-related